Movie Review: 'Mudbound'
Mudbound Strikes Deep in the Heart of American History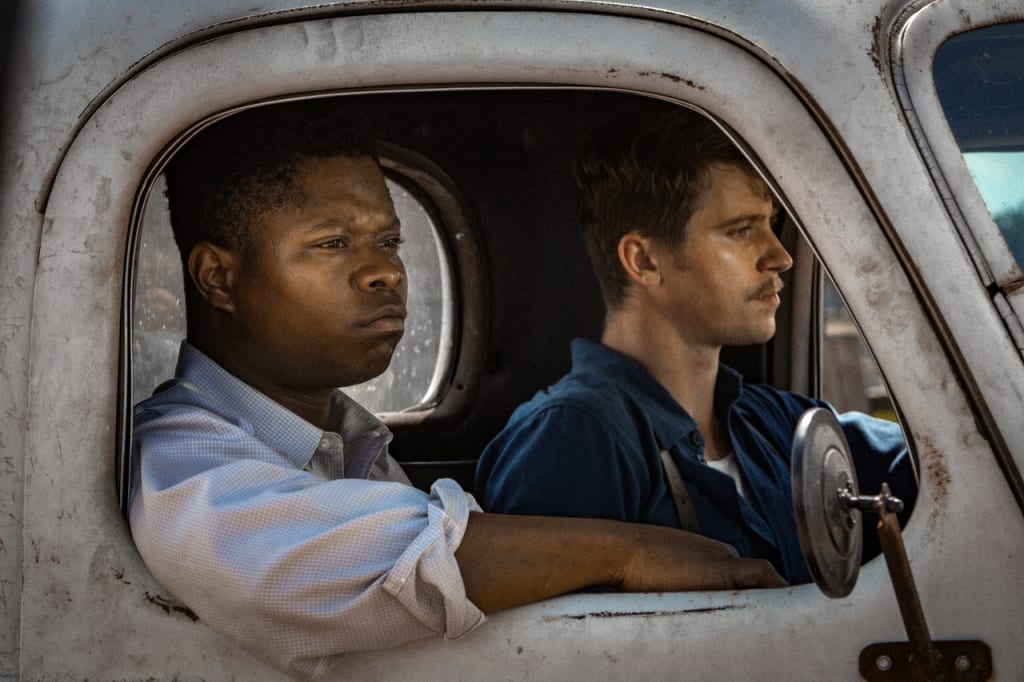 Is Hollywood finally being forced to grow up? On one hand, no, as the fact that Superhero movies still dominate our box office allows us all an escape hatch back to childish notions of good and evil. On the other hand however, a grown up conversation about race and racism has emerged as a significant narrative in Hollywood 2017 and it's a conversation for grown-ups only. Get Out, Jordan Peele's exceptional meta-horror movie, began the conversation with a spoonful of genre horror to help the medicine go down. Detroit, followed this past summer by serving up some recent true crime history.
Now, as the Academy Awards approach, Mudbound arrives as arguably the most serious and troubling movie about race of 2017. No one who sees Mudbound will be able to shake it. Dee Rees' plodding, yet terribly visceral film works its way into the weary bones of the viewer and becomes part of you whether you want it or not. The picture of the ugly parts of southern racism is unshakable and the tragedy of the ending, though leavened by an upbeat finale, is burned into your memory.
Mudbound stars Jason Mitchell as Ronsel Jackson. Ronsel's family works a small plot of land in the deepest part of Mississippi. Having had the land that was promised to them at the end of slavery taken from them by force, they've forged a land for themselves by their own sweat and determination. Rob Morgan plays Hap, Ronsel's father and the local preacher. Mary J. Blige is Florence, Ronsel's stalwart mother. When Ronsel hears of World War II on the radio, he decides to join the army, a decision that his mother can hardly bear, leaving him with her back turned and her eyes to God.
Parallel to the Jackson family story is that of the McAllan Family. Henry McAllan (Jason Clarke) was an engineer doing well for himself in Tennessee. When Henry met Laura (Carey Mulligan) there weren't many sparks flying, but healthy respect was enough, given the times. The two are married and meet up with Henry's dashing brother, Jamie (Garrett Hedlund) just as he is off to Europe to fly bombers in World War II. Jamie and Laura have an immediate connection but neither are brazen enough to give it life.
Jamie goes off to war and we stay behind with Henry and Laura. Henry has decided to reclaim his supposed birthright by moving the family to a farm in Mississippi. Is this the same land stolen from the Jackson's? It's unclear but the Jackson's are near enough to the new farm that when Henry takes over, he assumes Hap as his employee and sets about putting him to work. Over time the family hires Florence to work in their home and take care of their children though this is not going the way you think it will.
Florence is not some inspirational character on hand to teach the white folks how to be tolerant. Blige plays Florence with an edge. She has empathy for the McAllan children who don't know any better and is weary of the rest of the family, especially Henry's vile, racist father, Pappy McAllan (Jonathan Banks) who came with his son to the farm from the home they'd made in Tennessee. Being in the deep south, Pappy's racism has taken on a new and uglier life than ever before.
When the war ends and both Ronsel and Jamie return to their respective homes in Mississippi, Jamie moving in with his brother and sister in law, the two strike up a friendship over the shared horrors of war. Naturally, their friendship is looked down upon and when Ronsel is seen riding in the front compartment of Jamie's pickup and a key piece of evidence from Ronsel's time in the war is revealed, things begin to turn ugly very quickly for the two friends.
Dee Rees is masterful in guiding this muddy, murky story of racism. Rees relentlessly allows her story to unfold slowly and assuredly with long glances and meaningful stares and a voiceover that, for once, doesn't feel like a forced shorthand but a genuine and insightful necessity. In the last decade, educated moviegoers have been encouraged to be turned off by voiceover. We see it as the tool of a lazy screenwriter incapable of doing in scenes what they attempt to accomplish in trite, expository narration. Mudbound is the rare film to make a strong case in favor of the importance of narration as a proper screenwriting tool.
The narration in Mudbound is a trip inside the mind of each of these characters. Everyone, including Pappy, is given at least a moment where we go into their mind and listen to them reciting their thoughts. The dialogue is rarely, perhaps never, expository in nature. Rather, the narration is all about the inner monologue of the characters that are able to express the kinds of thoughts that might not fit well into a believable character discourse. The narration in Mudbound illustrates the imaginations of these characters in ways that simple dialogue can't.
The bond between Ronsel and Jamie is at the core of Mudbound and Jason Mitchell and Garrett Hedlund are a terrifically charming duo. Though they seem to encourage each other's poorest instinct towards drinking and hiding the past from those closest to them, we can see that the bond they form may just be enough to lead them out of their respective darkness and to a place where they could survive and recover from their shared trauma.
That, sadly, is a fantasy. This is post World War II Mississippi and while Ronsel may have fought for his country and returned a hero, the Klan still only sees another black man who happens to be in uniform. I won't spoil what happens but you know there is a tragedy to come in Mudbound and despite my allusion to an ending on a much different note, the tragedy will turn your stomach and make an indelible impression on your psyche.
I mentioned in a review that I wrote about the movie, LBJ, that I simply do not understand racism. I didn't say that to say that I am 'Woke,' though that would be an aspirational goal I suppose, if that isn't just a fad buzzword. I said that because I genuinely cannot find the reasoning. It escapes me, what is it about skin color that sets people off? What is it about a genetic predisposition among a large group of people on this planet that bothers so many white people?
I can't wrap my mind around the concept and Mudbound offers no answers or insight into my question. Mudbound forcefully and truthfully reveals the ugliness so many people of my skin color would like to hide from. Watching Mudbound you can't help but feel an aching pang of guilt and sorrow. I may not have been there but my intentional ignorance of my own family tree is undoubtedly due in part to not wanting to know whether members of my family were part of the ugliest, scummiest part of human history.
Mudbound is a movie for grownups eager to have a mature conversation about the horrific history of America that we are all aware of, but feel it's more polite to ignore. Mudbound is not a movie you can ignore and racism, systemic, historic, and racism are not something we can continue to keep at bay in museums or history books. We must confront our history, own it, learn from it, and atone for it if that's at all possible.