Mimo Reviews: 'Hustlers' (2019)
It's Hollywood, so of course there will be glamour. But there's also a lot of truth in these strippers' performance.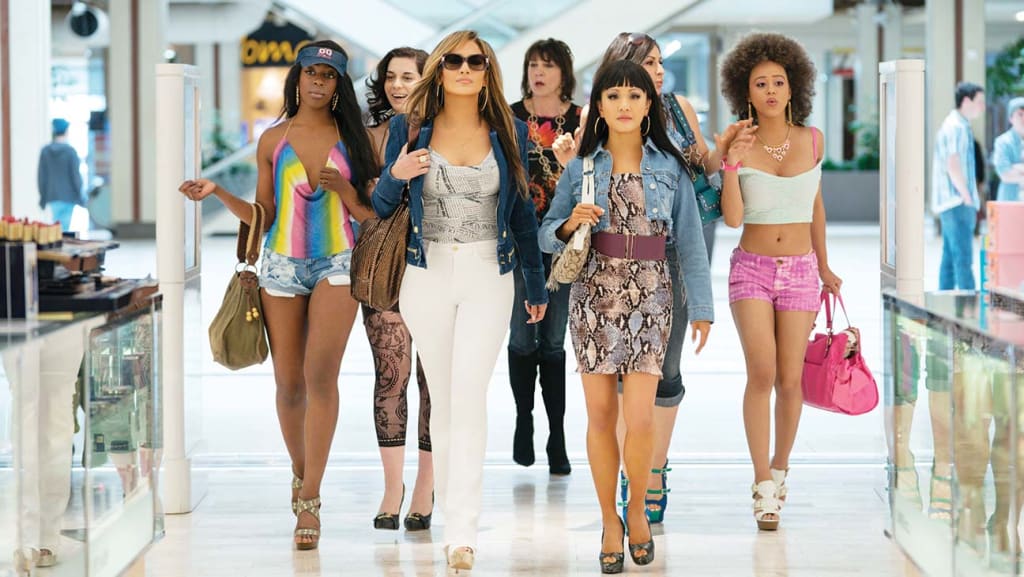 Jennifer Lopez is a public figure who many people would refuse to call a bonafide "triple threat" in the entertainment industry, and I believe this is a rather unfair judgement of her abilities, if we deliberate over her 30+ years of work in both music and film. Case in point for the latter: her acting in, and co-producing of, Hustlers, a film that not only presents a near-accurate depiction of an actual strippers's scam timeline, but also the nuances and complexities of life as a female stripper.
Destiny (Constance Wu) is a tyro exotic dancer, who desperately wants to provide a living for herself and her grandmother, but she's constantly being taken advantage of by her superiors, and can't seem to effectively tantalize an audience like her more experienced co-workers. Veteran stripteaser Ramona (Lopez) changes that by taking her under her wing, and the two go on to enjoy a glamorous year on stage—and back stage—with their crew.
During the 2008 recession, however, the women struggle to climb back up the pole when there's hardly anyone at the bottom salivating at them, with countless amounts of cash in their pockets. Between their day jobs and their families, our leads try to find ways to lure the Wall Streeters back into their club, until Ramona devises a conspiracy to socialize with and drug them at bars, before extorting money—most of which they'd take for themselves—from their credit cards. With new girls in tow, Destiny handling the logistics, and Ramona making friends, they finally get to relive their glory days. However, Destiny, who initially expresses reluctance, soon realizes that this isn't a good idea, and unavailingly pressures Ramona to put an end to it.
If Lopez could play a stern, yet vulnerable dance instructor in Shall We Dance? or a brave mother trying to escape an abusive marriage in Enough, she can most certainly tackle the role of a witty and resourceful stripper, who doesn't always make the best judgements. Wu's Destiny isn't a passive flower who's afraid to speak her mind, but Lopez's Ramona is clearly the lioness in this picture. Despite their growing differences, the love they have for each other is very much authentic.
Destiny's interview with the journalist, Elizabeth (Julia Stiles), isn't a mere justification for flashbacks like it tends to be in other movies. Instead, we see Destiny abrasively question Elizabeth's motives, considering the stigma surrounding strip clubs, especially when she discovers the latter has also spoken with Ramona. We realize by Elizabeth's patience that she really is supportive of the women's wellbeing, and it is through interactions with her that we see more humanized and insightful characters.
Of course, it doesn't stop there. All throughout the movie, we witness snippets of these women striving to maintain sisterly relations with one another in this line of work, while juggling their own families' needs, other jobs, and educational pursuits respectively. Even if they don't necessarily enjoy what they're doing—particularly when those frustrations bleed into their personal relationships—they genuinely feel as though they have no other choice, and really just want the best for their loved ones in a society that places so much emphasis on competitive survival, no matter the cost.
We may read them as giddily selfish (Ramona, especially), but it's more a case of getting carried away with success, which parallels quite nicely with their clients at Wall Street. I appreciate the movie showing the consequences of these strippers exerting their power over wealthy men, as opposed to letting them skip merrily to the bank every time in the supposed name of empowerment.
Regardless of the dollar signs, they do express concern over their clients when things start to go awry. In fact, the power dynamic appears fluid throughout the picture: Everyone is affected by others' actions, and we don't have to feel remorse over sympathizing with them at different times, because there is no one true antagonist and at some point lessons do have to be learned.
Most of the female cast is mainly played up for laughs; as Hustlers is both a comedy and a drama, I would have preferred to see more grounded actresses in their place. I could definitely imagine a Kristen Stewart or a Salma Hayek—both of whom had actually portrayed strippers before—in something like this, for example. But seeing as the focus is primarily on Wu and Lopez, I don't mind the choices as much.
At the end of the night, what I got was fun and food for thought. The popularity of Magic Mike gives me hope that we'll be more accepting of movies like this, that shed light on what really happens in the adult entertainment business, and why we shouldn't be so dismissive of its participants' lives.