Mike's time is up this week on 'General Hospital'
The Corinthos family says their final farewells and Sonny is devastated when his dad dies.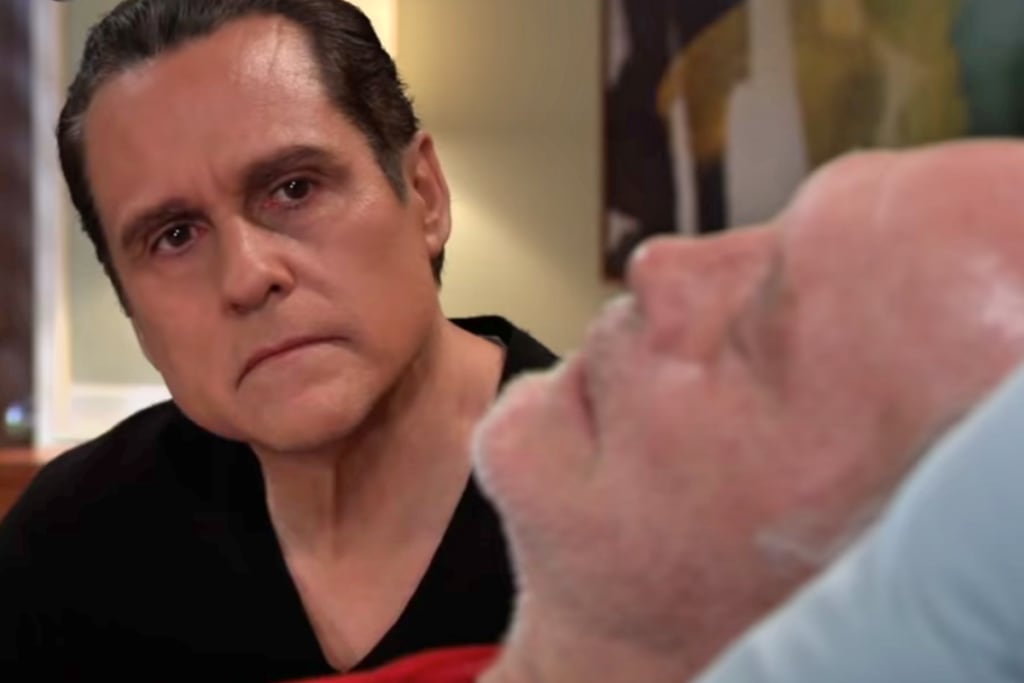 Sonny says goodbye to his dad.
General Hospital viewers knew this day would come, but many still are unable to accept that Mike Corbin's life is ending. Max Gail and Maurice Bernard have done a wonderful job portraying father and son and many fans will miss their scenes together. These two have repaired a broken relationship and built something special that the entire family enjoys. Fans will recall when Mike first returned to Port Charles, when his girlfriend dumped him on his son's doorstep. She was brutally honest in saying that she did not sign up to care for an Alzheimer's patient. Thankfully there was an entire team who did sign up to walk this walk with Max Gail's character right to the bitter end.
Stella came in as the professional who guided Sonny and Carly along the way. She told them what to expect and did a good job of bridging the gap. Some viewers said they cried when Mike had to leave his son's home and reside at Turning Woods, but he met Yvonne and they fell in love. The duo was allowed to have a pretend wedding because Yvonne was already married to Marcus. She also had Alzheimer's and the last anyone heard she had a feeding tube inserted. It was never mentioned if she lived or died, but they made a really cute couple. For those who don't know, Janet Huber, who portrayed Yvonne was the first Aunt Viv on The Fresh Prince of Bell-Air. Vernee Watson who plays Stella was her sister Vy, and Will Smith's mother.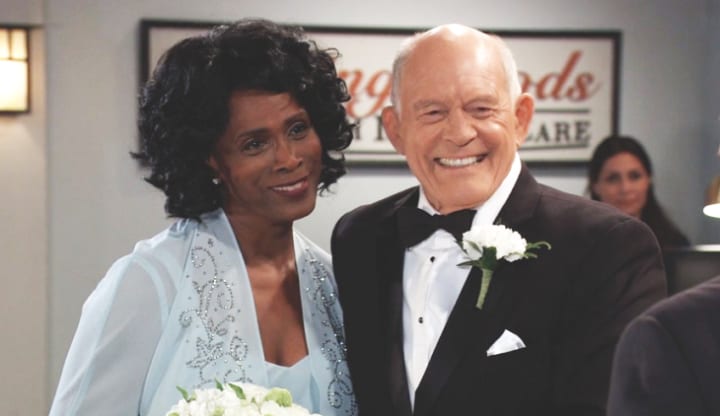 A General Hospital promo indicates that Mike Corbin will die this week. There is no mention of what day this will take place but spoilers do say that on Wednesday, Sonny will turn to Felix, Stella will be sympathetic and Sonny be thinking about the life that he and his dad could have had. The best thing for viewers to do is to tune in every day and not miss one episode. This has been a long goodbye and the emotions of many viewers have been building up to the final moment which will no doubt be quite dramatic. It's not known if Mike will slip away as most hospice patients do or if he might open his eyes and hold Sonny's hand in his last moments.
Maurice Bernard and Max Gail have surely put in some Emmy winning scenes while involved in this difficult storyline. Carly, Jason, Jax, and Michael have all said goodbye so Mike will probably take his final breath when Sonny is with him. Max Gail's portrayal of an Alzheimer's patient is reaching out far beyond the script as numerous fans have been saying that the way the disease is being handled is very realistic. Many have shared their personal experiences on the actor's Facebook page, detailing what they went through with a loved one.
There had been rumors that Max Gail was retiring after his final scenes on General Hospital but his Facebook page indicates that he will be involved in other projects and keep his fans up to date. Celeb Dirty Laundry is revealing that a lot of fans have been commenting on the promo on Twitter. Som are saying that it reminds them of when they said a last goodbye to a father or mother. There is so much talk about getting the tissues out and how emotional it will be to watch Sonny and Mike both let go. The tears on screen will be real as well because the cast has said they are sad that Max Gail's time has come to a close.
Sonny will naturally grieve for his dad, but someone needs to watch out for Cyrus Renault. He is firing people at the hospital, had Brando beaten up and Sonny is not aware of it. Jason decided it was best right now to allow Sonny time with his dad withut worries. Cyrus has a master plan and is using Dr. Britt Westbourne to carry out a part of his agenda. Make sure you tune in and don't miss one episode this week because this will be must see television. Keep watching for spoilers to learn what will happen in Port Charles in advance. Thank you Max Gail for the way you portrayed Mike Corbin and did justice to Alzheimer's patients and their loved ones.

Cheryl E Preston
Cheryl is a poet, freelance writer, published author and former Newspaper columnist. She has degrees in Psycology and Biblical studies. She enjoys sharing natural cures, and Nostalgia related info. Tips are greatly appreciated.
See all posts by Cheryl E Preston →