Maurice Bernard asks off on William deVry's last day on General Hospital
The fans are making t the only ones devastated that Julian Jerome is leaving Port Charles. His arch enemy Corinthos feels the same way.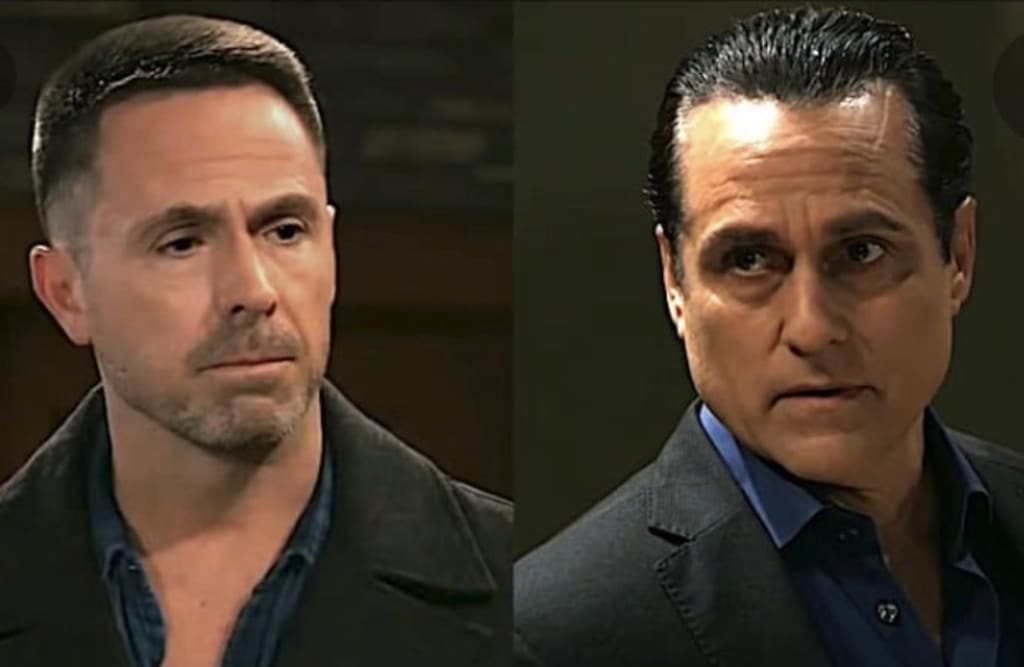 Julian and Sonny
William deVry has finally admitted that he will soon be off of General Hospital. This is a blow to his fans who were hoping it was not true. In a recent tweet, the popular soap vet shares something personal. He said that cast member Maurice Bernard asked executive producer Frank Valentini the date of deVry's last scenes so he could have the day off. It sounds like the cast is as bewildered as the fans over this move. The writers have written Julian Jerome into a corner from which is looking like he may never get out of. At the end of Friday's episode, Taggert identified Julian as the man who had the gun on Nelle and Sonny sent Jason to retrieve his enemy. Ava was stunned as Stone Cold escorted her brother out of his pub and she fears his life may be over.
On General Hospital, Julian and Sonny despise each other but in real time it seems that Maurice Bernard is pretty fond of William deVry. It must be difficult to have such intense scenes with a castmate for decades and then suddenly and seemingly without rhyme or reason they are written out of the show. A few months back deVry tweeted that he saw the handwriting on the wall for Julian and it looks like he was right. Many viewers believed that once he put the knife to his former wife's neck there would be no coming back for the popular couple and that is exactly what happened.
Soaps.com indicates that Julian will make a confession next week and now viewers know that it will probably be to Sonny. Ava was already aware of her brother's sins so the question remains of exactly what Julian will confess to. It's not likely that he will bare his soul, so he might admit just enough to keep Sonny from killing him. Sonny and Jason know he was trying to shoot Nelle so he may admit that was to save Wiley. Julian might say that he lied about it to stay out of jail. Sonny could believe his version with a little persuasion from Ava, or he might figure out the entire story.
Spoilers say that Ava and Jason will both be standing by as Sonny grills Julian and Celeb Dirty Laundry states that Ava's baby daddy will punish her brother in some manner. It's not likely that this will be Julian's last moments because these episodes have been taped weeks in advance. If Maurice Bernard is asking to know William deVry's last date on the set then it has not happened yet. Fans can always petition Frank Valentini to keep deVry on the show as this method worked for Doug Davidson on The Young and the Restless. The Y&R viewers demanded that he be brought back after a long hiatus and he was.
The only difference with General Hospital is that William deVry stated on Twitter that if he were fired, he would not return to the show. He was written out at the end of 2016 when Julian went to prison and returned in 2019. A number of viewers love the dynamic between Ava and her brother and do not want to see her without him. Others enjoy the strange dynamic between Sonny and Julian and the lines they don't cross where each other is concerned. The baby switch, however, shifted things into another direction. No one can figure out why Valentini is taking the show in this direction. Since the baby switch was revealed, Lucas has not been on screen. He has not even been shown working as a doctor at GH.
Right now Portia seems to be the go to physician these days as Monica has been fired. Poor Brad is locked away in jail with no idea if or when he will ever be released. Meanwhile, Obrecht is free and setting up Peter August for a big fall and in the midst of it all Julexis fans are heartbroken. Julian and Alexis have a chemistry that lights up the screen but the writers did not put them back together. No one can understand why Julian is being written out but his loyal followers are continuing to hope for an 11th hour reprieve. Kudos to Maurice Bernard for standing up for William deVry.
entertainment
About the author
Cheryl is a poet, freelance writer, published author and former Newspaper columnist. She has degrees in Psycology and Biblical studies. She enjoys sharing natural cures, and Nostalgia related info. Tips are greatly appreciated.
Reader insights
Be the first to share your insights about this piece.
Add your insights