Manic Monday Mayhem on 'The Young and the Restless'
Genoa City residents will wish it were still Sunday as life unravels for many of them.
Monday on THE YOUNG AND THE RESTLESS various Genoa City residents will be dealing with unsettling situations. It will prove to be a day of distress but one man will feel powerful and in control.
Kyle is blind to Tara
On Friday, Kyle found out that Summer asked Billy to look after him but he advised his uncle to mind his own business. Billy later told Lily that he suspects Tara's motives. On Monday Mrs. Locke will pour on the charm but Kyle is still in love with Summer. He is enjoying time with Harrison and tells Tara there is no rush for her to move out of the Abbott mansion. Kyle is in too much pain to see what is right in front of him and Y&R viewers are hoping he will not be taken in by his sneaky baby mama because uncle Billy has her number.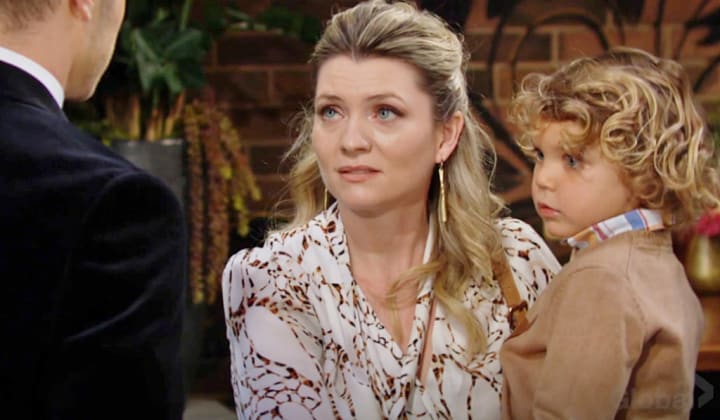 Ashland's crisis
Ashland will be in Chancellor Park expecting to spend time with Harrison. Tara tells him he is a day early but he argues that she is the one who got the dates mixed up. As they are arguing Locke clutches his chest as he is having a hard time breathing and yells at his ex-wife to get his son out of there. Ashland apologizes but later he is having mood swings when he is with Victoria. She tells him not to take hsi frustration out on her but these two incidents indicate that his condition is getting worse.
Tara's secret agenda
Sally Spectra will be in the park with Jack and decide to take video footage of Harrison playing. She will be taping when Ashland has his meltdown and offer to delete the footage. Tara will send herself a copy of the video prior to Sally editing it. She obviously plans to use it at a later date. Tara does not care that her ex is sick and might blackmail him with the video and use it as leverage regarding Harrison or her divorce settlement.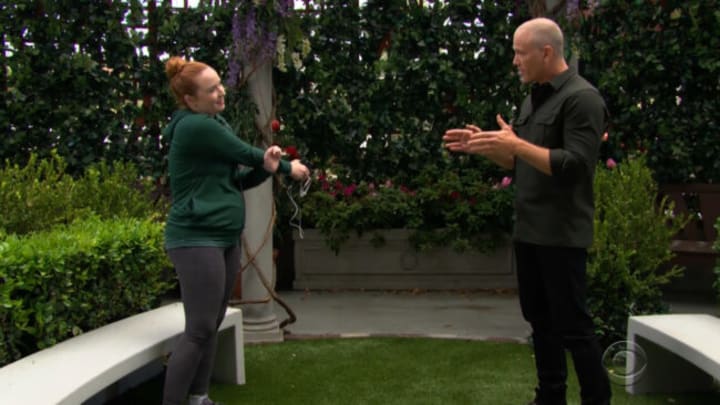 Sharon worries about Chelsea and Mariah
Mariah is still missing without a trace and Sharon will express her concern. spoilers indicate that Rey will have a new assignment so perhaps he will search for his stepdaughter. Some spoilers say might accompany Chelsea when she leaves town to visit her mother. Meanwhile, Sharon suspects that something is wrong where her daughter is concerned and so far viewers have been given no idea of what happened to Mariah. The rumor mill suggests that Stitch might have kidnapped her but wherever she is her mother is worried because of her pregnancy.
Chelsea is going to show up at the coffee house and frighten Sharonoout of her wits. Ms. Lawson will call on Rey to confirm that she is not an escapee but has been released. She does her best to convince Sharon that her actions were because of stress and or the aneurysm. Chelsea can't resist mentioning that Adam always loved Sharon more than her and quickly adds that it was a one sided situation.
Victor overrides Adam and Chelsea
Chelsea's mother Anita supposedly broke her hip and wants her daughter to visit and bring Conner. Rey will not see a problem with this but Adam has concerns. Just as he is about to agree that Conner can visit Anita with his mom, Victor will show up. The Newman patriarch will throw his weight around and insist that Chelsea must visit her mother alone. Neither Adam nor his estranged wife will appreciate Victor's attitude but perhaps they should listen to him.
Melissa Claire Egan will soon go on an extended maternity leave which is why Chelsea will be going to visit Anita. Spoiler alerts disagree regarding whether or not Conner goes with her. Victor could relent and allow his grandson to visit his grandmother or perhaps Adam will defy his father and send the boy with his mom anyway. Victor is going to warn his son not to give in to his emotions where Chelsea is concerned but it's not clear what will happen.
The Young and the Restless viewers have so many questions that need to be answered. Where is Mariah and why and is her unborn child in danger? Will victor rule supreme or will Adam defy him and send Conner with his mom? What is Tara planning to do with the video and will Kyle ever snap out of his stupor and see what Harrison's mother is planning? How sick is Ashland or could those who say he is faking be right? Tune in and find out
About the Creator
Cheryl is a poet, freelance writer, published author and former Newspaper columnist. She has degrees in Psycology and Biblical studies. She enjoys sharing natural cures, and Nostalgia related info. Tips are greatly appreciated.
Reader insights
Be the first to share your insights about this piece.
Add your insights