Maid Marian
Her Side of It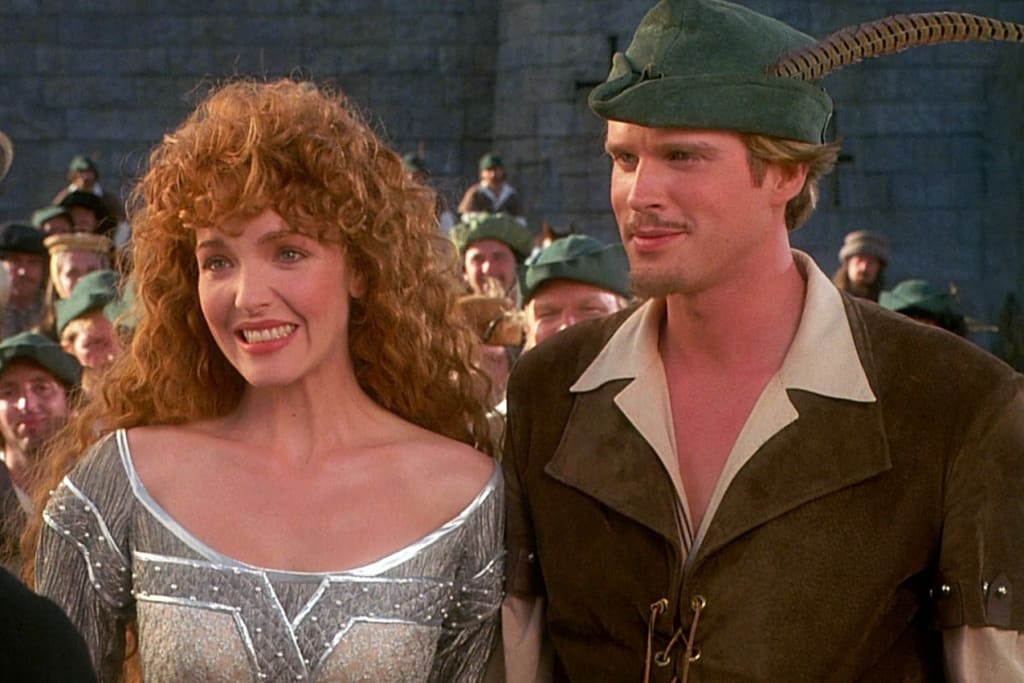 Ha! Oh, sorry. Was I not supposed to laugh? I was portrayed as this weak, classically feminine character that was always getting rescued and never saving herself. It was as though Robin never found me in the middle of my fencing lessons or riding lessons, or actually riding a horse. However, I was always followed by my governess, whose only job by then was to make sure my virginity remained intact until I got married. Between her and that chastity belt, I felt stifled enough.
I'll have you remember that if it weren't for my rebellious spirit I wouldn't have chosen to be with Robin, much less run off with his merry men.
I don't see how they could call themselves very merry, considering their camp was in the woods and the only one keeping anything clean or cooked was that friar. He was the only one other than Robin I could confide in since he understood what a precarious line I walked as a princess and as the niece of the one who wanted to usurp the throne from my father, and from me. Thank goodness for Uncle John's Oedipus Complex. He'd always default to that when he felt everything closing in on him. It was as funny as it sounded, a grown man practically sucking his thumb, crying out for his "mummy" and using his cape as a security blanket. How did he expect to rule an entire country with that sort of constitution? My governess and I would laugh about it until I ran off, then I'd laugh with Friar Tuck about it.
When my governess came to find me, looking quite silly riding side-saddle and trying to keep her cape about her considering her girth. I had to keep from laughing as we helped her off her horse.
"Well, I didn't want anyone to notice me, riding about the woods. It was hardly their business," she said.
Friar Tuck had just served the men some soup. It was venison and vegetable. He had a twinkle in his eye when he mentioned my governess could have some of what was left over.
She'd come with some provisions: Herbs, rice, and a sack of grain. They were intended for me, but I chose to share them with the men.
To calm her down, Friar Tuck mentioned they'd be useful for the meals he prepared. He did have to cook for a group of men who had to go off to fight and hunt each day.
My governess began to help with the cooking and the washing. Since Friar Tuck had the largest tent, she stayed on a straw mat in there. I stayed in my own tent just next to Robin's.
Little John's tent was on the other side of Robin's. He was lost without Robin. He was a bit slow, but well-intentioned. He wasn't allowed to hunt on his own. He'd tried. It hadn't gone well. This was despite the fact that it had presented an easy target.
Robin taught me how to use a bow. I then did all the campsite hunting since I was stuck at that campsite since I was naught but a woman.
Friar Tuck would prepare the animal and my governess would cook it. I would then put up my bow and be her sous-chef. By the time the men returned, the food was ready. The herbs made it even better. That was actually my second task while I was hunting, gathering herbs.
Eventually, they made a run to Friar Tuck's old house. He'd stored quite a few provisions there. A boy we'd rescued and I stayed behind. I watched him work on spears for himself since that was what Robin had taught him. I stood guard with my bow. My governess had gone with them to help haul the provisions back on her horse.
It was a success. She cooked some rice first to tide us over until dinner was made. The deer we'd hunted the day before was still left for that day.
Friar Tuck had even thought to get his fishing pole from his house. It was simple, of wood and one had to pull the string oneself, but it held. Friar Tuck had been missing his old, more Christian diet. He invited anyone who wished to do the same.
Most preferred the higher protein of the venison. Hunting and killing were hungry work. Robin only trusted himself with the thievery. He felt he couldn't impart all his robbery skill on another. Even if he did teach it, he was afraid they wouldn't have his touch with it.
Friar Tuck decided not to take his monk vows and to marry my governess instead. We decided to ignore the fact that their first baby came less than nine months after the wedding.
"And here, she gave you such a hard time about not losing your virginity until marriage," Robin joked.
I suppose she found herself more as a woman and less as a governess. She certainly troubled me less about being so close to Robin.
Robin and I spent a year getting to know each other before having children. I'm glad we did.
fan fiction

Alexandra F
I blog. I write. I write me, my recipes, my fantasies, characters based off of people I know. I also use Blogger.com, Writer's Outlet and Mighty Networks.
I only make money if you contribute, so please click the button at the bottom. Thanks!
See all posts by Alexandra F →