Lifetime Review: 'Your Husband Is Mine'
Maiara Walsh plays an ex-girlfriend with an axe to grind in this well-acted, entertaining obsession thriller.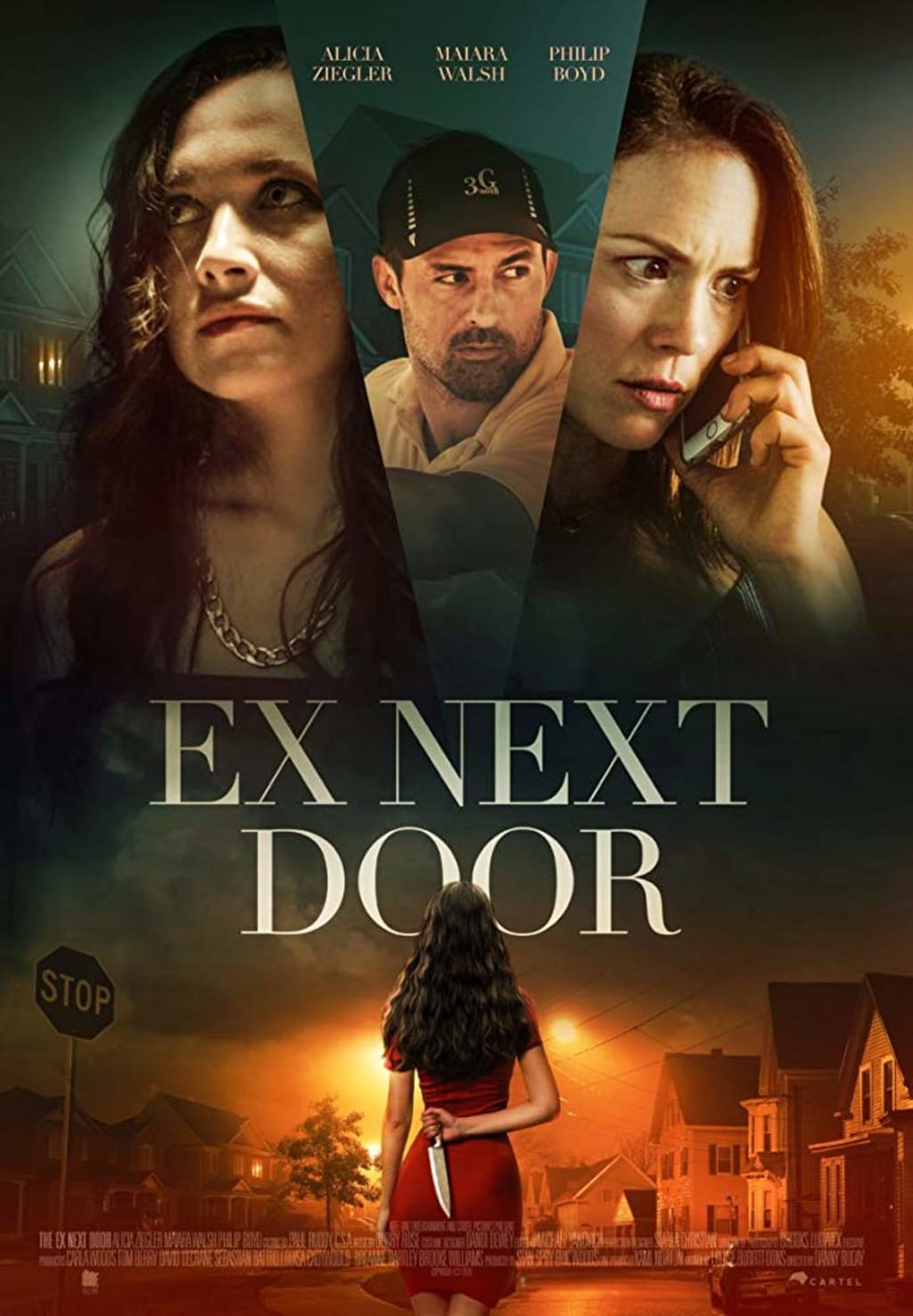 Alternatively Titled The Ex Next Door
Things are looking great for the Gatewoods. Children's author Katie (Alicia Ziegler) has been riding a career boost and gaining a larger following, and Dan (Philip Boyd) is enjoying a thriving business career of his own—even though his work takes him away from home more often than Katie would like. Things seem to turn around by the arrival of new neighbor Louisa Share (Maiara Walsh), who strikes a quick friendship with Katie.
But as Katie soon learns after having Dan meet their new neighbor that Louisa's past with Dan comes to light: They had briefly dated years prior. While Katie is willing to let the past stay in the past, Louisa begins to make it clear her true intentions were in moving to the neighborhood: to have Dan back in her arms, no matter how messy the price.
While serving the approximate 4156th iteration of Lifetime's "Crazy Ex-Girlfriend" theme, Your Husband Is Mine (previously known under the far catchier title The Ex Next Door) remains an entertaining and appealing view. This is namely thanks to a fantastic performance given by Maiara Walsh as the unapologetically twisted Louisa. Anyone familiar with the Lifetime formula knows the second they see the cute and seemingly perky Louisa enter the scene what her real intentions are, but Walsh plays Louisa with such vigor and confidence that you can't help but love to see her unfold her obsessed plot, eventually barely even trying to hide her inner insanity. Jack Kirzmanich also appears as Finn, who plays a pertinent role in Louisa's scheme, striking a nice dynamic with Walsh as the film's minor side antagonist.
Alicia Ziegler and Philip Boyd also bring their A-game as the film's earnest and sympathetic main protagonists, even if they are given characters that have moments in which their actions don't reflect them well. For much of the film, Katie is portrayed as a competent and proactive woman, and when the first signs of Louisa's true nature are dropped, she wastes no time spotting them and acting accordingly. But only a few scenes later, we see Katie storming away after catching Louisa and Dan in a compromising position, seemingly forgetting all about the evidence she saw to the fact that her "new friend" was not as she seemed and only believing what her eyes were telling her—something the Katie we are introduced to would never do, and an act that appears to only happen for plot convenience.
Likewise, Philip Boyd serves as an aversion to the "Idiot Husband" trope many have accused Lifetime of overusing, flipping the trope around by quickly coming to his wife with his and Louisa's history together. He also never seems to fully drop his doubts that Louisa has a secret agenda for moving into his neighborhood, but he unfortunately drops the ball by failing to be clear with Katie about his suspicions, leading her to make assumptions on what his true reason for distrusting Louisa and Katie's friendship are. In spite of these flows, however, Katie and Dan remain sympathetic and likable, and most viewers will not lose their desire to see them escape Louisa's hold throughout their moments of plot-induced ignorance.
Other minor problems plague Your Husband Is Mine as well. A subplot involving Katie and Dan's neighbor Patrick (played by Kevin Joy) is never really utilized or resolved, and the film's climax leaves a lot to be desired (think the climax of 2009's Obsessed if it downed a bottle of NyQuil). There's also a minor issue with Louisa's plot, as it becomes unclear at some points whether she wants Dan back or wants to see him destroyed. But for all of its problems, the cast helps keep Your Husband Is Mine from being a total misfire, with Walsh in particular providing enough psychotic drama as the film's villainess to keep viewers entertained. It may not be to everyone's liking, but Your Husband Is Mine is deserving of a weekend viewing for anyone craving a Lifetime movie with a fun villain.
Score: 6.5 out of 10 carpet cleaner smoothies.
review
Aspiring writer and film blogger: Lifetime, Hallmark, indie, and anything else that strikes my interest. He/him.
Twitter: @TrevorWells98
Instagram: @trevorwells_16
Email: [email protected]