Lifetime Review: 'Tracking a Killer'
A high school track meet ends with a murder in this Lifetime thriller that sprints into a strong finish.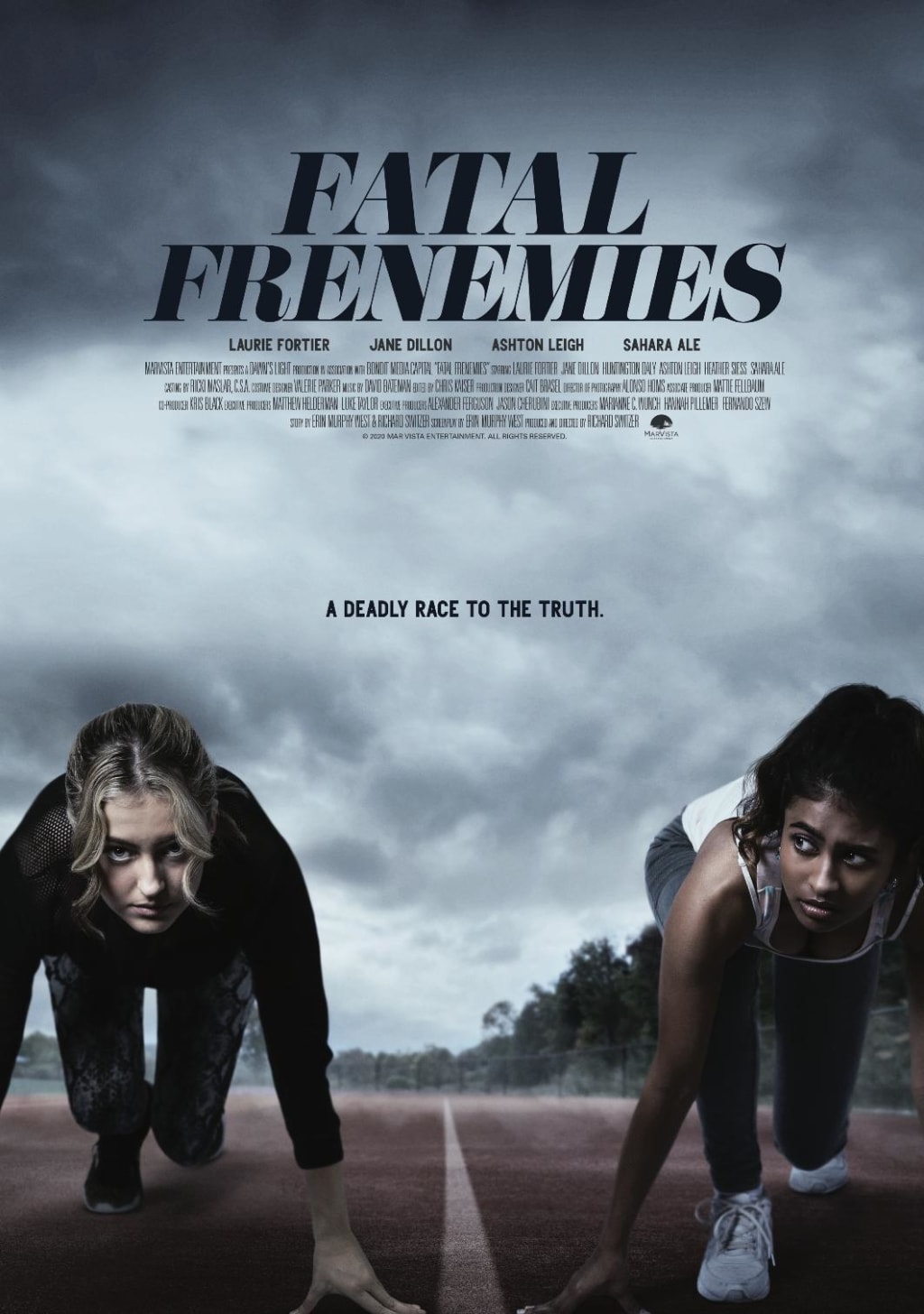 High schooler Haley Longford (Jane Dillon) has had it rough. Ever since losing her father, Haley has struggled with controlling her emotions. Thankfully, anger management therapy and track-and-field have helped the troubled girl work through her grief. She also has a good support system in her mother Michelle (Laurie Fortier) and teammates/best friends Abby and Elaina (Rachel Ogechi Kanu and Sahara Ale). Still, Haley has her bouts of losing control, such as when she furiously snaps at Abby after an incident during a track meet.
Tragically, it's not long after their argument that Haley discovers Abby dead in the locker room. But what initially looks to be a terrible accident turns out to be murder--and evidence is found implicating Haley. Arrested and placed on house arrest until the trial, Haley begins to fall apart as Michelle does everything she can to prove her daughter's innocence. But with all the evidence pointing to Haley, Michelle is in for a fight if she wants to clear her child's name.
As you probably deduced from the picture that accompanies this review, Tracking a Killer was originally known as Fatal Frenemies. I really hope this means the initial title is now up for grabs because Fatal Frenemies is such a juicy title that it deserves to be attached to an equally juicy Lifetime movie. That's not to say that the title would've been out of place being attached to this Lifetime thriller. While the mystery behind Abby's murder isn't too hard to crack and a few other story issues crop up, Tracking a Killer is still an engaging movie that has a few plot curves to offer.
Like the previously reviewed Picture Perfect Lies, it doesn't take long for the main story to get off the ground. You're not even to the first commercial break when Abby gets murdered and the fight to prove Haley's innocence starts soon after. For the rest of the first and second acts, the film's drama revolves mostly around how Michelle and Haley are affected by Abby's murder and the resulting fallout. There's also some attempts to construct a whodunnit around the murder, but with such a small pool of suspects, I can see plenty of viewers being able to pinpoint the culprit before Michelle does. Still, there are a few surprises to be found in the climactic reveal, which is greatly elevated as a whole by the performance at its center. And what Tracking a Killer lacks in mystery-building, it makes up for with how it delves into the troubled lives of Haley, Michelle, and those around them.
For someone making their film debut in a lead role, Jane Dillon does a great job playing the anger-prone Haley Longford without letting her become unlikable or overly nasty. For all her angry outbursts and frustrations over having to do anger management, Haley isn't a bad person. She's aware that she has a problem with controlling herself and is quick to feel bad when her rage causes her to unfairly lash out at others. Haley's backstory makes her struggle even more understandable. Not only did the loss of her father land her squarely in the second stage of grief, but having it happen at the hormone-packed age of 15 only added fuel to the fire. With all that anguish coupled with the stress of being accused of murdering her best friend, you can't blame Haley for being upset. Dillon plays the array of emotions Haley goes through very well, making it easy to empathize with her and forgive her for her less-than-wise decisions. Between her constrictive house arrest and frustration-frazzled mind, Haley's clouded judgment is easier to forgive.
Opposite Lifetime newbie Dillon is Lifetime regular Laurie Fortier as Haley's mother Michelle. Compared to Haley, Michelle is a much less dynamic character, essentially being the standard Struggling Single Mom character seen in countless other Lifetime movies. Despite that, Michelle is every bit as likable and authentic as Haley, with Fortier playing her as a loving but imperfect mother. While she definitely loves Haley and is willing to fight to clear her name, she doesn't always handle her daughter's mental health in the best way. In the few scenes where Michelle opens up about her difficulties adjusting to life as a widowed mother, Fortier sells her character's quiet apprehension at having to navigate an unfamiliar side of parenthood in the wake of her husband's death. Fortier shares decent chemistry with Dillon in their strained mother-daughter dynamic, but Fortier's best chemistry is with Huntington Daly as Michelle's client-turned-ally Luke. Michelle and Luke's interactions throughout the film are cute and realistic in how they develop the pair's relationship. And for his own part, Daly is as lovable as can be as Haley's determined lawyer and Michelle's handsome shoulder to lean on.
Outside of Haley and Michelle, the plot remains streamlined and consistent despite the so-so murder mystery angle. Even if you're like me and have the killer figured out well in advance, there's still enough drama to keep you entertained until the big finale. And that finale is definitely worth the wait thanks to one deliciously cruel and maniacal performance. SPOILER ALERT I was suspicious of Brooke right away, and as the story went on, it only became clearer to me that she was the culprit. But two things came out during the climax that admittedly caught me by surprise: Brooke's insanely sinister demeanor and the fact that Abby's murder was committed by Elaina, with Brooke stepping in to kill Gina to cover for her. After spending the whole movie playing the part of a loving mother and caring friend, Brooke lets the mask drop to reveal an ice-hearted monster whose daughter isn't even immune to her fury. You'd think Brooke was being motivated by maternal instinct, but seeing her verbally abuse Elaina makes it clear she's only "cleaning up Elaina's mess" to protect herself.
Ashton Leigh magnificently throws herself into Brooke's repulsively evil nature, making her as entertainingly histrionic as she is disgustingly vicious and self-serving. Sahara Ale, meanwhile, does a good job playing an average teen girl caught in a conflicting situation, making Elaina's reveal as Abby's killer all the more shocking. There's a nice bit of irony in the fact that for all the flak Haley gets for her anger issues, it was ultimately the seemingly stable-headed Elaina who lashed out in a blind rage and killed one of her best friends. Still, despite everything she puts Haley through, Ale makes it hard not to feel bad for Elaina as we see what an unholy nightmare the girl has for a mother. Though with how nasty she gets during the climax, it's super weird how one of the last things Brooke does before her "official" villainous reveal is tearfully bemoan how she feels like she's failed her daughter.
(A nice touch I appreciated: how the script lightly hints at the deeper motivation behind Elaina and Brooke's actions. While she claims killing Abby was an accident, we see signs early on of Elaina's harbored jealousy and resentment of her more well-off friends--something she confirms later on while ranting to Brooke. With how borderline sadistic Brooke gets while taunting Haley and Michelle in the final act, I'd say it's a safe bet she shares in her daughter's animosity--albeit to a much steeper degree) Spoilers Over
The supporting cast finds their own ways to make an impact, even if some actors do so for the wrong reasons. Rachel Ogechi Kanu is tragically likable as the doomed Abby, which makes the fact that she spends her last hours getting snapped at by her friends doubly sad. Michael Wagemann also has some emotional moments as Coach Chris, making him believable as a stern but well-meaning coach who deeply cares about his players and is heartbroken when they're put in danger. Collin Place is another supporting actor with emotional prowess in his portrayal of Abby's suspicious boyfriend Dylan. But the way he and Heather Siess (Coach Gina) play their characters is severely unaligned with the script.
WARNING: SPOILERS BELOW
While Gina being Dylan's biological mother was an unexpected twist, that's largely because their dialogue and demeanors before the reveal (when it appears they're a teacher and underage student having an affair) don't match up with it. Before the reveal, Siess makes Gina act/sound like a lovestruck 13-year-old and some of Gina and Dylan's dialogue becomes gross in a different sense after the truth comes out. In particular, Dylan goes from sounding like a groomed abuse victim being unfairly treated like a villain by the screenwriters to sounding like a possessive psycho with an Oedipus complex. I also couldn't help but find it odd how it's implied Haley and Dylan are on the road to dating in the epilogue. It would've felt more natural and less icky if the film ended with the pair simply being friends, having bonded over their identical losses--both having lost a parent in addition to Abby.
Spoilers Over
While Tracking a Killer may not be any better at crafting a murder mystery than Picture Perfect Lies, it still outshines the previously reviewed film in terms of being entertaining--if only by a smidge. As obvious as the killer's identity might be for some viewers, there's sure to be at least one third-act twist that catches such viewers off-guard. Outside of the whodunnit, there's plenty of internal drama and familial strife between Haley and Michelle to keep you watching, with the climax bringing all that tension to a head thanks to one actor's explosive performance. It may stumble a little in the first leg of the race, but Tracking a Killer finds its stride soon enough to end on a runner's high.
Score: 7 out of 10 certificates of achievement.
movie
Aspiring writer and film blogger: Lifetime, Hallmark, indie, and anything else that strikes my interest. He/him.
Twitter: @TrevorWells98
Instagram: @trevorwells_16
Email: [email protected]