Lifetime Review: 'The Wrong Teacher'
Jessica Morris' one-night stand attracts a deranged admirer in this unabashedly twisted thriller.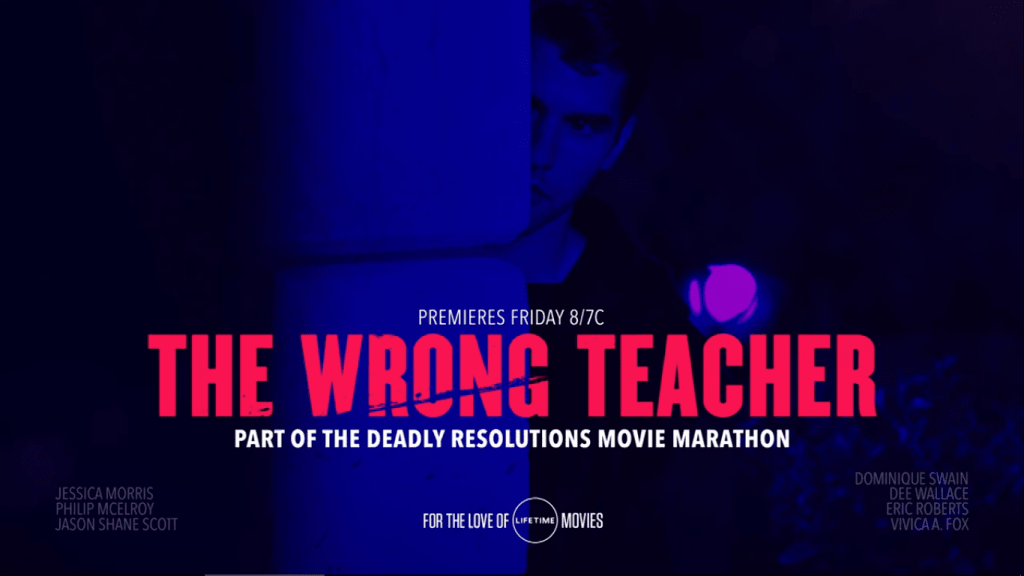 When high school teacher and aspiring writer Charlotte Hansen (Jessica Morris), finds herself on break from her artist boyfriend Scott (Jason-Shane Scott), she's not sure how her romantic future is looking. That is, until she runs into the handsome and charming Chris Williams (Philip McElroy) at a bookstore, leading to a date that culminates in a passionate tryst in her classroom. The two part ways, with Charlotte believing that's the last she'll see of Chris.
But anyone familiar with the Lifetime formula knows that's far from the truth. Instead, the first day of school has Charlotte being horrified when Chris walks into her classroom, revealing that he's a high school student. While Charlotte attempts to contain her awkward predicament by making a deal with Chris that they never talk about what happened between them again, Charlotte begins to wonder if her one-night stand with Chris meant more to him. As strange events begin to transpire at the school and Scott begins working to repair his and Charlotte's relationship, Chris makes it very clear that his interest in Charlotte goes beyond their casual fling—and that nothing will stop him from winning Charlotte back.
Despite its' plot being another iteration of the classic "I Slept With A Psycho" storyline, The Wrong Teacher surprised me with how entertaining it was. The plot's pacing and the dedication given by the entire cast makes the story's familiar territory seem fresh. While there are portions where a fair amount of suspension of disbelief is required, The Wrong Teacher will still keep most viewers (particularly those already a fan of the Lifetime genre) engaged and invested in the mayhem, which concludes with a well-shot and intense climax.
As typical for David DeCoteau-helmed Lifetime thrillers, the casting of The Wrong Teacher brings their A-game. While some viewers will find themselves screaming at Charlotte for her naive behavior during the film's second act, Jessica Morris gives her all to Charlotte's character and will allow you to feel sympathy for her, even when her actions take a turn for the stupid. Philip McElroy, meanwhile, delivers arguably the best performance of the film, making Chris Williams a cunning and ferociously nightmarish villain. Throughout the film, he proves that he truly believes he and Charlotte are meant to be together—but also shows that he's not above hurting her and the people she cares about if it means getting her back. His sudden backstory in the film's third act isn't handled in a particularly smooth manner and is only really utilized in one moment for the climax, but it's not enough to tank Chris' notably nightmarish presence.
The side cast is also strong, with Vivica A. Fox (who also served as a producer for The Wrong Teacher) giving a strong performance as no-nonsense principal Ms. Burns, even having a moment where she acts as a sort of Audience Surrogate as she chastises Charlotte's overly naive and complacent behavior regarding Chris' actions. Jason-Shane Scott is similarly strong as Scott, despite his somewhat restricted role, and Lifetime superstar Eric Roberts makes a surprising impact as side character Vice Principal Lee Clark, giving a much-appreciated rant (short as it may be) regarding the frustrating double standard regarding teacher-student affairs.
While it's not a Lifetime movie for everyone, and one that could prove a hard sell for those with a bad image of Lifetime films in general, The Wrong Teacher achieves every Lifetime movie's end goal of providing solid thrills and entertaining, with an attractive and talented cast there to tie it all together. If you find yourself in the mood for a solid Lifetime thriller centering around romance turned to crazed obsession, look no further than The Wrong Teacher.
Score: 8 out of 10 Shakespeare movies.