Lifetime Review: 'She Is Not Your Daughter'
One secret could destroy a happy family in a Lifetime thriller that delivers equal doses of action and heart.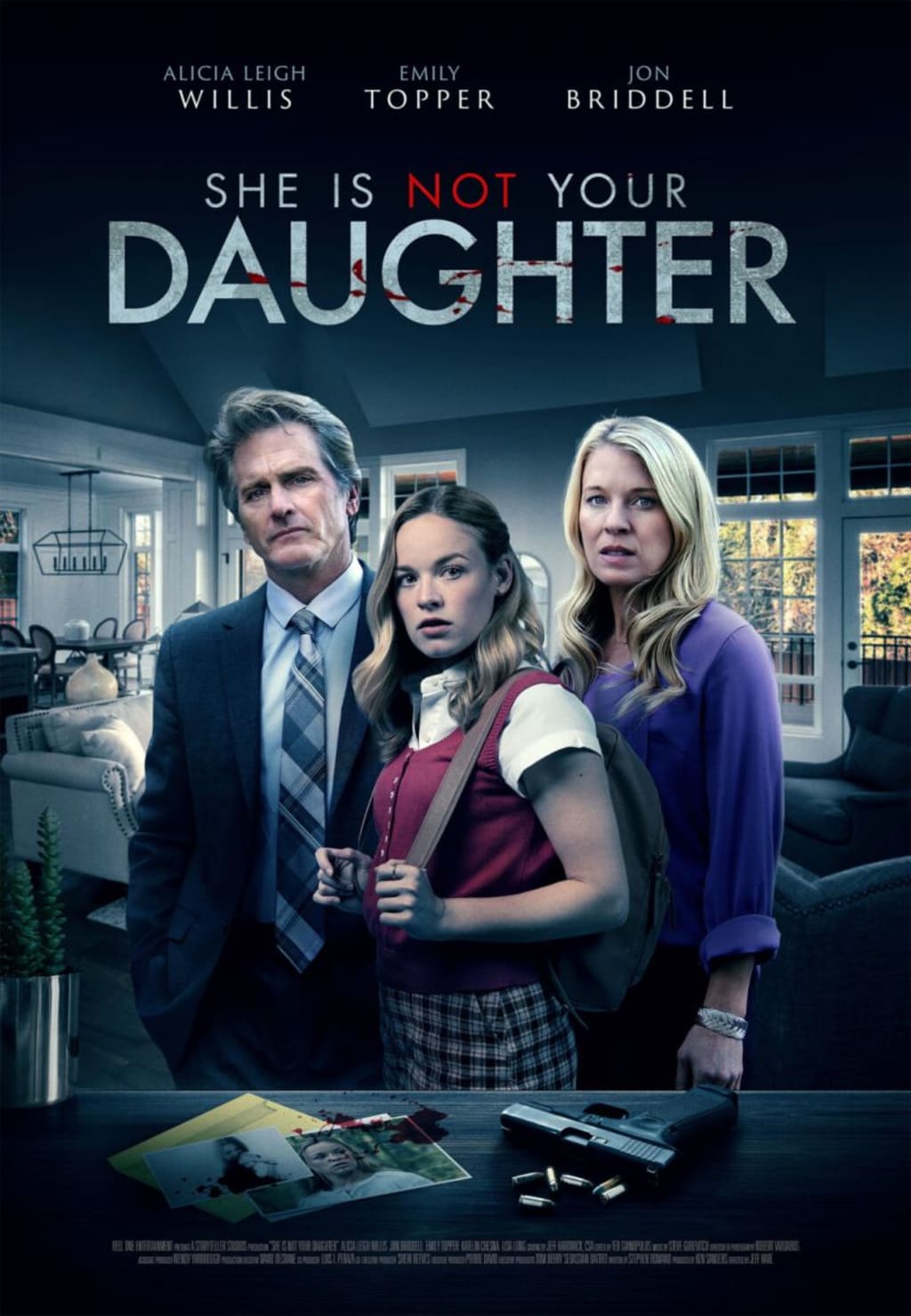 Synopsis:
Liza Morton (Alicia Leigh Willis) thought she had a perfect life. She and her husband Bob (Jon Briddell) both have thriving careers, they have a beautiful home, and their daughter May (Emily Topper) is on the verge of starting her freshman year of college. But after Liza takes notice of her husband's strange behavior, Bob confesses a shocking secret: May is not their biological daughter. Now not only is Liza grappling with learning her family is built on a lie, but she also has to deal with May's birth mother Jill (Katelin Chesna) stalking them and making threats. Can the Mortons withstand this devastating revelation...and can they survive the past coming back to haunt them?
Story:
If you're worried that my synopsis spoiled the movie for you, don't fret. All the information detailed above is established within the first 20-30 minutes of She Is Not Your Daughter. What's more, the full extent of what's going on with May's biological mother is also revealed early on, culminating in the film becoming half family drama and half crime thriller. While some may be disappointed by the quashed mystery potential, the movie being such a well-executed drama/thriller should be enough to cushion the blow. Director Jeff Hare keeps the plot boiling at the ideal temperature for building tension slowly without letting it get dragged to a monotonous halt. There's also an unexpected turn near the end that's sure to surprise many and which leads to the film's surprisingly touching conclusion that avoids feeling too saccharine. On the whole, Stephen Romano's script does what all good Lifetime movies do: take well-worn tropes and use them to craft an entertaining story.
Characters:
The Morton clan are all given healthy amounts of development, allowing them all to become immensely likable and sympathetic protagonists. It goes without saying that Bob is the most flawed of the family, what with him passing off May as Liza's child and hiding the truth from both women for years. But between his genuine love for his family and the tragic events that led him to his fateful decision, you'll sympathize with him and understand that his actions came with good intentions. The only time Bob starts getting annoying is when he's objecting to Liza obtaining a gun for extra protection once things start hitting the fan. Considering the nature of their predicament, getting a gun is a more than appropriate response and Bob's opposition is uncharacteristically illogical and shortsighted.
Liza and May, meanwhile, are sympathetic right off the bat. Liza's a doting mother and May's a loving daughter, so it's sad to see their hearts get shattered by Bob's revelation--and things only get worse from there. But amidst their despair lies a fiery determination that comes out during the aforementioned midpoint genre shift. You'll cheer both women on as Liza works to protect her family and May fights to escape the harrowing situation she finds herself in, with the latter throwing out some cathartic jabs at the villain along the way. The film's last notable heroic character is May's boyfriend Steve. While his pet name habit struck me as odd (he uses one every time he greets May), Steve is a purely lovable guy who adores his girlfriend and her parents. While he doesn't get too involved in the main story, he's still there to offer a helping hand to Liza and Bob in any way he can.
As for the antagonists, there's two of them and they're polar opposites of each other. SPOILER ALERT While Jill (as we learn) truly cares about May and doesn't want to be wrecking her family, her sister Faye is as heartless as they come. Of the two, Jill is the more compelling character. As intimidated as she may be by Faye, it quickly becomes clear that Jill's love for her daughter outweighs her fear of her sister. As such, learning that she survived Faye's attack and seeing her end the movie being accepted into May's life and the Morton family is incredibly heartwarming. Faye, on the other hand, is your standard ruthlessly greedy extortionist/kidnapper. Her most interesting quality is how, during her abduction of May, she occasionally drops her aggressive attitude and starts treating her captive with a bit of condescending compassion. It's brief, but it beats the laughable moments when Faye's screaming her lungs out in a failed attempt at being a hammier brand of Lifetime villain. Spoilers Over
Acting:
The core trio of actors for She Is Not Your Daughter does a bang-up job portraying the Morton family's turmoil as Bob's secret turns their lives into a nightmare. Alicia Leigh Willis and Emily Topper are especially great when it comes to Liza and May's reactions to learning the truth and their characters' other intense scenes. Jon Briddell is more subdued in his depiction of Bob's fear and anguish. Considering Bob is arguably the most emotionally reserved of the Mortons, this approach suits Briddell's character perfectly. Diron Jones is naturally charismatic as devoted boyfriend Steve while Katelin Chesna does a similarly effortless job making you feel bad for Jill. That leaves Lisa Long to serve as the cast's weakest link. SPOILER ALERT Her performance as wicked sister/aunt Faye is decent when she's keeping her reeled back, like when she's cowing Jill into obedience or taunting May while holding her hostage. But whenever she starts randomly screeching and trying to make Faye an over-the-top loon, Long's acting goes from adequate to inept. Spoilers Over
Overall:
Having such an excellent main cast to its name does She Is Not Your Daughter a big favor. When the plot makes its potentially divisive genre switch, none of the three lead actors miss a step and keep giving stellar performances. The story may hold few surprises for well-versed Lifetime viewers, but the terrific cast (as well as the engaging characters they play and the film's interest-keeping pace) still make this a movie worth checking out. If you liked Alicia Leigh Willis's Saving My Daughter, you'll definitely enjoy her newest Reel One Entertainment-distributed project, which is similar to Saving My Daughter in terms of plot and tone.
Score: 7.5 out of 10 aspirations to be Martha Stewart.
review
movie
About the author
Aspiring writer and film blogger: Lifetime, Hallmark, indie, and anything else that strikes my interest. He/him.
Twitter: @TrevorWells98
Instagram: @trevorwells_16
Email: [email protected]
Reader insights
Outstanding
Excellent work. Looking forward to reading more!
Top insights
Expert insights and opinions

Arguments were carefully researched and presented

Easy to read and follow

Well-structured & engaging content

Excellent storytelling

Original narrative & well developed characters
On-point and relevant

Writing reflected the title & theme

Eye opening

Niche topic & fresh perspectives

Masterful proofreading

Zero grammar & spelling mistakes

Compelling and original writing

Creative use of language & vocab
Add your insights