Lifetime Review: 'Psycho Sister-in-Law'
An estranged sister's return home means trouble for the weak protagonists of this sedated drama.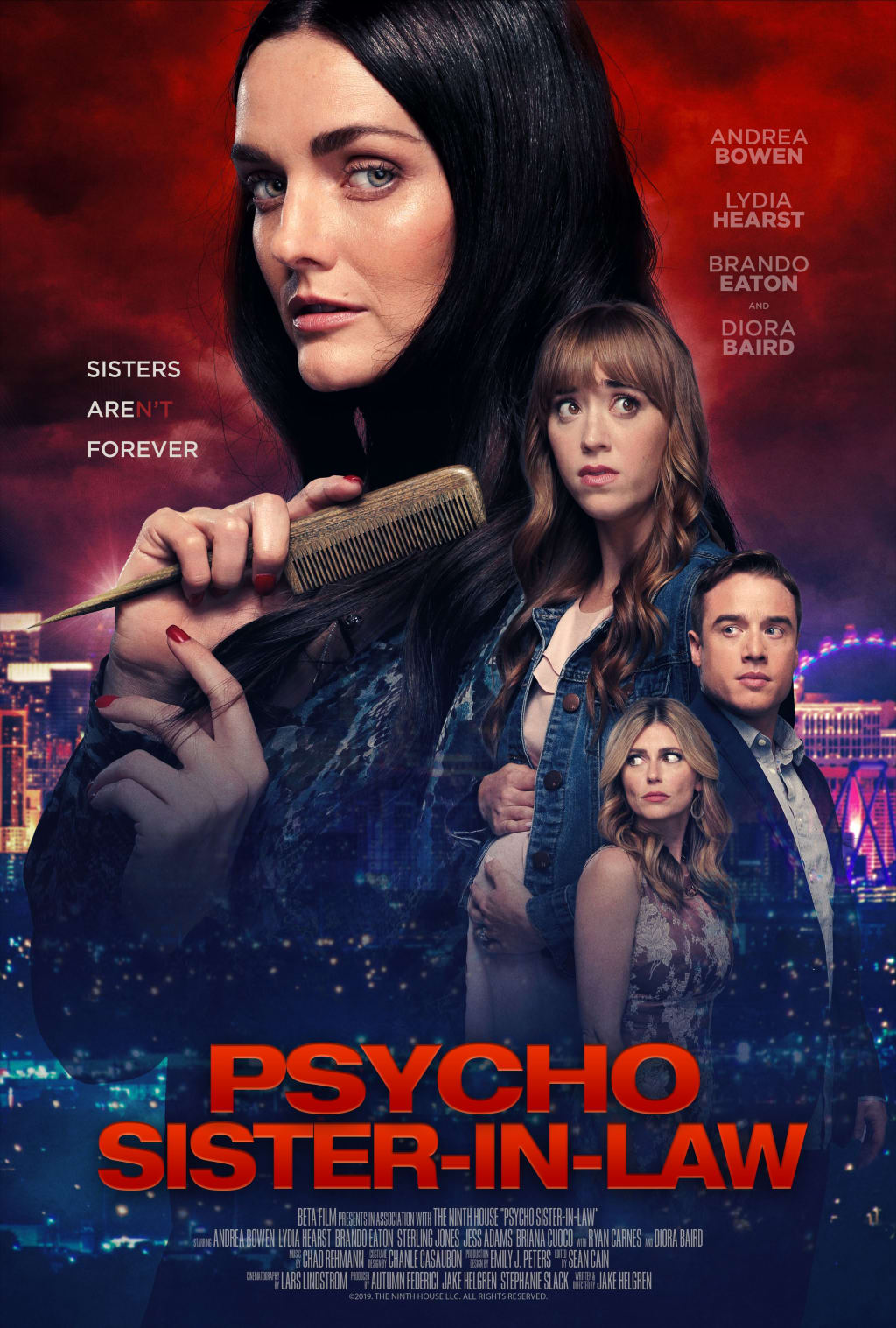 The future looked bright for Haley and Nick Downes (Andrea Browen and Brando Eaton). With Nick's successful position at his father's construction company and Haley's pregnancy, the couple couldn't be happier. However, the Downes clan is shocked when Nick's father Gavin (Rod Sweitzer) suddenly dies in a tragic work accident. What's more, the death leads to the sudden arrival of Nick's estranged half-sister Zara (Lydia Hearst).
Wishing to reconnect with Zara during their time of mourning, Haley and Nick invite Zara to stay with them for a while. But as the days pass, Zara's behavior grows disconcerting and the Downes' surprise guest begins to wear out her welcome. It soon becomes clear that Zara has ulterior motives for returning home--and more than a few dangerous secrets. Will Haley be able to save her family from her nightmare of an in-law?
Coming to us courtesy of regular Lifetime writer/director Jake Helgren, Psycho Sister-in-Law would seem in dependable hands. While the past films in Helgren's budding "Psycho" series had their flaws, they still made for enjoyable enough Lifetime dramas. But in the case of the saga's latest installment, its mistakes are enough to drag Psycho Sister-in-Law down lower than its predecessors. Of its problem areas, pace is the one that most consistently hinders the movie. For much of its runtime, Psycho Sister-in-Law keeps its drama at a painfully slow burn, with Zara's demented schemes mostly boiling down to being a bad guest and making harsh remarks against her late father's fiancee. Zara eventually does get to show her full psycho colors, and Lydia Hearst shines when she's allowed to let loose. But for much of the film, Zara feels far too restrained by the film's lethargic script, leaving her strapped for time to become a truly engaging villainess.
Not helping matters is how Hearst's performance shares a similar flaw found in Killer Dream Home, another Helgren-helmed Lifetime thriller. Like with Eve Mauro, Hearst makes the mistake of overplaying Zara's villainy in moments when she should be keeping her true nature concealed. In Hearst's case, the script at times seems to force her into this pitfall, with Zara not even trying to mask her condescending comments and harbored resentment. And unlike Mauro, Hearst spends significantly more time having to play this side of Zara. As such, not only is Zara's strength as an antagonist damaged, but Haley and Nick both look like idiots for trusting Zara as she lets her red flags fly right in their faces.
Speaking of, Haley and Nick continue the botched character parade as they prove to be hard protagonists to root for. Haley and Nick spend most of the movie in a vicious flip-flopping cycle when it comes to Zara. One second, they seem to be catching on to Zara's actions, and the next, they're completely in the dark. Haley is the most guilty of the two in this aspect, given how she's often there to bear witness to (and ultimately ignore) Zara's alarming behavior. Her dense decisions continue even into the climax, which has Haley make the sort of mistakes usually reserved for dim-witted slasher movie characters. In addition to joining Haley in the cycle, Nick also suffers from appearing too detached from the tragedies that befall him. While there's a scene of Haley claiming her husband is wracked with stress over the film's events, Brando Eaton's delivery sparsely matches that description. Eaton and Andrea Bowen share sweet chemistry as a married couple, and both have their moments of giving strong individual performances (Bowen, in particular, joins Hearst in having her best moments during the intense climax). But overall, they're let down by being stuck playing characters who are often too naive and inconsistent to root for.
In more likable characters, we have Diora Baird as Gavin Downes' fiancee Callie. While Callie initially appears to be your average ditzy gold-digging trophy wife, Baird plays her in a way where you don't doubt the love she had for Gavin and that she's much more Genre Savvy than she looks. She's the first among the primary cast to realize that Zara's up to no good, and unlike Haley and Nick, her awareness never dips throughout the movie. While she spends much of the movie inactive against Zara (almost putting her at the same level of stupid as Haley), the moments when Callie fights back against Zara and works to take her down make for some good drama.
It's enough to make me name Callie as the movie's smartest and most appealing character, and wish she had been the main protagonist instead of Haley. SPOILER ALERT Unfortunately, as seems to be a Helgren trademark as of late, Callie winds up offed by Zara in the big climax just when it appears she might emerge as Psycho Sister-in-Law's surprise hero. Spoilers Over Joining Callie in surprisingly memorable supporting characters are Zara's boyfriend Reid and the ill-fated Gavin Downes himself. Ryan Carnes brings an icy allure to Zara's conniving lover, and in his brief screentime, Rod Sweitzer makes Gavin a wholesome and sincere man who you might find yourself missing when he meets his expected end. Sterling Jones also has his charming moments as family friend Turner Stevens, though other scenes are marred by Jones' occasionally stilted delivery.
(An aesthetic problem also pops up in the form of Psycho Sister-in-Law's background music, which has moments of overpowering the dialogue and making it hard to hear)
While Ninth House Lifetime thrillers usually make for a fun two hours of entertainment, Psycho Sister-in-Law falls short in that regard. Most of the cast makes the most of what they're given, and the climax makes up for what the rest of the movie lacked in thrills (while also including a morbidly beautiful bit of cinematography). The movie's final act even throws in a plot twist that, while nothing that Lifetime hasn't done before, still came as a welcome surprise. But with protagonists too dense to care about and a script that struggles to enthrall, and you have a movie that fails to reach the same heights as The Perfect Mother or Sins and Seduction. With another Helgren-produced Lifetime feature set to premiere soon (Secrets in the Woods), time will tell if it'll succeed where Psycho Sister-in-Law stumbled.
Score: 4 out of 10 nursery sketches.
review
Aspiring writer and film blogger: Lifetime, Hallmark, indie, and anything else that strikes my interest. He/him.
Twitter: @TrevorWells98
Instagram: @trevorwells_16
Email: [email protected]