Lifetime Review: 'Nightmare Neighborhood Moms'
A single mom is the target of a vindictive neighbor's fury in this deliciously dramatic domestic thriller.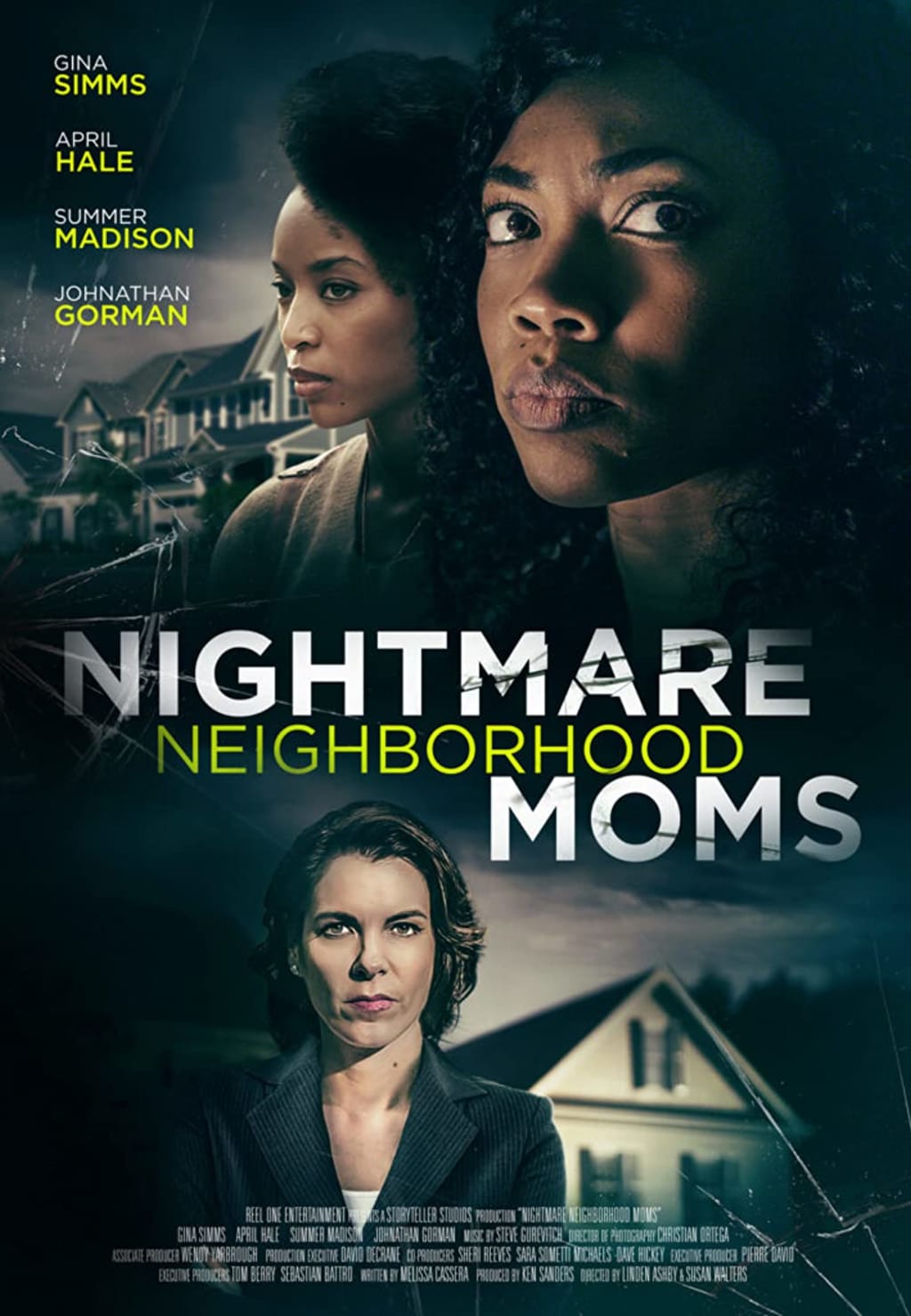 Synopsis:
Charlotte Porter (April Hale) wanted a fresh start for herself and her daughter Jordan (Summer Madison) after her divorce. She thought she'd found it in a beautiful new home in Cascade Lakes. But by moving into the neighborhood, she's unknowingly made herself a new enemy: Bonnie Mason (Gina Simms), her next-door neighbor. In addition to being hyper-competitive, Bonnie is still not over her husband Christian (Johnathan Gorman) having an affair with their last neighbor, who was killed in a robbery gone wrong. Convinced that Charlotte is trying to steal her husband, Bonnie resolves to do everything in her power to destroy her. This spells danger for Charlotte and her daughter, as Bonnie was actually responsible for the murder of her husband's mistress. What else is she prepared to do to keep her outwardly perfect life intact?
Story:
With a premise that wouldn't be out of place in a drama-rife soap opera, Nightmare Neighborhood Moms has a fun story that suffers from very little lag. We get to see what Bonnie's capable of right off the bat, and from there, we watch as her schemes against the Porters gradually escalate. It's a blast to see Bonnie fall further and further down her rabbit hole, bursting into intermittent freak-outs and putting on a thin mask of artificial charm whenever she's around Charlotte. This escalation moves at a steady rate, giving us enough time to revel in Bonnie's deranged mind before the action comes to a head with a Dynasty-esque climax. Before that climax hits, all three of the families involved in Bonnie's lunacy (her and Christian, Charlotte and Jordan, and Bonnie's friend Angela Samuels and her daughter Sabrina) are given a fair amount of screentime. You get to enjoy Bonnie's craziness at the same time you're growing to sympathize with the people whose lives are getting disrupted by her antics.
Characters:
Charlotte and Jordan Porter may be the heroes, but Bonnie Mason is unquestionably the sinister star of Nightmare Neighborhood Moms. Take the ultimate busybody neighbor, inject her with murderous insanity, and you've got Bonnie. Spiteful, delusional, and immensely entitled regarding her cushy life, Bonnie is enflamed when Charlotte becomes a perceived threat to both her marriage and her job as a cosmetics saleswoman. Finding out about Christian's infidelity and killing his mistress left Bonnie's stability hanging by a thread, and she's barely able to keep it contained when Charlotte's arrival sends her back over the edge.
There are some spots of humanizing depth to be found in Bonnie, but they aren't consistently written. Her visible shock at having gone through with murdering Kira is well-handled, as it explains why she initially uses tamer methods when dealing with Charlotte. But her feelings for Christian are more prone to flip-flopping. At times, it would appear Bonnie still loves her husband and is genuinely afraid of losing him. But other times, it seems she can't stand him anymore and is only staying with him to preserve her image. Christian is written with the same inconsistency: despite generally being portrayed as only staying with Bonnie to keep his own dirty laundry under wraps, there are a few moments when it appears he loves Bonnie and wants to make amends with her. In both cases, either characterization would've worked fine, but the script should've picked one for each half of the couple and stuck with them.
The rest of the characters' personalities are much more firmly set. Charlotte and Jordan are a thoroughly lovable duo. The former is an affable saleswoman and devoted mother while the latter is a bright young woman whose relationship with her mother is completely devoid of any friction. It's always a treat to see a teenage girl in a Lifetime movie who isn't some shade of bratty. Jordan also quickly clicks with the equally sweet Sabrina Samuels, with their friendship serving as a lighthearted subplot amongst all the chaos. Sabrina also proves to be a compelling supporting character as she shows she's well aware of the kind of person Bonnie is and doesn't hold back with how she feels about her. Of everyone who gets pulled into Bonnie's vendetta, Sabrina's mother gets the rawest deal. Your heart will break for Angela as Bonnie casually intimidates her so badly that she's able to send her into an anxiety attack.
Acting:
The well-written characters of Nightmare Neighborhood Moms owe a lot of their vitality to the excellent actors behind them. April Hale and Summer Madison share heartwarming mother-daughter chemistry and make it near impossible not to like Charlotte and Jordan. Madison has a similar sort of chemistry with Sarah Jirgal as Jordan and Sabrina become fast friends. As for Jirgal herself, she makes Sabrina as adorable as she is fierce when it comes to calling Bonnie what she is and denouncing her mother's unhealthy friendship with the psychopathic suburbanite.
Speaking of Angela, Coley Campany's depiction of the meek woman's intense fear of her "best friend" is poignant to watch. Despite playing unevenly developed characters, Gina Simms and Johnathan Gorman bring the toxic Mason marriage to life with vivid colors. Simms is marvelous as the insanely ruthless Bonnie while Gorman alternates between making you feel for Christian as he mourns Kira's death/the hopeless state of his marriage and making you detest him for not doing anything to stop Bonnie or warn Charlotte. SPOILER ALERT Despite that, it's still a cathartic moment when Christian finally comes to his senses, helping Jordan rescue her mother before publicly exposing Bonnie for her crimes. Spoilers Over
Overall:
If you have a craving for drama, consider visiting Cascade Lakes for a bite to eat. With its histrionic atmosphere and Bonnie's scattered bouts of hysteria, Nightmare Neighborhood Moms is sure to satisfy your appetite for Lifetimey madness. What Bonnie Mason lacks in stable character writing, she makes up for with the energy she brings to her wicked ways. You'll root for the wholesome protagonists as much as you'll get a kick out of Bonnie's downward spiral, which culminates in an ending that sees her at her psychotic peak. So on top of having healthy property values and well-kept lawns, Cascade Lakes is also home to a Lifetime thriller fans of the brand are sure to savor like a refreshing milkshake.
Score: 9 out of 10 STEM applications.
review
About the author
Aspiring writer and film blogger: Lifetime, Hallmark, indie, and anything else that strikes my interest. He/him.
Twitter: @TrevorWells98
Instagram: @trevorwells_16
Email: [email protected]
Reader insights
Outstanding
Excellent work. Looking forward to reading more!
Top insights
Expert insights and opinions

Arguments were carefully researched and presented

On-point and relevant

Writing reflected the title & theme

Easy to read and follow

Well-structured & engaging content
Excellent storytelling

Original narrative & well developed characters

Compelling and original writing

Creative use of language & vocab

Eye opening

Niche topic & fresh perspectives

Masterful proofreading

Zero grammar & spelling mistakes
Add your insights