Lifetime Review: 'Line Sisters'
This Lifetime movie about a deadly sorority secret is heavy on comedy, but light on thrills.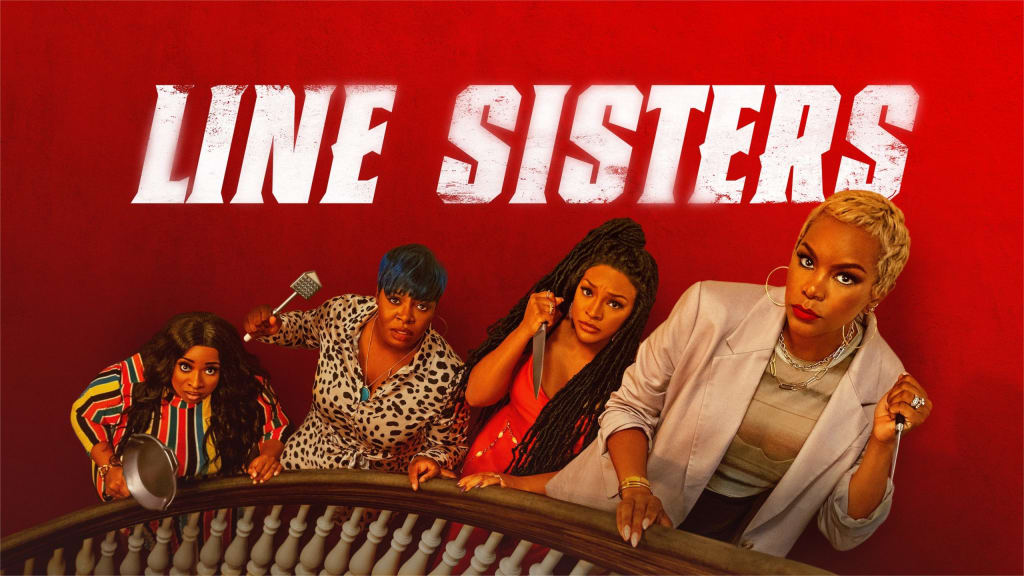 Synopsis:
15 years ago, Alpha Beta Omega Sorority was rocked by the drowning of their dean of pledges Jodi (Teesha Renee). In the years since, Valerie (LeToya Luckett) has become a lawyer and pushed the memory of the tragedy to the back of her mind. But that all changes when she and her old sorority sisters Cassandra and Dominique (Kierra Sheard-Kelly and Drew Sidora) travel to Outer Banks, North Carolina for a Black Greek Weekend. Soon after arriving at their rental home, frightening events plague the women and they become convinced it's tied to Jodi's death--and their indirect involvement in her drowning. While the arrival of Valerie's estranged ex-friend Simona (Ta'Rhonda Jones) stirs up bad blood, they'll have to put aside their differences if they want to survive their shared secret coming back with a vengeance.
Story:
Similar to Single Black Female, Line Sisters is something of a mashup of a BET female-centric dramedy and a Lifetime-esque slasher movie. In this instance, though, the mixing isn't quite even. While alarming incidents are peppered throughout the first two acts, it's not until the finale that the Alpha Beta Omega sisters' stalker takes their scheme to a lethal level. Until then, it's mostly just frightening but ultimately harmless pranks and stretches of the women hanging out and partying. They're an entertaining bunch, no doubt. But it gets a little annoying when the plot stops every few minutes so Valerie and her friends can chat over wine or go out dancing. Things do spice up in the climax, but those who come into Line Sisters expecting a Lifetimey horrorfest might end up changing the channel before then.
Characters:
But like I said, the main characters do make for a fun bunch. As such, those who aren't opposed to the big-ticket action being reserved for the last 30 minutes will enjoy seeing the ABO sisters reunion. Valerie is the likable steady head of the group who has a protective streak when it comes to her friends. Cassandra is the softest spoken of her friends, but don't let that fool you: she has a fiery spirit, one which comes out whenever she's dealing with her ex-husband Mitch. Dominique and Simona are equal in feistiness, but when it comes to likability, Dominique outdoes Simona. Between her refusing to own up to her role in Jodi's death and being something of a hazing advocate (claiming during an argument with Valerie that hazing is "character-building"), it's hard not to want to see Simona get taken down a peg.
The same applies to the other three women. While all of them had a hand in Jodi's death, they rarely appear to feel bad about it and get all smug and dismissive when their rival sorority rightfully calls them out. SPOILER ALERT The climactic reveal that Jodi was actually murdered feels like it was meant to absolve the women of culpability. But it fails because they still thought Jodi had drowned because of them. The fact that they're still guilty of having turned their backs on Brianne in favor of a toxic sorority doesn't do them any favors either. I wouldn't go as far as to say they deserved what Brianne put them through, though. She should've just moved on and taken the callous rejection as a sign she was better off not being an ABO. Speaking of Brianne, her character was definitely the spark Line Sisters needed after the slow boil leading up to her unmasking. With her insane rantings and disheveled appearance, she's a deliciously deranged antagonist whose accusations against her former sorority sisters hold some weight. If you really don't like Valerie and her friends, you might enjoy watching Brianne chastise and terrorize them. Spoilers Over
Outside of the primary characters, ex-husband Mitch and Dean of Pledges Jodi stand out as realistic depictions of two different kinds of abusers. Mitch is a chillingly authentic domestic abuser, getting in Cassandra's face all the time and throwing threats at her and her friends. Jodi, meanwhile, is a more lowkey brand of toxic. During the opening scene depicting the initiation ceremony that would end in her demise, Jodi alternates between lifting her pledges up and tearing them down. Had she lived, she likely would've continued this sort of behavior and made the girls' sorority experience a different kind of nightmare.
Acting:
The actors behind the lead foursome are largely responsible for keeping their characters from becoming completely unsympathetic. With LeToya Luckett and company giving the Alpha Beta Omega quartet big personalities brimmed with snark and sass, they make it easy to get caught up in their boisterous energy. Luckett keeps the group grounded as Valerie while still getting in on the wild fun as much as Drew Sidora and Ta'Rhonda Jones. Kierra Sheard-Kelly's gentle performance is what truly sells Cassandra as Line Sisters' most sympathetic character. That also makes it all the more satisfying whenever Cassandra stands up for herself and Sheard-Kelly goes from gentle to fierce. Marland Burke and Teesha Renee bring Mitch and Jodi's abusive colors to life with flair and SPOILER ALERT Morgan Alexandria does the same as psychotic revenge seeker Brianne. She dives into her character's lunacy with an unhinged zeal that any Lifetime fan is sure to eat up like Chinese takeout. Spoilers Over
Overall:
While the uneven tone and pacing may turn some viewers away, Line Sisters has just as much of a unique atmosphere as Single Black Female. Comedy has an even more pronounced presence here, and while it does end up interfering with the main story, the actors sell it with enough gusto to make it worth watching. Plus, when that main story reaches its climax, the drama soars into a crescendo that LeToya Luckett and her co-stars effortlessly sustain. So despite its flaws, Line Sisters makes it across its troubled waters and comes out on the other side a fun Lifetime movie to watch with your own gang of rowdy friends.
Score: 7 out of 10 Yellow Cab cabs.
movie
About the author
Aspiring writer and film blogger: Lifetime, Hallmark, indie, and anything else that strikes my interest. He/him.
Twitter: @TrevorWells98
Instagram: @trevorwells_16
Email: [email protected]
Reader insights
Outstanding
Excellent work. Looking forward to reading more!
Top insights
On-point and relevant

Writing reflected the title & theme

Compelling and original writing

Creative use of language & vocab

Easy to read and follow

Well-structured & engaging content
Excellent storytelling

Original narrative & well developed characters

Expert insights and opinions

Arguments were carefully researched and presented

Masterful proofreading

Zero grammar & spelling mistakes
Add your insights