Lifetime Review: 'In Love With My Partner's Wife'
A stalely paced and written Lifetime drama about a crooked cop whose battered wife finds solace in the arms of her husband's pure-hearted partner.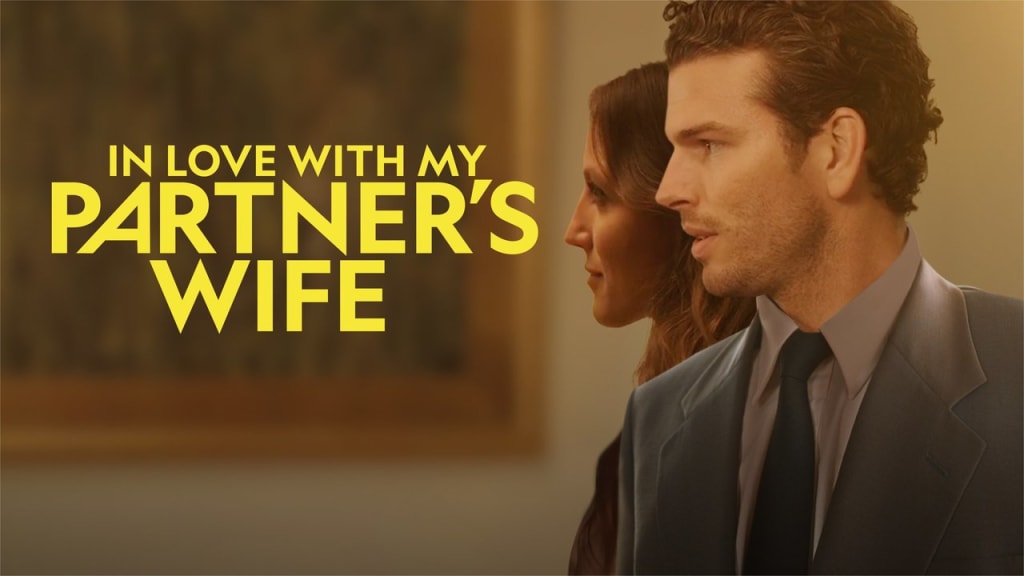 Synopsis:
Frank Miller (Jonathan Stoddard) is a respected police detective with a few skeletons in his closet. Not only is he a mole working for the very criminal his department is pursuing, but he's also developed a habit of abusing his wife Eve (Gina Vitori). The only person to pick up on Frank's true nature is his partner Paul Ford (Andrew Spach), who eventually convinces Eve to let him help her escape her husband's cruelty. But just as Eve begins to feel safe enough to acknowledge her feelings for Paul, Frank makes it clear he won't let her go so easily. After Frank frames Paul as a dirty cop, Paul and Eve are forced to hide out as they fight to clear Paul's name and expose the truth about Frank once and for all.
Story:
If it makes anything sense, In Love With My Partner's Wife feels less like a Lifetime movie and more like a half-hour episode of a crime drama stretched out to 90 minutes. It takes nearly an hour for the main plot to kick in, and once it does, the film slips into a rut as Paul and Eve become "fugitives" in their quest to take Frank down. That quest is never as thrilling or suspenseful as it could've been and the third act stretches the story even closer to its breaking point. There's a chance you might already be checked out by the time the conclusion finally comes around, leaving you unable to appreciate the climax's fleeting bit of plot deviation.
There's also a glaring inconsistency when it comes to the movie's main conflict. SPOILER ALERT A big part of why Paul and Eve go on the run is because they believe the rest of the department will take Frank's word over theirs. And for much of the film, this appears to be the case with Captain Anderson and Det. Andrea Billings. But then, out of nowhere, the two start going after Frank instead of Paul and Andrea later reveals that there'd be an investigation into Frank's shady dealings this whole time. If so, why didn't Andrea let Paul and Eve know so they could help get evidence proving Frank's guilt? Better yet, why wasn't the captain informed about Frank's crookedness earlier? Going off what the movie shows us, it would appear she wasn't told until some point between Paul and Eve going on the run and Andrea giving them a police wire for their poorly conceived sting operation. Spoilers Over
Characters:
Of the three lead characters, Eve has the most appeal. In her first scene alone, she shows classic signs of a domestic abuse victim. She always seem to be on edge. She's quick to compliment her husband and bolster his ego. When she says something that strikes Frank the wrong way, she's even quicker to double back on her words. Unfortunately, her efforts at placating Frank prove futile, as minor perceived slights are all it takes to incur her husband's wrath. Your heart will break as the extent of Eve's terror is shown, making it all the more cathartic when the battered woman turns the tables on her abuser. Frank, meanwhile, checks off all the boxes on the abusive husband tropes list. He's outwardly a charming man and loving husband, but takes his frustrations out on his wife when they're alone. He gives Eve gifts and empty apologies to "repent" for his abuse. He swears to Paul he'll get help when he catches on to how he's treating Eve. He's possessive of Eve, jealous of her growing bond with Paul, and even goes as far as to demean Eve's artistic abilities.
But as much as Frank follows the Lifetime playbook to a T, he still makes for a chilling antagonist--especially once Eve's defiant escape sends him flying off the deep end. This leaves Paul to be the most generic of the three main characters. He's an average clean-cut hero who swoops in to save the woman he loves from her brute of a husband. One memorably groan-worthy bit of dialogue from Eve ("So this is what it's like to feel safe and cared for!") hammers home just how much we're supposed to love Paul and see him as Eve's knight in shining armor. Granted, Paul's unquestionably better than Frank and he and Eve make for a cute couple. But between his blandness and his dense attempt to expose Frank, you're not likely to be as impressed by Paul as the movie wants you to be.
To match its trio of main characters, there's also a trio of plot-significant supporting characters: Captain Anderson, Dt. Andrea Billings, and Callaghan. Anderson and Billings are thoroughly uninteresting, being inactive characters who suddenly become useful when the plot needs them to be. The only time Andrea's memorable is during her embarrassingly unsubtle attempt at flirting with the uninterested Paul. Callaghan, while mostly a generic criminal mastermind type, at least gets a nugget of depth in the final act. SPOILER ALERT He may be a ruthless kingpin willing to do anything to avoid capture, but if his brief alliance with Eve is any indication, even he has a disdain for wife beaters. Spoilers Over
Acting:
Andrew Spach stands out as the wobbliest of the primary leads. He pulls off playing Eve's dashingly heroic lover on an aesthetic level and he shares some solid chemistry with Gina Vitori. But his frequently one-note delivery mixes with Paul's moments of idiocy to create a leading man you struggle to root for as effortlessly as you do Eve. Vitori and Jonathan Stoddard are much more gripping and emotive as the dysfunctional Millers, making it no challenge for the viewer to hiss at the despicable Frank and root for victim-turned-fighter Eve. Nicole Pulliam and Isabelle Oliveira are given next to no room to make an impression as Anderson and Billings, with the same going for Corbin Timbrook as Callaghan. Even when Callaghan receives his aforementioned nugget of depth, Timbrook's boilerplate performance is left unchanged. So out of six of this movie's notable actors, only two of them give strong performances facilitated by well-written characters.
Overall:
In Love With My Partner's Wife had great thriller potential and it's always commendable for a Lifetime movie to draw attention to serious issues like domestic abuse. It's a shame all of that goes to waste on an underwritten narrative and a cast of mostly flat characters. Gina Vitori and Jonathan Stoddard pick up the slack left by their co-stars and the story (when it's not being sluggish) is relatively watchable if you have time to kill. Just don't go in expecting a steamier version of The Fugitive. Not only are the sensual scenes few and far between, but In Love With My Partner's Wife isn't even half as exciting as the Harrison Ford-led action classic.
Score: 4 out of 10 panda figurines.
review
movie
About the author
Aspiring writer and film blogger: Lifetime, Hallmark, indie, and anything else that strikes my interest. He/him.
Twitter: @TrevorWells98
Instagram: @trevorwells_16
Email: [email protected]
Reader insights
Outstanding
Excellent work. Looking forward to reading more!
Top insights
Compelling and original writing

Creative use of language & vocab

Easy to read and follow

Well-structured & engaging content

Excellent storytelling

Original narrative & well developed characters
Masterful proofreading

Zero grammar & spelling mistakes

On-point and relevant

Writing reflected the title & theme
Add your insights