Lifetime Review: 'Fatal Defense'
Before 'Blood, Sweat and Lies,' there was this underwhelming tale of a hunky psycho's obsession with a woman looking into physical fitness.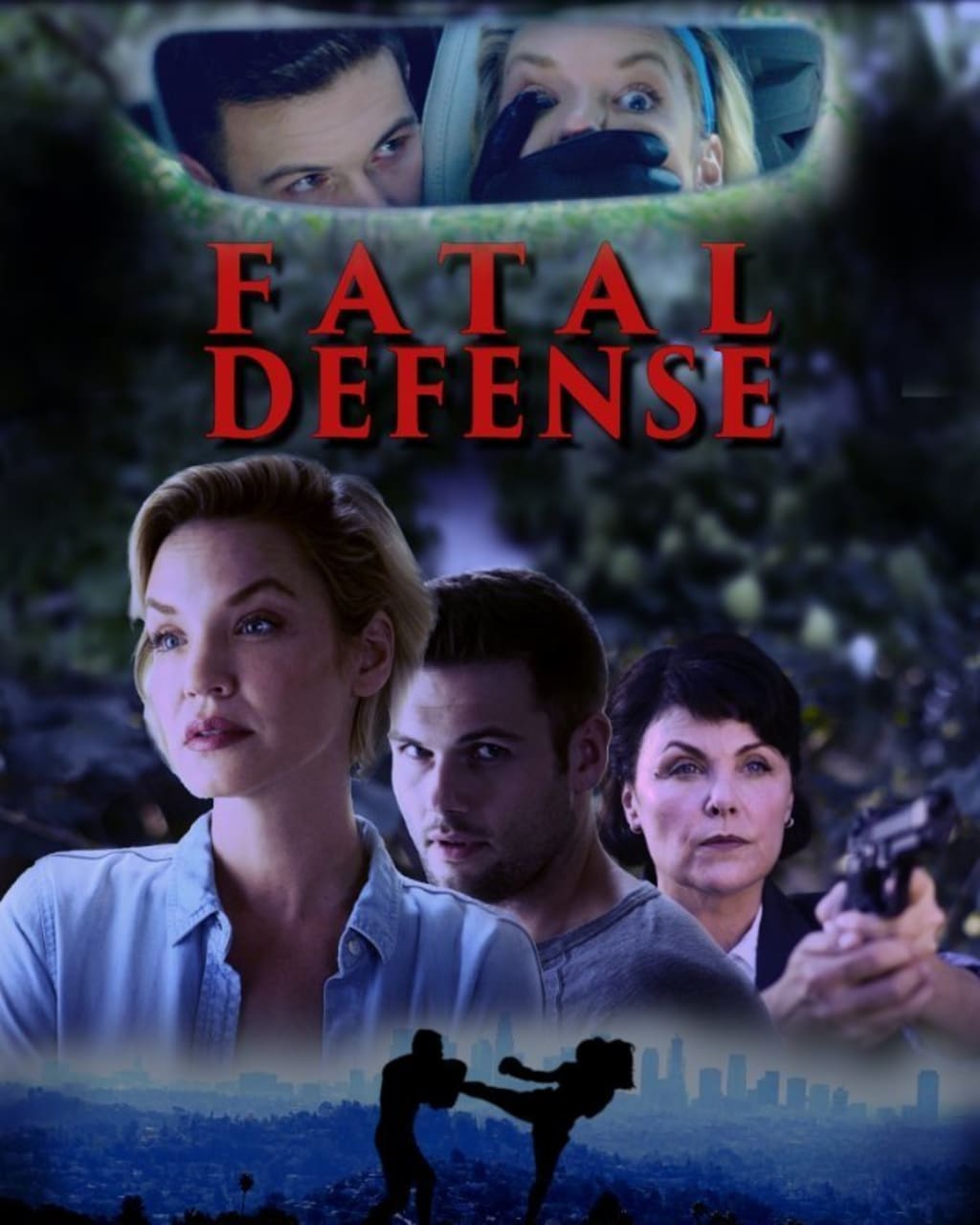 Since I talked about this Lifetime "thriller" from last year in my recent review of Blood, Sweat and Lies, one of 2018's first Lifetime premieres, I figured I could devote 600 words or more to talk about how bland and mediocre Fatal Defense was. And like with BSL, there's a hint of tragedy within the schlock, as Fatal Defense gave itself an opportunity to avoid the path to boredom—only to ignore it like a cinematic plague.
The film opens on a promising note, with single mother Arden Walsh (Ashley Scott, a regular to Lifetime's screen) being bound and gagged to a chair by a home intruder while her daughter, Emma (Sophie Guest), sleeps upstairs, completely unaware of the terror her mother is being inflicted. Thankfully, Arden is spared any further trauma, but the home invasion leads Arden to decide to take a self-defense class.
The class is being led by instructor Logan Chase (David Cade, whose arms definitely fit the role of a trainer). While Logan's teachings initially come off as intense and slightly demeaning, he and Arden begin to bond over lessons, and Arden feels she's on the road to recovery. But soon, Logan is zip tying Arden and throwing her in his trunk as a "teaching mechanism," and Arden sees that Logan's traumatic past has led him to go to delusional means of teaching self-defense....and that he won't stop until Arden proves herself to be ready to survive the world.
From what I've described, Fatal Defense had the potential to be a different kind of stalker film for Lifetime. Rather than becoming romantically infatuated with Arden, it appears Logan was obsessed with making her equipped to deal with the potential dangers of life. But sadly, this film's biggest downfall lies in its villain, as Logan's motivations are frustratingly underdeveloped. Rather than delving into Logan's psyche or painting him as a more complex antagonist, the movie writes him off as a general psychopath, with his motivation being twisted by the lengths he goes to terrorize Arden.
It's a shame Fatal Defense's plot leaves so much to be desired, as the film's cast is fairly talented and could've done much better with a more quality script. Ashley Scott (who I best remember for her poignant portrayal of Mary Newhouse from Lifetime's UnREAL) makes for a likable and sympathetic protagonist, and David Cade, despite the flaws in Logan Chase's character, makes for an entertaining psycho. Sherilyn Fenn also makes an appearance as an....interesting detective, to say the least, whose bizarre mannerisms were definitely noticed by Lifetime's online community. It's just unfortunate that none of them are given much to work with to make Fatal Defense stand out as a truly entertaining flick.
The biggest downfall, however, would definitely be the movie's plot flow. Arden discovers Logan's instability fairly early on, which, in the right writer's hands, can be used to make something different from Lifetime's usual formula. But instead, from that point on, the film drags to a crawl, with uneventful stretches of plot being stretched far thinner than they should have. As a result, by the time the film's standard "I am woman, hear me roar!" climax occurs, most viewers will have already flipped the channel.
As I stated before, Fatal Defense was the perfect film to air before Blood, Sweat and Lies: both are dull films that strand potentially complex characters and talented actors in a sea of bland mediocrity. This is the exact kind of movie that has given Lifetime such a bad reputation among TV critics, and it's a shame, because Lifetime has far greater capability than this. We can at least take comfort that for every Fatal Defense, there's always a Deadly Exchange to counteract the stench.
Score: 2 out of 10 black duct tape gags.
About the Creator
Aspiring writer and film lover: Lifetime, Hallmark, indie, and anything else that strikes my interest. He/him.
Twitter: @TrevorWells98
Instagram: @trevorwells_16
Email: [email protected]
Reader insights
Be the first to share your insights about this piece.
Add your insights