Lifetime Review: 'Escaping My Stalker'
Lifetime starts 2020 off right with this emotionally charged thriller.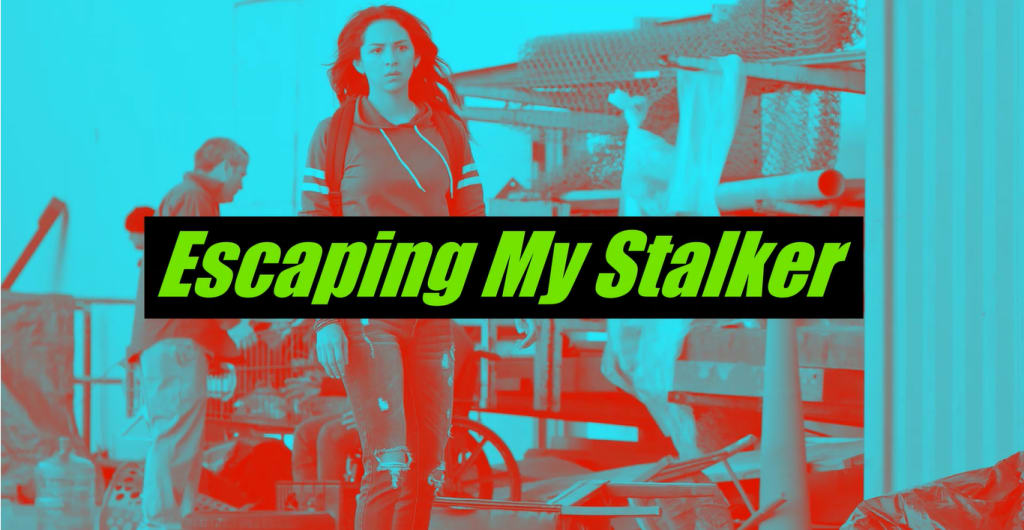 A year ago, Taylor Stewart (Ezmie Garcia) was a troubled teen struggling to survive on the streets. But after meeting shelter operators Sandy and Larry (Lifetime royalties Alexandra Paul and Linden Ashby), Taylor is taken in and adopted by the compassionate couple and gets the chance to turn her life around. Now, Taylor has a steady job at the local skate park and does what she can to help other teens in the same situation she was in.
Unfortunately, Taylor's new life is interrupted when a disguised man breaks into her house, with the home invasion ending with Larry getting shot. While the police believe it was simply a robbery gone wrong, Taylor believes he was there specifically to abduct her. As Taylor suspects, she does in fact have a stalker in the form of Miles (Andrew James Allen), a young man whose grandmother Marnie (Mariette Hartley) is hellbent on seeing Taylor suffer. Can Taylor uncover the truth before her stalkers put their malicious plan into action?
Being the first Lifetime premiere of 2020, the channel couldn't have selected a better film to debut at the start of the new year than Escaping My Stalker. Being produced by frequent Lifetime dream team Tom Berry and Pierre David and having been penned by screenwriter Stephen Romano (the same writer behind similarly great Lifetime films Deadly Influencer and My Mother's Split Personalities), Escaping My Stalker had a lot of great talent behind it, which more than came to life onscreen. Add to that a stellar cast that brings all the emotions their characters feel to life, and you have an exceptional film to start the new decade with.
The definite highlight of the cast would be Ezmie Garcia, who proves herself more than capable of sharing the screen with Lifetime veterans Alexandra Paul and Linden Ashby. Throughout the entire film, Garcia sells Taylor as a strong-willed teen who has a lot of love and compassion to give to her adoptive parents and the teens she wishes to save from the life that was once hers--to the point of being willing to risk her own safety to protect them. Garcia particularly shines, however, when Taylor's tough exterior drops to show the emotionally vulnerable girl that lies beneath it, with Garcia's best moment being how she throws herself into Taylor's emotions after she realizes what has motivated her stalker. In the end, Taylor is a well-rounded and brutally sympathetic protagonist, which adds to the emotionally charged nature of Escaping My Stalker's plot.
Characters who also add to this are Miles and Marnie Dyson, played excellently by Andrew James Allen and Mariette Hartley respectively. After having her talent wasted in He's Out to Get You, Hartley thoroughly embodies the qualities of Escaping My Stalker's grandmother from Hell.
WARNING: Spoilers Below
In a similar fashion to the villain from Deadly Detention, Marnie is initially set up as a sympathetic avenger before the film reveals her as a thoroughly unsympathetic monster--and then some. Throughout the film, Hartley fully takes on Marnie's abusive attitude towards Miles, allowing the viewer to share in Miles' fear and suppressed anger against his grandmother. The third act, however, is when Hartley is able to truly blossom as a revoltingly nasty villain, with her rant to Sandy about her sadistic plans for Taylor and disgustingly arrogant boast about her legacy of abuse being sure to have many viewers' skin crawling.
(In my one forgivable complaint against Escaping My Stalker, I wish the climax had been capped off by Miles getting revenge on his monster of a grandmother by shooting her dead. It would've been a much more satisfying end for her rather than her simply getting locked up, because if any Lifetime villain deserved death, it would be Marnie Dyson)
As the titular "Stalker" of the title, Miles turns out to be a villain you simultaneously loathe and sympathize with. As played by Andrew James Allen, Miles initially appears to share in his grandmother's irrational blaming of Taylor for the death of his runaway brother Ronny (played with heartbreaking emotion by Tyler Sanders), and in the end, appears to refuse to kill Taylor solely to stand up to Marnie rather than for Taylor's sake. But on the other hand, throughout all of his scenes, Allen gives Miles an air that suggests, despite his willingness to kidnap Taylor and kill anyone who gets in his way, he only does so to avoid his grandmother's wrath. In the end, while Miles doesn't come out of the film entirely sympathetic, Allen's stellar performance is guaranteed to make you feel for the kid to some degree.
Spoilers Over
Alexandra Paul and Linden Ashby (the latter of whom also directed Escaping My Stalker in his film directorial debut) match Garcia in bringing warmth to their characters, making Sandy and Larry's entanglement in Taylor's situation all the more upsetting. Pedro Correa is sweet and charming as Taylor's friend Clu, and Escaping My Stalker boasts a handful of memorable side characters, including: Jacob Fig and Marcus Ray as Taylor's protective but problematic old ally Joe and his bodyguard "Danger", Travis Johns as Taylor's laid-back and supportive boss Jon Riker, and Michael Williams as James, a young homeless teen who Taylor befriends.
Having been made by people familiar with the channel, Escaping My Stalker has all the trappings of a strong Lifetime thriller: plenty of drama and tension, a strong cast, and a script that brings depth and emotion to its well-written characters. Add in a memorably despicable villain and an ending that wraps everything up on an appropriate note for the film that precedes it, and you have yourself a Lifetime film you'll come back to and one that is perfect for ringing in the new year.
Score: 10 out of 10 discarded handcuffs.
About the Creator
Aspiring writer and film lover: Lifetime, Hallmark, indie, and anything else that strikes my interest. He/him.
Twitter: @TrevorWells98
Instagram: @trevorwells_16
Email: [email protected]
Reader insights
Be the first to share your insights about this piece.
Add your insights