Lifetime Review: 'Do You Trust Your Boyfriend?'
Some aggravating supporting characters aren't enough to derail this Lifetime teen thriller.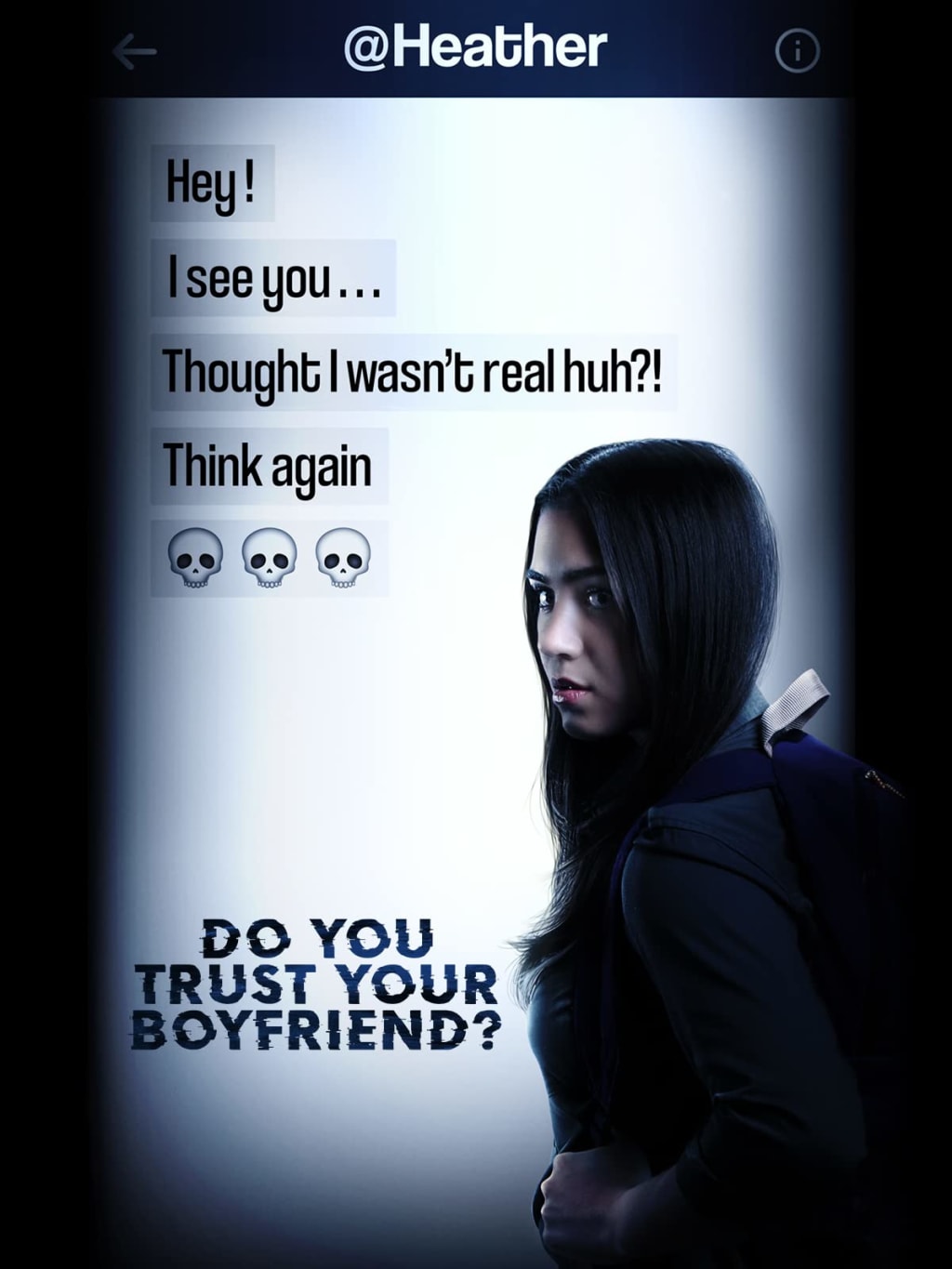 Synopsis:
Nicole Ramos (Lawson Greyson) is a high school senior with relationship woes. Her boyfriend Liam DeLuca (Derek Rivera) is a great guy, but with him being a popular athlete, Nicole worries that he might be tempted by all the girls crushing on him. With that in mind, Nicole gets an idea to test Liam's loyalty: she creates a fake social media profile and uses it to flirt with Liam. After Liam passes the test, a remorseful Nicole deletes the profile and thinks that's the end of it. But two months later, Nicole is shocked when a new girl arrives at her school: Heather Harris (Kendall Cato), the same girl whose pictures and name she used for her fake profile! As alarming events strike the school and turn Nicole's life upside down, she becomes convinced Heather has something to do with it. But can she prove it before Heather's schemes cost her everything?
Story:
It's an intriguing plot for a Lifetime teen flick, and Do You Trust Your Boyfriend? milks it for all it's worth. The plot described in the synopsis is all set and ready to go by the first commercial break, leaving the rest of the movie to be a tense cat-and-mouse game between Nicole and Heather after the latter drops her thin veneer of innocence. Seeing Heather gleefully mess with Nicole's life and turn everyone against her is delicious mayhem to watch unfold--especially since neither girl involved is truly innocent. While Heather is definitely dangerous, Nicole "testing" her boyfriend is what allows Heather to worm her way into her life. As such, seeing Nicole's insecurities lead to Liam and her own mother losing their trust in her is the perfect karma. It also fits with the film's overall theme about trust and can even serve as an allegory for the dangers of letting your emotions override your better judgment.
There is one aspect of the script where the trust theme gets a little muddled. While Liam's reasoning for mistrusting Nicole is understandable, her mother Madelyn's reason for doing the same feels forced. We're given a backstory of Nicole apparently turning to alcoholism after her father cheated on her mother and they divorced. But this only gets brought up the very second Madelyn needs a reason to distrust Nicole. It would've been a more natural development had Nicole's past behavior been alluded to beforehand. As is, it comes off like a hastily added detail meant to explain why Madelyn suddenly starts assuming the worst about her daughter.
Characters:
Almost all of the protagonists are flawed to some degree and those flaws are handled with varying degrees of effectiveness. Thankfully, Nicole Ramos' flaws are handled quite well. A generally likable girl, her biggest mistake is letting her unsubstantiated fears about Liam get out of control and lead her to unwisely create a fake profile with a real person's photos attached to it. This ploy is not only a massive breach of trust against Liam, but it's also incredibly reckless and is shown to have wider-spreading consequences than Nicole anticipated. Once the truth comes out, Nicole recognizes the gravity of her mistake, and before that, you'll still feel bad for her as Liam and Madelyn dismiss her as a liar.
The same can't be said for her friends Angie and Cass. Angie is the worse of the two, as unlike Nicole, Angie refuses to admit that the way she utilized the Heather Harris profile was wrong and gets incredibly nasty when Cass calls her out for this. Not that Cass is a saint herself, mind you. Despite being right to tell Nicole and Angie that their catfishing scheme is wrong, she later becomes estranged from the girls seemingly because they exposed her boyfriend as an unfaithful pig. Regardless of the morally hairy way they found out about it, Nicole and Angie were right that Cass deserved to know the truth about Isaac, and Cass getting upset at them for telling her is textbook misplaced anger. Liam, with his wholesomely charming personality and justified frustration with Nicole that leads him to disbelieve her claims against Heather, stands out as the only fully likable person in Nicole's circle of schoolmates.
Meanwhile, Madelyn at least starts out as a caring and level-headed mother/teacher. But out of nowhere, Nicole's attempts to expose Heather and Heather's machinations have Madelyn shrilly jumping to conclusions and responding to her daughter (from her perspective) having an emotional breakdown by yelling at and grounding her. It ends up coming across that Madelyn's only concern when it comes to Nicole's apparent relapse into old habits is that it's causing her embarrassment. By the time Madelyn finally comes to her senses, it's too little too late to redeem her. On the parenting scale, she only ranks a tiny bit higher than Heather's mother Ruth, who is an impressively realistic depiction of a cold-hearted mother too prideful to admit to the damage she's done to her child.
Speaking of Heather, she's the undisputed crown jewel of the character roster. With her pretty face and bubbly demeanor, it's no wonder Heather's able to use her charm and Nicole's wrongdoings to manipulate everyone around her. Whether she's seducing Liam, kissing up to Madelyn, or delivering smug taunts to Nicole and her friends, Heather is a magnificent villainess to watch in action. Plus, once you hear her backstory, you're bound to understand why Heather hates Nicole so much. You might even be rooting for Heather's evil plan to be successful after hearing about everything that happened to the girl through no fault of her own.
Acting:
Considering she plays the film's best character, it only makes sense that Kendall Cato gives the best performance of the movie. Do You Trust Your Boyfriend? is Cato's first Lifetime feature and she's clearly having a blast playing the heinous Heather Harris. Juxtaposing her cheery voice against Heather's vicious words and destructive actions, Cato transforms Heather into a masterful life destroyer--and you'll love every second of it. She's just as effective whenever the film takes a moment to let the viewer see the broken girl that lies behind Heather's wicked ways. Even when her actions become inexcusably cruel, the nugget of sympathy for Heather that these moments provide will remain. Lawson Greyson plays well off Cato as Heather and Nicole begin locking horns, making the battle of wills between them intensely engaging.
On her own, Greyson makes Nicole equal parts fierce and sympathetic. As much as her mistakes may annoy you, Greyson's performance reminds you that Nicole is a good kid who was led astray by her insecurities. Luka Oida and Alexis Samone attempt the same feat with Cass and Angie, but unfortunately, the script only allows for Cass to be salvaged. Angie is left infuriatingly self-centered and hostile towards her so-called friends, though Samone does what she can to even her out. It can't be said that Samone doesn't rise to Cato's level whenever Heather and Angie (who never has any doubts that the new girl is up to something) duke it out.
Derek Rivera gives a sweet and lovable performance as the sweet and lovable Liam and Meredith Thomas is powerfully subdued as Ruth. By keeping her soft-spoken as she displays a passive-aggressive attitude towards her daughter, Thomas lets Ruth emerge as a painfully accurate depiction of a psychologically abusive mother. Gina Simms, meanwhile, does fine work outside of some scattered stiff moments. But between Madelyn Ramos' underutilized role and irritatingly inconsistent characterization, Simms isn't given material strong enough for her acting to be on the same level as it was in Nightmare Neighborhood Moms.
Overall:
When stacked against all that Do You Trust Your Boyfriend? does right, the movie's irksome supporting characters aren't enough to knock it down. The conflict between Nicole and Heather is more than juicy enough to keep you invested, with the actresses behind them working wonders with Richard Pierce's surprisingly layered script. Nicole and Heather are both incredibly well-developed and there's a twist in the final act that might just catch you off-guard. So trust me when I say that, as long as you can deal with a few characters who might get under your skin, Do You Trust Your Boyfriend? is a top-notch Lifetime movie brimming with delectable drama.
Score: 8 out of 10 dream boards.
review
movie
About the author
Aspiring writer and film blogger: Lifetime, Hallmark, indie, and anything else that strikes my interest. He/him.
Twitter: @TrevorWells98
Instagram: @trevorwells_16
Email: [email protected]
Reader insights
Outstanding
Excellent work. Looking forward to reading more!
Top insights
Compelling and original writing

Creative use of language & vocab

Easy to read and follow

Well-structured & engaging content

Excellent storytelling

Original narrative & well developed characters
Expert insights and opinions

Arguments were carefully researched and presented

Masterful proofreading

Zero grammar & spelling mistakes

On-point and relevant

Writing reflected the title & theme
Add your insights