Lifetime Review: 'Cheer for Your Life'
Quality acting and an emotional finale worth waiting for counteract this cheer drama's slipups.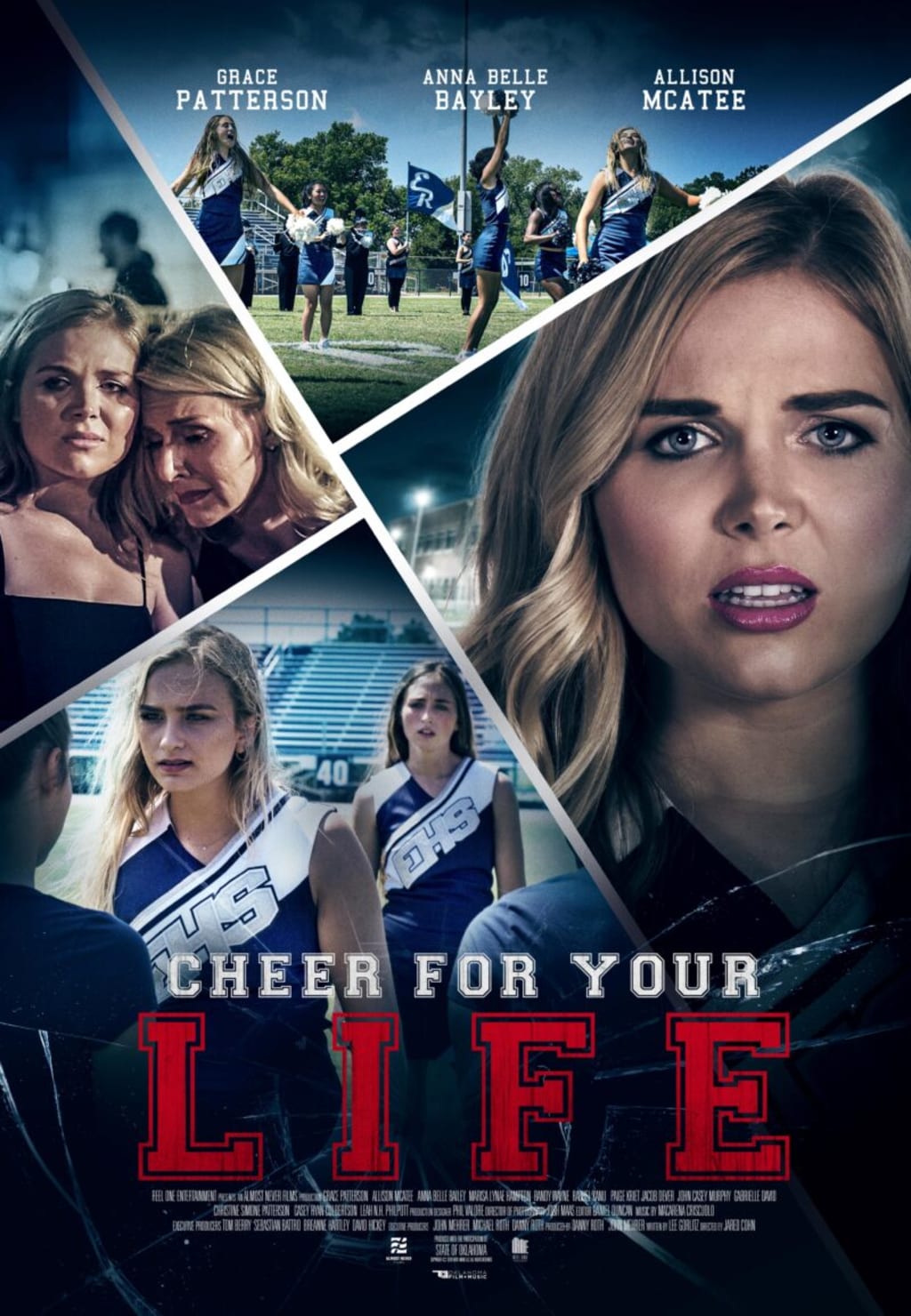 Having been cheering together for years, Cindy Braverman (Grace Patterson) and her best friend Allison Regan (Marisa Lynae Hampton) thought getting onto the senior cheer team would be a dream come true. But to become a "Queen Bee," Cindy and Allison have to go through Initiation Week. While Cindy and her mother Meg (Allison McAtee) initially think the hazing will be a harmless rite of passage, it quickly proves to be much more than Cindy imagined. Whether it be through grueling exercises or humiliating stunts, Fiona Sparks (Anna Belle Bailey) and her fellow cheerleaders take great pleasure out of pushing their recruits to the limit.
It's also not long into the week of hazing when cheerleader Lisa Kwon (Gabriella David) is found dead in the showers. While her death is initially ruled an accident, other incidents connected to the cheer team have the police--and Allison--suspecting that there's something more sinister going on. Cindy is reluctant to believe that the squad has anything to do with what's going on. But soon, this aspiring cheerleader will learn the truth as Initiation Week takes an even darker turn...
Back in 2019, Lifetime opened its "Cheer! Rally! Kill!" movie marathon with The Secret Lives of Cheerleaders. Like the more recently released Cheer for Your Life, that film takes place during a series of cheer squad initiation rituals that quickly escalate into abusive bullying. But while The Secret Lives of Cheerleaders is deliciously dramatic and over-the-top, Cheer for Your Life is a more grounded and serious take on the issue of hazing. Plenty of other hot-button topics are also briefly touched on once all of the Queen Bees' secrets are laid bare. But outside of its more earnest tone, Cheer for Your Life has more flaws than its predecessor when it comes to the script. Still, the movie deserves credit for tackling such heavy issues in a way that is bound to have you squirming as the final act takes off.
Before that, though, Cheer for Your Life doesn't make the best impression. The opening act gets things off to a slow start, with bouts of awkward dialogue and acting cropping up as well. More damning, though, is how frustrated you'll get with Cindy and the other girls going through Initiation Week. Maybe this is just me not understanding high school cheer culture, but it's astonishing to me how much abuse Cindy and her compatriots are willing to put up with in the name of making the team. While Allison is fairly quick to point out how awful Fiona's hazing is, Cindy and the others are slower to realize that being a "Queen Bee" isn't worth being degraded. Even when Cindy wises up to what Fiona and her lackeys are doing and tries to put a stop to them, she never thinks to let anyone else know what's going on. While I can understand her thinking the school might not believe her over star cheer captain Fiona, you'd think she'd trust her mother to be on her side. It's still admirable of Cindy to endure humiliation to protect her new friends and call out Fiona and her crew as the unfeeling bullies they are. But the harrowing climax is only possible because of her not telling anyone about her suspicions.
Good thing Cindy is played by a capable actress who knows how to keep an aggravating character likable. Grace Patterson takes you along for the uncomfortable ride as Cindy goes from wide-eyed and eager to disillusioned and withdrawn as the Queen Bees' cruelty wears her down. She especially sells Cindy's terror in the last act, making the disturbing situation she falls into even more unsettling. Allison McAtee is similarly effective as Cindy's mother Meg, who becomes increasingly concerned about Cindy and desperate to figure out what's bothering her suddenly tight-lipped daughter. Marisa Lynae Hampton and Leah N.H. Philpott both make impressions as Allison and concerned teacher Miss Parker, the first two characters to see the cheer team hazing for what it is. You'll feel for Allison as she suffers through Initiation Week and cheer as Miss Parker chews Fiona out for being so heartless. Though it is weird how, for all her talk of not wanting Fiona to go too far with the hazing, Miss Parker doesn't really do much to stop her. Unlike Allison and Cindy, Parker's an adult with the authority to discipline Fiona. There are a few implications that the school may not be willing to do anything about the hazing because of "school tradition." But it's never explored further or established as a legitimate obstacle.
Nevertheless, the Queen Bees are an appropriately cold-blooded and intimidating bunch, with Fiona and Robyn leading the hive as the nastiest of them all. Anna Belle Bailey thrives at playing the black-hearted blonde, with Rachel Ogechi Kanu right behind her as Fiona's equally vicious second-in-command. The odd one out of the group is Amber Halliday. The script's attempts at turning Amber into a Token Good Teammate fall flat, as does Paige Kriet's performance. The last of the notable cheerleader characters is Christina Simone Patterson's Kylie. Cheer for Your Life's other Patterson-surnamed actor makes Kylie a lovable character you'll feel heartbroken for once she's made to suffer through the worst that Initiation Week has to offer.
The supporting cast is minimal, with none of the characters who aren't directly connected to the cheer team and/or Cindy getting much focus or development. Meg has a co-worker at her boutique who's a super basic "Heroine's Bestie" character while local dad Bill and his outcast son Evan (played by Randy Wayne and Jacob Dever respectively) are generic red herrings. Bill and Evan each get their own little subplots with Meg and Cindy respectively, but they barely factor into the story at all. This is worse in the case of Bill's budding romance with Meg, as it could've easily been cut from the script without anything plot-relevant being lost. Apart from one fleeting instance where Evan becomes a key player in the drama, he and Bill serve no significant function within this film.
Cheer for Your Life starts its routine with a few missteps and only halfway recovers as the movie goes on. While played by good actors, the main characters are often frustrating in how haphazardly they try to deal with their problems. This in turn makes the middle act of the film a bit of a slog as Cindy and company go through a dull cycle of demeaning hazing rituals. On the other hand, it all at least keeps you held in some sort of suspense over what horrific stunt lies at the end of Initiation Week and leads into an intense finale. The fact that it touches on some important high school social issues in a surprisingly subtle/nuanced way makes the climax even more high-stakes. If you can get through the sluggish pacing and moderately irritating protagonists, Cheer for Your Life has compelling performances and a gripping conclusion to make it a solid watch.
Score: 6 out of 10 honey challenges.
review
Aspiring writer and film blogger: Lifetime, Hallmark, indie, and anything else that strikes my interest. He/him.
Twitter: @TrevorWells98
Instagram: @trevorwells_16
Email: [email protected]