Lifetime Review: 'A Gift of Murder'
This Lifetime teen drama contains writing and acting as stale as week-old birthday cake.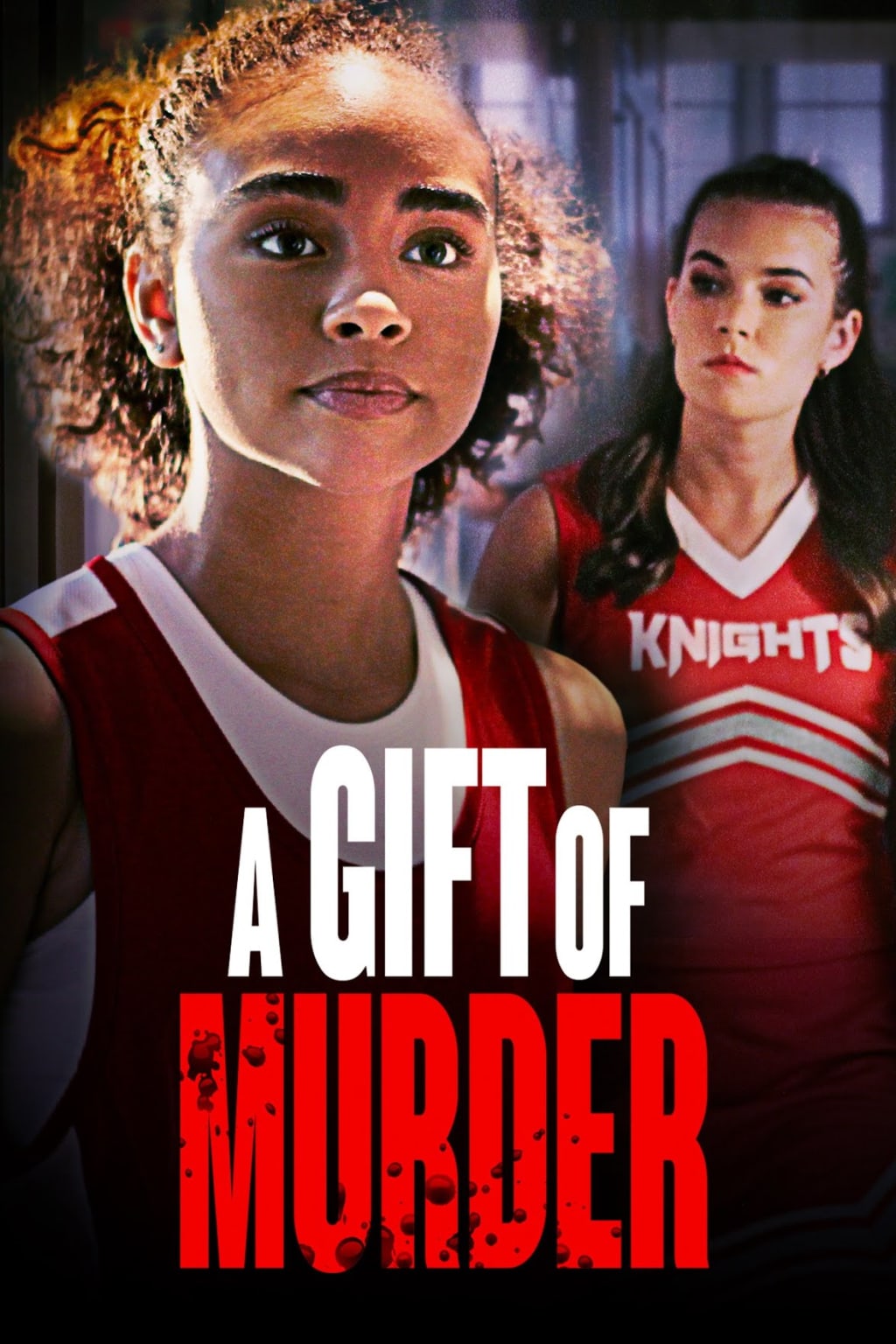 Synopsis:
With her mother Cindy (Kate Orsini) checking herself into rehab to overcome a painkiller addiction, Dylan Montrose (Bailey Bass) is sent to live with her aunt Shannon (Heather McComb) and uncle Scott (Victor Turner). The move also means getting transferred to a new school, a transition her family hopes she can acclimate to. Unfortunately, Dylan isn't even through her first day when she ends up the target of Tiffany Hartfield (Courtney Lauren Cummings), the school's resident queen bee. Despite Dylan's attempts to steer clear of Tiffany, she still ends up on the entitled girl's radar--especially when Shannon books Dylan's 16th birthday party for the venue Tiffany wanted for hers. How far is Tiffany willing to go to have the Sweet 16 she's always wanted?
Story:
Compared to the similarly premised My Daughter's Psycho Friend, A Gift of Murder is like a birthday party where no one shows up. With Tiffany wasting no time setting her petty sights on Dylan, you would think this is a sign the movie is getting to the juicy stuff right away. Instead, Tiffany pulls the typical stunts of a catty high school bully, setting up Dylan for embarrassing pranks and hurling insults at her every chance she gets. There are only a few moments when Tiffany shows signs of being truly malevolent, and even then, only one of these moments aligns with the kind of action promised by the title. While the escalating conflict between Dylan and Tiffany is good for a little tension, it all leads to an incredibly unsatisfying conclusion. In the end, the script for A Gift of Murder only has about a tenth of the dramatic prowess that can be found in My Daughter's Psycho Friend.
The film also stumbles when it comes to the personal drama between Dylan and Cindy. While the Reel One Entertainment synopsis suggests Cindy has to fight to redeem herself to her daughter, any estrangement between Cindy and Dylan is quickly dealt with. Dylan's initial resentment over having to move and change schools dissipates rather quickly and the falling-out between Dylan and her mother (orchestrated by Tiffany) gets settled just as fast. While it's nice to see Dylan generally support Cindy's road to recovery, it would've been nice to get a better glimpse at their complicated relationship.
Characters:
She may be a wholesome and likable teen, but Dylan Montrose is also a fairly bland protagonist. Between her thinly developed backstory and her actor's lifeless performance (more on that below), it's easy to feel nothing for Dylan as she deals with Tiffany's torment. Some of her associates aren't much better. Shannon and Scott have little characterization outside of being supportive and encouraging, with Scott especially barely getting to do anything plot-relevant. At least Shannon gets to provide some assistance to Dylan's efforts of defeating Tiffany. As for Cindy, despite the poor attention given to her subplot, she still gets enough exposure to become a more interesting character than Dylan. From the get-go, it's clear she's serious about her recovery and is remorseful about the impact her addiction has had on Dylan's life. That makes it upsetting when Tiffany's cruel games end up temporarily making Cindy look bad, thus causing her relationship with Dylan to falter.
When it comes to Dylan's teenage associates, the character roster is filled with the usual suspects. There's the mean girl (Tiffany), her minion (Maya), the unpopular girl with knowledge of the mean girl's ways (Julia), the cute jock (Jonah), and the no-nonsense teacher (Mr. Dixon). Of these characters, Julia is the most entertaining. Knowing from the start what kind of person Tiffany is, Julia wastes no time warning Dylan and even gets the chance to put the brat in her place. While Tiffany has some fun moments being vicious and snide to pretty much everyone, she's mostly akin to the kind of high school bully character you can find in almost every teen dramedy--just with her craziness turned up a little. At least A Gift of Murder contains a bit of the same subtext that can be found in My Daughter's Psycho Friend. Much like with Lexi Cooper, Tiffany's instability is only able to thrive because of the inaction of the adults in her life. The worst offender is her mother Gloria, who knows that Tiffany is out of control, but would rather kowtow to her daughter and make excuses for her than get her the help she clearly needs.
Mr. Dixon is the complete opposite of Gloria, but his ability to quash Tiffany's bad behavior is limited. Speaking of Mr. Dixon, he also proves to be much most consistently written than Maya and Jonah. He's stern and fed up with Tiffany's attitude, but he also still wishes to see her get better. Maya and Jonah, meanwhile, are much more slippery in the development department. At times, Maya seems to only go along with Tiffany's schemes out of fear. Other times, she appears to enjoy them as much as Tiffany. And while Jonah is mostly established as a good guy, he's still quick to turn against Dylan because of gossip started by Tiffany. After everything Tiffany has done by this point, you'd think Jonah would question the validity of this rumor rather than accept it at face value. But he does, and what's worse is that this plot point disappears just as quickly as it emerged, with Dylan and Jonah's relationship going on as if it never even happened.
Acting:
The acting for A Gift of Murder is similarly shaky, as a lot of the better cast members are relegated to supporting roles. Apart from a few instances, Bailey Bass's performance is dull and gives Dylan little to no emotional range. Even for a troubled teen character, it's excessively flat. Cade Gass suffers from a similar problem. He does well enough in most of Jonah's relaxed scenes and sells him as a sweet guy who just happens to have a nightmarish girlfriend. But in Jonah's more intense scenes, particularly the ones where he's chastising Tiffany, Gass's delivery stiffens up. Courtney Lauren Cummings is significantly more expressive as ruthless bully Tiffany. While her character is on the generic side, Cummings does what she can to put some oomph into Tiffany's catty remarks and diva fits.
Sid Noelle gives Maya her own form of sass whenever she's gleefully going along with Tiffany's plans. She's much more fun to watch as a goofy cohort than as a reluctant accomplice. Kassidy Slaughter has great energy as the likable but fierce Julia, as does David de Vries as Mr. Dixon, who could be described with the same adjectives. Kate Orsini gives an empathetic performance as the troubled but pure-hearted Cindy while Heather McComb does what she can to inject a little charm into her otherwise flat role as a generically supportive aunt/sister. She at least makes out better than Victor Turner, who's stuck playing Shannon's barely-there husband. Last is Julia Denton as Gloria Hartfield, who gives an authentic portrayal of a mother too indifferent and/or complacent to realize that her daughter is on a dark path and do something about it.
Overall:
My Daughter's Psycho Friend was a teen thriller with delicious drama, compelling characters, a well-written and paced story, and stellar acting. A Gift of Murder is a teen thriller that lacks all of those qualities. Specks of Lifetimey action and some passable performances aren't enough to make up for the disappointing story, paper-thin characters, and deadpan lead actress. If A Gift of Murder was an actual birthday present, it'd be the kind you pretend to like before regifting it at the first available opportunity.
Score: 3.5 out of 10 organic compounds.
review
About the author
Aspiring writer and film blogger: Lifetime, Hallmark, indie, and anything else that strikes my interest. He/him.
Twitter: @TrevorWells98
Instagram: @trevorwells_16
Email: [email protected]
Reader insights
Outstanding
Excellent work. Looking forward to reading more!
Top insight
Compelling and original writing

Creative use of language & vocab
Add your insights