"Let's Get Violent!" Harley Quinn Episode One
Episode One of the cartoon show "Till Death do us part" offers a new reboot...but not that new.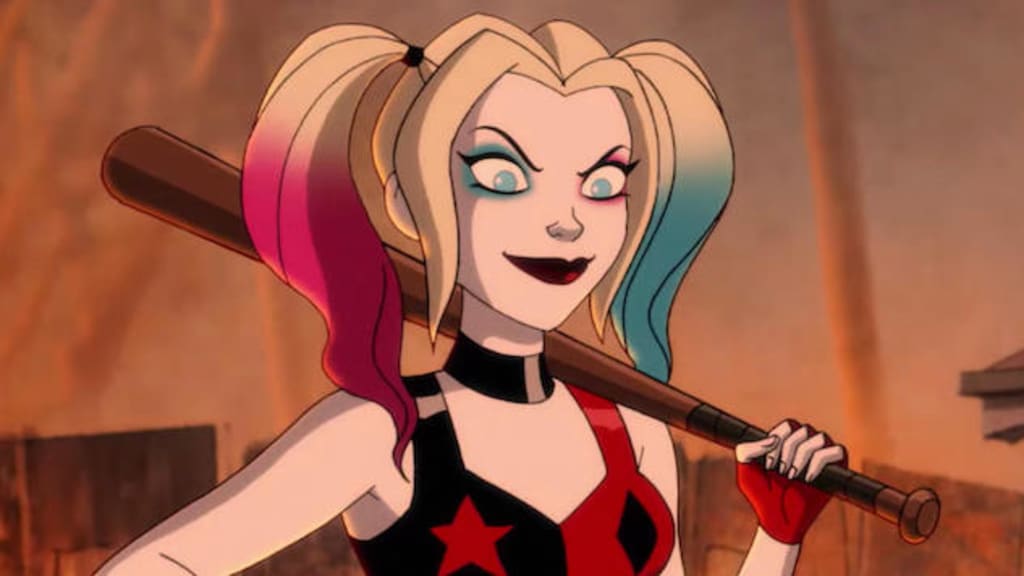 "Party's over, you pieces of ***. This is my money now, so back the *** off." Is Harley trying to shock her viewers or establish her show as different? Each way, it seems her opening lines succeed. One thug calls her the "Joker's girlfriend," so she hits him in the kneecap with her massive mallet, crippling him. Even before the Joker removes a creepy mask, implied to be a victim's actual face, and hurls acid at one man, melting him, it's clear this is no G-rated kiddie cartoon. As it goes on, the bodies pile up, giving new meaning to gratuitous, but not particularly to "clever" or "meaningful." Harley's messy tongue kissing with Joker doesn't add much either.
Considering that Harley debuted on Batman: The Animated Series in the signature harlequin outfit of all the cartoons, including this one, many fans might be forgiven for expecting something more child friendly. True, the original cartoon had disturbing abuse notes as the Joker neglected his girlfriend and took her for granted, to the point at which she sang a song about all the abuse she underwent. However, the child friendly cartoon kept at least a bit to the imagination. Her voice actress, Arleen Sorkin, explains:
It's an actual song called 'Say That We're Sweethearts Again,' from Meet the People, an old MGM movie. "I used to use it as an audition song back in New York and I knew Paul would think it was funny, so I sang it to him. That's when Paul decided to use the song – most people think he wrote it because nobody had ever heard of it before! I have it in my jukebox.

"It's a song about a woman who'll put up with anything in an abusive relationship. 'I never knew that our romance was over until you poisoned my food,' Sorkin sings. "thought it was a lark when you kicked me in the heart, but now I think it's rude!' It's a really funny song from 1930. Paul made it happen--he bought the song!" (Jankiewicz)
Joker establishes their relationship as neglectful by promising to break her out—when he feels like it. "I have something tonight, but I'll definitely get you out before breakfast. Love ya." As Harley languishes in prison, Poison Ivy tries setting her straight. "He's psychotic. He threw you into a vat of chemicals....he does not love you." She cuts through all of Harley's defense of her abuser, with all the denizens of Arkham chiming in.
As she often is, Harley is literally insane, hallucinating that an old photo is talking to her. In her first episode, she's mindlessly dependent, baking bread pudding in a nightie and apron while vowing to kill anyone Joker wants so they can still have date night. She's sympathetic and Ivy calls her smart, but her bad relationship fundamentally establishes her character. She's more Stepford Wife than feminist, though even her nightie doesn't heavily sexualize her, and her cartoony suit and facepaint certainly doesn't.
On Batman: The Animated Series, she's sane compared to Joker; as in "Harley and Ivy," she tries warning him they're driving into a hill, but he's too single-minded to see it. "You'd think after living with Mistah J, I'd be used to a little pain," Harley moans as Poison Ivy gives her a shot to make her immune to poison. When Ivy asks why Harley puts up with him, she calls him "a little rough sometimes, but he loves me, really." Ivy calls her a doormat and tries to give her self-esteem lessons. "I see Harley as a girl who wants to do the right thing, but it's just not within her control," Sorkin observes. "She wants to be a good girl but it's so much more her to be a bad one. I think she's popular because of her vulnerability" (Jankiewicz).
This show, which functions as something of an adult sequel, has Ivy persuading her to go independent, or at least team up with her. Ivy, it seems, is destined to be the voice of sanity in Harley's schemes, something like Harley was for Joker. Harley makes her break with Joker, but with him taking so much screentime of her first episode (much more proportionally than in her other debut show, Suicide Squad), it's clear the Joker isn't really out of her life.
Jankiewicz, Pat. "Quinn-tessentials. Arleen Sorkin gets a kick out of being the Joker's wench". Starlog. Harley's Haven. Retrieved May 5, 2015.
Valerie Estelle Frankel has won a Dream Realm Award, an Indie Excellence Award, and a USA Book News National Best Book Award for her Henry Potty parodies. She's the author of over 75 books on pop culture, including Doctor Who - The What, Where, and How; Sherlock: Every Canon Reference You May Have Missed in BBC's Series 1-3; and How Game of Thrones Will End. Many of her books focus on women's roles in fiction, from her heroine's journey guides From Girl to Goddess and Buffy and the Heroine's Journey to books like Superheroines and the Epic Journey and The Many Faces of Katniss Everdeen. Once a lecturer at San Jose State University, she now teaches at Mission College and San Jose City College and speaks often at conferences. Come explore her research at www.vefrankel.com.