Lestat's Comic Book Review Round-Up—April Week 3, 2019
'Batman,' 'Nightwing,' the 'Uncanny X-Men', the Crews of 'Star Trek,' and a 'Star Wars' Special.
DC, Marvel, Star Trek and Star Wars feature in this week's round-up
Week three of April and my Comic Book Review Round-Up takes a look at Batman #69, Nightwing #59, Uncanny X-Men #16, Star Trek: The Q Conflict #3 and Star Wars: Age of Rebellion Special #1. Usually I would cover the latest Age of X-Man issue, but since that series continues to be a disappointment, I don't want to foist more negativity on you. Without further ado, here are this week's reviews.
'Batman' #69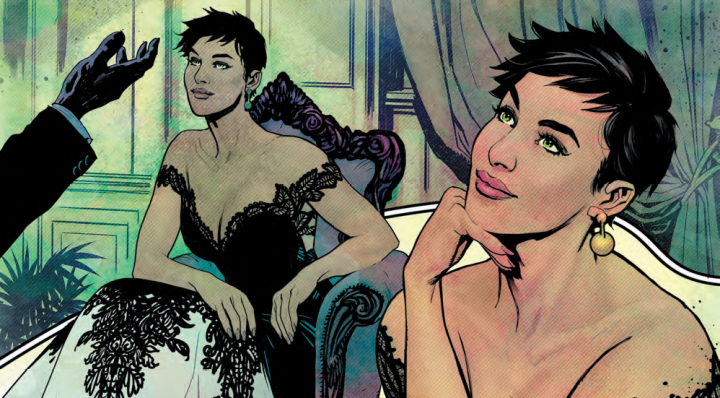 We've finally reached the "Knightmares" finale and it has plenty of cutesy Bat-Cat moments. But this time, these panels come with some substance and plot. Batman has figured out how to escape the toxins that have kept him captive, but he needs imaginary Catwoman's help to spring the trap. They dance and cry through another emotional farewell, while Batman's captives battle it out in the real world.
This was an enjoyable issue, if only because it means this arc is winding down and we can get back to Batman having a proper storyline. These "Knightmares" have gone on too long and I'm looking forward to seeing Batman back in the real world, fighting the bad guys and bringing Bane down.
A new writer and a new focus! This issue primarily centred on Hutch, the Red Nightwing. We get to see more of his personality and his backstory while he spars and "trains" Ric Grayson. Hutch's backstory wasn't what I expected, I was hoping the series creators would touch on systemic problems rather than rookie mistakes, but hopefully we'll get to see more of his story in upcoming issues.
Christopher Mooneyham's art is distinctive, but it doesn't work for a Nightwing comic. One really needs crisp and clean art with these larger-than-life characters, as well as, when there's so much frenetic motion on page. The other negative was the writing style—while Dan Jurgens eschews the tedious dialogue recaps (for the most part), most of the interactions still included way too much exposition. Really hope the quality picks up from the next issue, because I like where this series is going with the plot.
'Uncanny X-Men' #16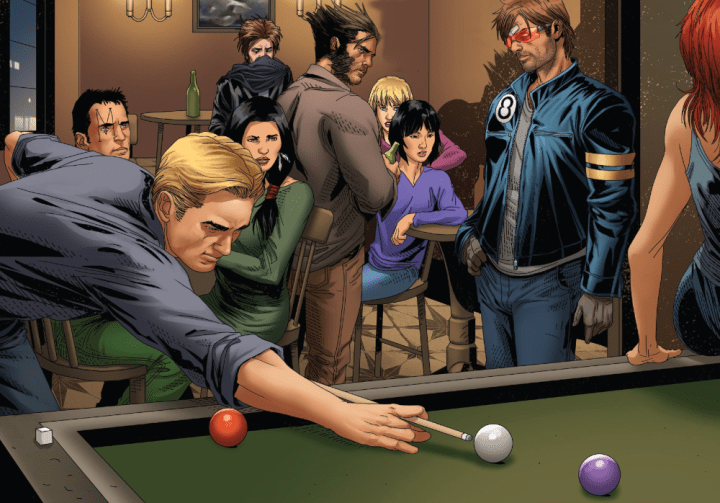 Big changes take place in this issue. Cyclops and the X-Men have been hard at work putting away mutant enemies, but nothing seems to satisfy Captain America. He and Scott butt heads at every turn, with Cap unable to see Scott's reasons. That's not the only concern for Scott though. He's been trying to run the X-Men like the world hasn't changed—but it, and the X-Men, have. It's time for Scott to make a difference, starting with his team.
Mutants have always been analogies for the marginalised and the voiceless, and it couldn't be more apparent in this issue. What I like is that the actual marginalised people in the X-Men are finally getting a voice and some characterisation. With Xi'an and Dani back to being normal, it's their turn to take the reigns. Hopefully, we'll see more of that in upcoming issues, irrespective of the losses they face.
'Star Trek: The Q Conflict' #3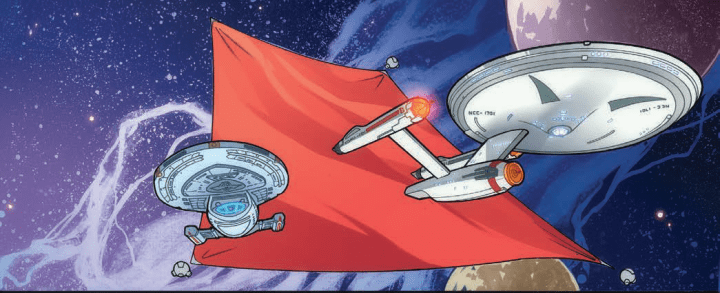 There's plenty of unease within the enemy camp, especially given Q's history of erratic and petulant behaviour. The bad guys decide to continue playing his game in an effort to protect their domains. After Captain Janeway's team won the first contest, it's time for Trelane to come up with a diabolical follow-up. How will the four crews of the Star Trek universe fare against a planet killer?
I love this series so far. I can hear the actors' voices in the dialogue and the interaction between the different crews is a Trekkie dream come true. This is so much fun to read, and though the art team haven't accurately recreated the actors' faces, they're doing a splendid job of emulating the look of the ships. Reading this series makes me giddy with happiness. The combination of nostalgia and action makes it a compelling read. Next up, the crew of Deep Space Nine have to encounter… the Prophets.
I was really excited to get into this special issue, because I really loved the Star Wars: Age of the Republic one. Yeah… this one is not that great. I didn't mind the story with IG-88, it was certainly intriguing and off-the-cuff, but it dragged on in the middle.
The Yoda story was great, expect for the final page. I loved the art and colours, and the sparse text lent itself well to building the atmosphere of the story. And then it was all ruined by being one panel too long. The creators made magic with the penultimate panel and then it all came crashing down.
The final story, I guess, is supposed to be a fun way to end the issue, but it read like a giant FU to the fans. Not intentional, I'm sure, but that kind of cartoon-y, whimsical approach doesn't suit the franchise. Neither the art, nor the writing worked for this story. Hard pass.
Check out more comic book reviews next week!