Lestat's Comic Book Review Round-Up – April 1, 2019
This week, I focus on 'Female Furies,' 'Young Justice,' 'Major X,' 'X-Men', and three Image Comics titles.
This week's Comic Book Review Round-Up is jam-packed with new titles
We begin April's Comic Book Review Round-Up with "Female Furies #3," "Young Justice#4," "DIE #5," "Vindication #3," "Self/Made #5" and an X-Men Frenzy with "Age Of X-Man: Prisoner X #2," "Uncanny X-Men #15," and "Major X #1."
"Female Furies #3"
Aurelie has been alone in her fight against Willik and Granny Goodness, but in this issue, Aurelie finds an unlikely ally. One who promises her safety and a new life. If only things were that easy on Apokolips.
This has been an aggravating series to read—while it feels relevant and a poignant statement regarding sexual politics in the real world, the central premise has been too narrow. The art also undercuts the central message. Barring Stompa, all the Furies (and Beautiful Dreamer in this issue) are interchangeably attractive women dressed in form-fitting outfits—there's no reason for Aurelie specifically to be targeted aside from it being for plot purposes. All the Furies would have suffered because of male chauvinism and I really would have liked to see the series encompass the many aspects of the female experience in a misogynistic land. But the series has fallen short of that. Having said that, after the denouement in this instalment, perhaps we'll see a change of tact in the upcoming issues.
"Young Justice #4"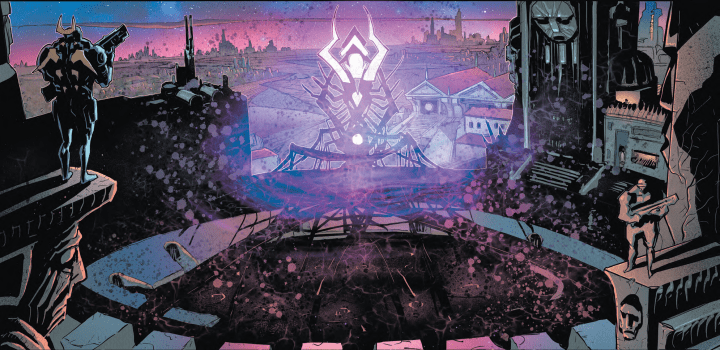 Even if I wanted to, I wouldn't know how to explain what happened in this issue. Princess Amethyst of the Gem wants to save her people, but the Council won't listen to her. Now she's locked in a dungeon along with the Young Justice. Elsewhere, Bart helps Conner get out of a pickle.
That's about all I could gauge from this structurally haphazard issue. The timeline was hard to follow and I'm unsure why Amethyst looks different in the past and the present. It's not like that much time has gone by, but her entire façade has changed. There's so much crammed into this issue—it's impossible to focus. This series should be enjoyable, but it's lacking any cohesion. Hopefully, now that the foundations of the story have been laid and the team are together, we can expect tighter writing in upcoming issues.
Turn and Chip battle it out in the penultimate issue of this Image Comics series. They have a long history with each other and it is coloured by prejudice on both sides. But, there's more to worry about. Someone is trying to frame Turn for new murders being committed. Who is it and why are they doing this?
This series is a mess, which is unfortunate because stories about police brutality and systemic racism could not be more important right now. Somehow, that central message has been buried under ham-handed writing, messy characterisations, and way too many plot points. It's hard to root for any of the characters because we don't understand their motivations. There's also too much telling, not enough showing. There was one good scene in this issue, but there's little else to commend the series. Hopefully, the finale will save this series somehow.
Ash and team have entered Glass Town for a final showdown with their former friend, the current Grandmaster of DIE, Sol. Each has to use their gifts to complete their task, but the battle is going to be the least of their worries very soon.
I think my love for this series is dictated to by Stephanie Hans' art. Seriously, looking at these canvasses of beauty makes me love reading each issue so much. As the finale of the arc, this was an action-packed instalment. While it was very exciting to read, I'll admit that the mechanics have confused me. I'm not sure about the rules and why they change. I have really loved reading this series, but it's far too dense for me. I think avid RPG players will love it and continue with it. Ash and all still have plenty to do in the next arc.
Wow, this just went into some Inception-level madness. This issue features a time-jump. Amala's been on the hunt for the truth and she stumbles upon Rafael, who seems to suggests there's a way out of her current situation. But, is Rafael on to something, or is he just another mad scientist?
First up, I'm a little disappointed there wasn't much of the Amala-Rebecca dynamic in this issue. Two female protagonists are hard to come by, but the denouement seems to hint that we'll have another female protagonist alongside Amala soon. So there's hope. I'm unsure how to feel about this issue because it's so different from the previous ones, but the creative team are obviously building quite an immersive world. We're really in for a crazy ride for the rest of the series.
X-Men Frenzy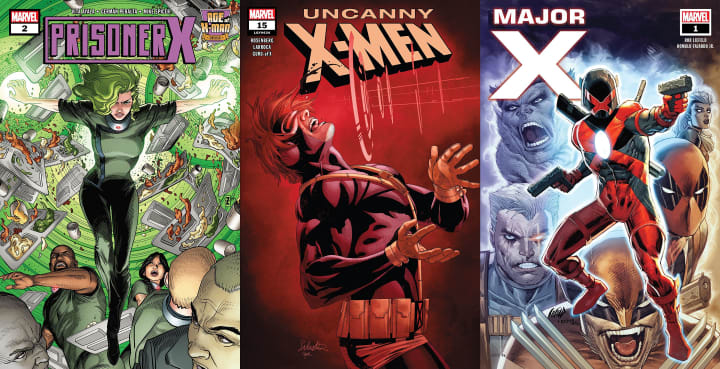 In "Age Of X-Man: Prisoner X #2"Lucas Bishop received a mysterious note and now he's trying to extract its origin. All he gets for his hard work are punches and sneers from his fellow inmates. The entire issue is about Bishop being browbeaten and bullied. It's painful to read.
There isn't much substance to this instalment and worse, some of the internal strife isn't made clear either. It's hard to make out how high the stakes are without that clarity. This series, though, is the only one where the women characters have any gravitas or respect so I'm not complaining.
"Uncanny X-Men #15" is another exciting instalment in the series. After fending off Steve Rogers, the team battle the Mutant Liberation Front and the X-Men take some hits. Trust may be in low supply among the remaining mutants, but there's a silver lining to every bad day.
This issue felt like a return to the classic stories of X-Men, with twists and turns plus a giant cast of characters. The big difference is the darkness imbued in pretty much every scene. It can be a little disturbing. What is Cyclops planning to do with all the imprisoned bad guys, though?
Marvel has been teasing Major X for a while, but the resulting first issue is dull. It's just a bunch of manly men (and one poor Domino) relentlessly punching each other and blathering on without making any sense at all. The major (pardon the pun) reveal feels anti-climactic. Honestly, the entire issue felt like a bad joke taken seriously.
It's not clear where in the timeline this story fits in, if it does at all. We're told that the stakes are high, but since we have no sense of the world or the characters, the text has no credibility. It's overly verbose and the characters way too cocky to be interesting. Hard pass on this series.
And, that's all folks. Tune in next week for more comic reviews!