Laika's Films Are Incredibly-Crafted, Thrilling and Charming, Why Are They Faltering at the Box Office?
The most underrated animation studio is struggling to find an audience, here's why they deserve your support.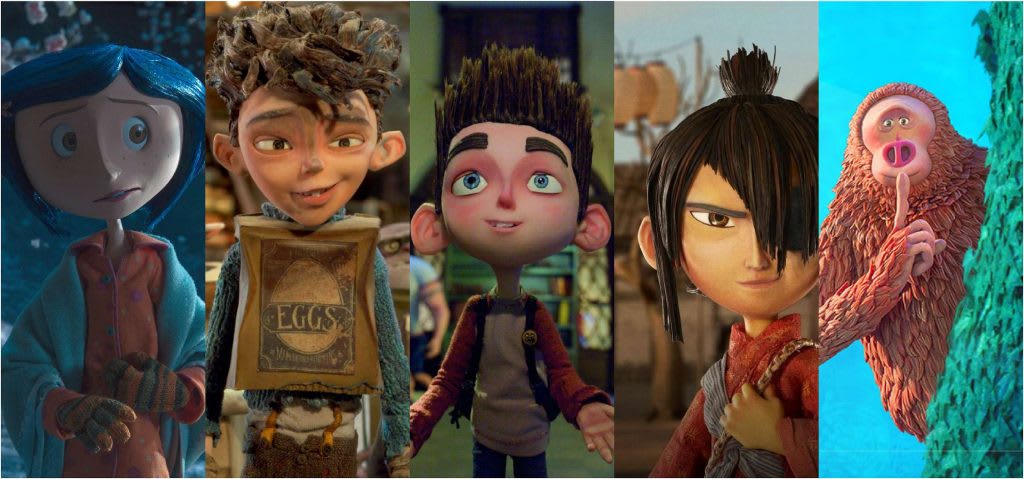 From left to right, Coraline, The Boxtrolls, ParaNorman, Kubo and the Two Strings and The Missing Link. 
After my recent re-watch of Kubo and the Two Strings I wondered how this film could have possibly not won the Oscar for Best Animated Feature, but then you can just look at the list of past winners and it's apparent that underdogs aren't likely to succeed to be the eventual winner. Sure, they can be included, and it's great to see them be recognised as being on the Academy's radar, but Kubo was the first film to be nominated for both Best Animated Feature and Best Visual Effects, so I thought this would lead to a monumental leap for Laika and they would win their first Oscar. Unfortunately they were stopped by the powerhouse that is Disney because of course they can't compete with the ultra-powerful monopolising company. I think it's frankly unfair that Disney is not only dominating the box office but also these award shows with their constant need to buy popular franchises and acquire other studios. It's concerning to me the amount of power they have over the box office, especially considering their main priority is franchises and remakes, none of which exceed the quality of the originals. Yet they are grossing over a billion dollars apiece so there's nothing stopping them using this lazy tactic again and again. Fox Searchlight is one of my favourite studios for selecting fantastic independent films for limited or wide release, yet I wonder what their future is going to be like under Disney's leadership. The Mickey Mouse company clearly struggles with creative directors as discovered with the situation with Phil Lord and Chris Miller who actually beat Disney to the Best Animated Feature Oscar with the outstanding Spider Man: Into the Spider Verse, a film that breaks the mold more than any MCU film. Zootopia is a colourful, well-meaning film, but overall it's not a particularly striking film, it's an enormous success probably led to its Oscar, but I still believe that Kubo is the superior film and I wish the Academy would give Laika the exposure and recognition they deserve. There's reason now more than ever after their latest film The Missing Link is one of the year's biggest box office bombs, only grossing a quarter of its 100 million dollar budget back, which is terrible for a film that's charming, beautifully animated, and overall simply delightful.
The Missing Link's poor box office receipts will probably mean that it won't be nominated for Best Animated Feature next year. Admittedly it's not their best film, but there's still an enormous amount of care and diligence put into their glorious stop-motion world, as is always the case, and it makes me sad that Laika's work is still underappreciated by mass audiences. Laika have always been daring, and not only in their incredible work ethic, but also in the stories they tell. Coraline and ParaNorman are animated films that challenge their young audiences with their modern gothic spin that even adults find chilling, whilst also incorporating mature themes that don't patronise children. ParaNorman also has the first gay character in a mainstream animated film, a fact often forgotten due to the subtlety with which this is revealed, it's a natural moment in a film that tells children not to be prejudiced, and yet this film received less accolades than Brave. Both only grossed just over $100 million, which is the budget for most other animated films, yet they are the most successful Laika films. Coraline is basically a bona fide cult classic with its unforgettable, dazzling imagery incorporated throughout its dark, chilling fairy-tale—everyone is still terrified by the Other Mother to this day. Yet ever since The Boxtrolls their films have become less successful, but they are now in a more competitive field. Illumination Entertainment now dominate the Box Office, and it's a shame that more people will see something like Sing rather than the Missing Link, but it seems families are always going for the easiest option to entertain their kids. Some of these films can be outright patronising though, and then with their success, lazily written sequels are greenlit. It's a shame because Laika often try to send messages to their audiences that they need to know like Pixar do, but with a darker colour palette and a gothic streak. Kubo's story is beautifully melancholic and shows the importance of memory and perspective in a way that rivals Coco, and of course it's visually arresting and buoyed by wonderful humour. These films are stunning and deserve the attention of a widespread audience, as well as critical recognition; I just hope they can keep making their incredible films for a very long time.