Kyles has an intimate moment with Lola
Nick warned him to be sure he was over his second wife and it looks like he is not.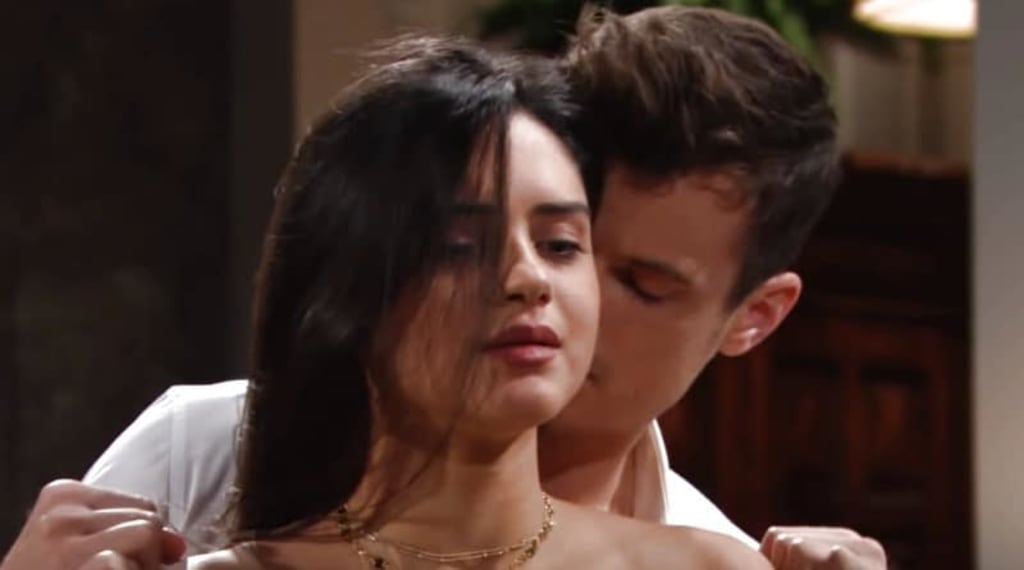 Kyle and Lola will have a moment together this week.
Spoiler alerts for The Young and the Restless are suggesting there will be trouble in paradise, where Kyle and Summer are concerned. The young lovers had barely gotten together when taping shut down because of the coronavirus. Fans of the duo have not really had time to enjoy them and now there will be friction so soon. Soaps.com indicates that Kyle Abbott will have a "charged" moment with his estranged wife this week on The Young and the Restless. This would seem to contradict what viewers took from the sudser last week when on Friday Nick had a heart to heart talk with Jack's son. The two men toyed with each other for a while and then the conversation became serious.
Nick demanded to know if Kyle were really over Lola and he said that he was. Kyle went on and on about how he and Summer were destined to be together and this was their time. He later saw Lola and they talked about the divorce. There did not seem to be any chemistry between them and Lola seemed relieved to make an end of the marriage. Spoilers have revealed that because of COVID restrictions that Y&R will put some distance between Skyle. This will not sit well with fans of this couple who have been waiting for such a long time for them to get together.
Kyle needs to steer clear of his ex but in Genoa City, they are bound to run into each other from time to time. Kyle promised Nick he would not hurt Summer again but can he stick to his word? Spoilers say that Skyle fans should not be worried but if Theo sees his cousin with Lola, this might start the old rivalry. It had looked on Friday as if Kyle was trying to make amends with both Theo and Lola so they all could move on. Perhaps the charged moment is just that one moment, which is natural with people who have had relationships. Lola told Kyle on Friday that no one would ever hurt her as he did again. She did not say, that she was completely over him.
There are a lot of projections from spoiler alerts where Skyle is concerned. Celeb Dirty Laundry suggests that Kyle's talk with Nick indicates that the couple is solid and perhaps they will remarry and have a baby. Soap Dirt says that this coming week Summer will take a step back from Kyle and it could be she wants to cool things until the divorce from Lola is finalized. Kola fans are angry that their favorite couple busted up but a Skyle parring was inevitable. It had been reported that the former VP of CBS was not a fan of Kyle and Summer and this is allegedly why they did not remain married the first time around.
Many viewers were thrown for a loop when Kyle kicked Summer to the curb in such an abrupt manner, especially since he promised her he would stay in the marriage for one year. The rumor mill at the time stated that when that VP retired, the new one was a Skyle fan and this is why the situation turned around. Lola and Kyle had a beautiful wedding and they were really cute together, but there were too many differences between them. Viewers will recall that Lola could not even accept a pocketbook from Kyle, for a Christmas present because she felt it cost too much.
tIt also was not realistic to see Kyle slumming in the apartment over the Coffee House. It did not make sense to some viewers, why he was trying to change for a woman who could not accept the silver spoon he was born with. Lola complained several times about his family's wealth and even said she could not afford to give him the kind of gifts that he had given her. Many Y&R fans have said they believe Michael Mealor has more chemistry with Hunter King than he does with Sasha Calle. Make sure you tune in next week to find out exactly what happens between Kyle and Lola and how Summer and Theo will react.
tv
Cheryl is a poet, freelance writer, published author and former Newspaper columnist. She has degrees in Psycology and Biblical studies. She enjoys sharing natural cures, and Nostalgia related info. Tips are greatly appreciated.