'Knives Out' Is a Gleefully Entertaining Whodunit
A star ensemble enlivens a pulpy, thrilling narrative in one of the most fun films of the year.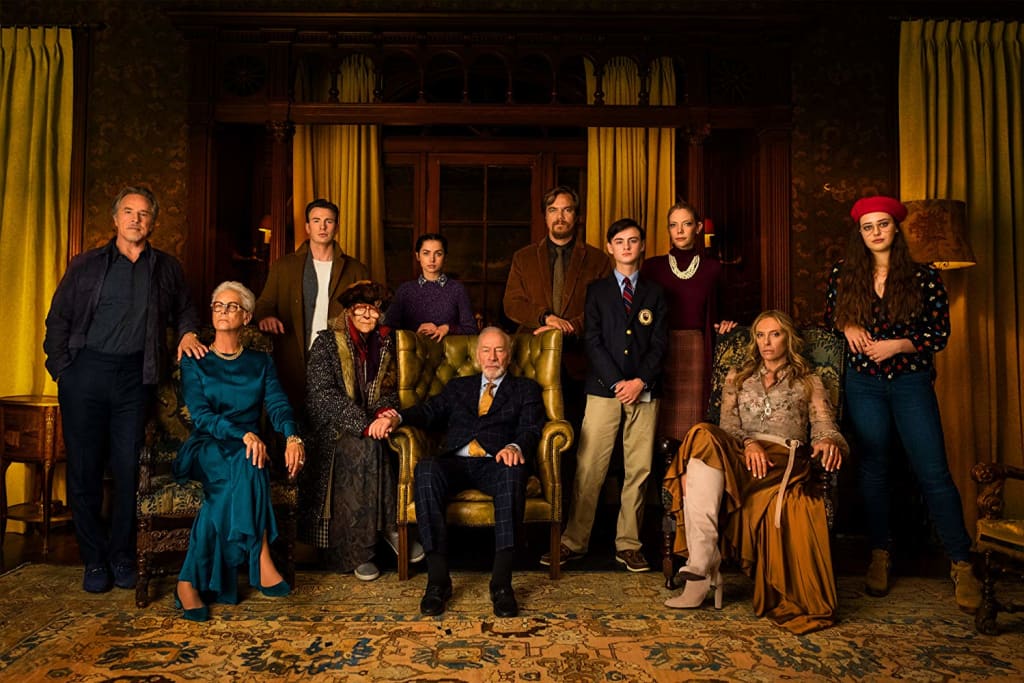 We're at the beginnings of awards season and many new limited prestige releases are coming out in abundance for our entertainment but mostly to be in time for upcoming award shows. Some are actually in fact mid-budget films that studios hope will hope that word of mouth from festival circuits will carry them into profitability as we are seeing with Ford v Ferrari and A Beautiful Day in the Neighbourhood. Knives Out is a peculiar case because although it has high acclaim and has been well-received in festivals, critics don't think it's "serious" enough to be in the running for awards. Unlike the aforementioned films which are the kind of adored biopics the Academy fawns over and instead is a crowd-pleasing whodunit with a gleeful and light touch. I'm so glad that audiences appear to be taking to the film as it shows hope for future non-franchise films aimed at adult audiences and shows the power of an interesting hook that interests viewers regardless of absent brand recognition that mainstream film relies so heavily upon nowadays. Perhaps much of this is owed to its stellar ensemble that's so smartly cast it can grab multiple demographics but among the A-listers and rising stars, comes a breakthrough performance from Ana de Armas as the moral protagonist emerging from an absurd cast of characters to give meaning and depth to a film that has its fair share of stinging satire. Rian Johnson instills scenes with up to the minute dialogue delivered with so much enthusiasm from a delightfully game cast where every player gets their opportunity to deliver venomous one-liners that have sharp insights into the material and social media driven culture of the present day. With its modern spin of a classic sub-genre, Knives Out looks at the familiar themes associated with whodunits as it scathingly critiques class and old money families but present them in a 21st century context with modern language, politics and technology foregrounded in Johnson's rich and endlessly entertaining film.
The film opens with a shot of the deceased patriarch of the chaotic, eccentric family on which the film's plot resides, in a meta touch this victim is a wealthy thriller writer by the name of Harlan Thrombey (a wonderful, charismatic Christopher Plummer). The film then quickly introduces its main players and establishes the motives of each as it is revealed almost immediately that each of these descendants of the victim had all their financial ties with him severed as each had squandered their money and opportunities with hasty actions and absent-mindedness. Aside from Jamie Lee Curtis' Linda who is the only member of the family with any form of self-sufficiency but still started her own business with a loan from her father. Curtis as a stern, blunt and accomplished woman is one of few actors here playing to a familiar type, although her conviction and holds no bar attitude is always fun, the remaining cast are well-known in deliriously strange territory playing direct opposites to what they are known for. Michael Shannon known for his intensity and to some extent crazed performance is here playing a fumbling, pathetic man; Toni Collette is clearly having so much fun playing a hipster culture Instagram influencer who runs a flailing skincare company. And, of course, there's Daniel Craig with his fantastically silly Southern drawl in the detective's chair who could either be a brilliantly minded sleuth or an incompetent idiot. In this Knives Out always keeps us guessing and as soon as the plot begins to thicken the mysteries pile up and the pulpy and thrilling narrative hits delirious heights that creates a palpable tension within us as viewers. At the centre of the film is Blade Runner 2049 star Ana de Armas whose grounded, humble nature put her at a direct contrast to the cast of eccentrics that make up the Thrombey family. Armas portrays Harvey's caregiver Marta who had a warm, friendly relationship with him and was perhaps his closest friend and easily the most sympathetic character within the film who finds herself in nauseating situations as the narrative dials up several gears. As an outsider to the family Craig's Benoit Blanc (wonderfully named) looks to her for reassurance and honesty, something he can definitely rely on from her as every time she lies she vomits, a well-judged physical gag used to full effect and never too often. Throughout the narrative Marta finds herself at the odds with the family and they soon begin to treat her far less sympathetically as their facades drop and they show outright hostility towards her. A recurring gag in the film is that a member of the family will give a different country of origin for her family as they thoughtlessly make associations about her as Johnson raises pointed ideas about immigration and racism, as Marta's mother is undocumented; a fact which is held against her by the family even after Collette's character falsely proclaimed a sympathetic liberal mindset that she drops immediately after it becomes inconvenient to her. Then further chaos reigns with the introduction of Chris Evans' narcissistic Ransom appears to engineer conflict with the kind of brash, unceasing ego we haven't seen Evans dial into since Scott Pilgrim. From this point the film truly excels delivering an airtight, unpredictable narrative that subverts our expectations and never falters towards its brilliant, perfectly timed and executed ending that will no doubt please audiences with its purely satisfying but not exactly conventional third act resolutions.