Just 'Brick' like Elvis or Prince
Stephen A Smith's General Hospital character has now taken an active part in the mob war.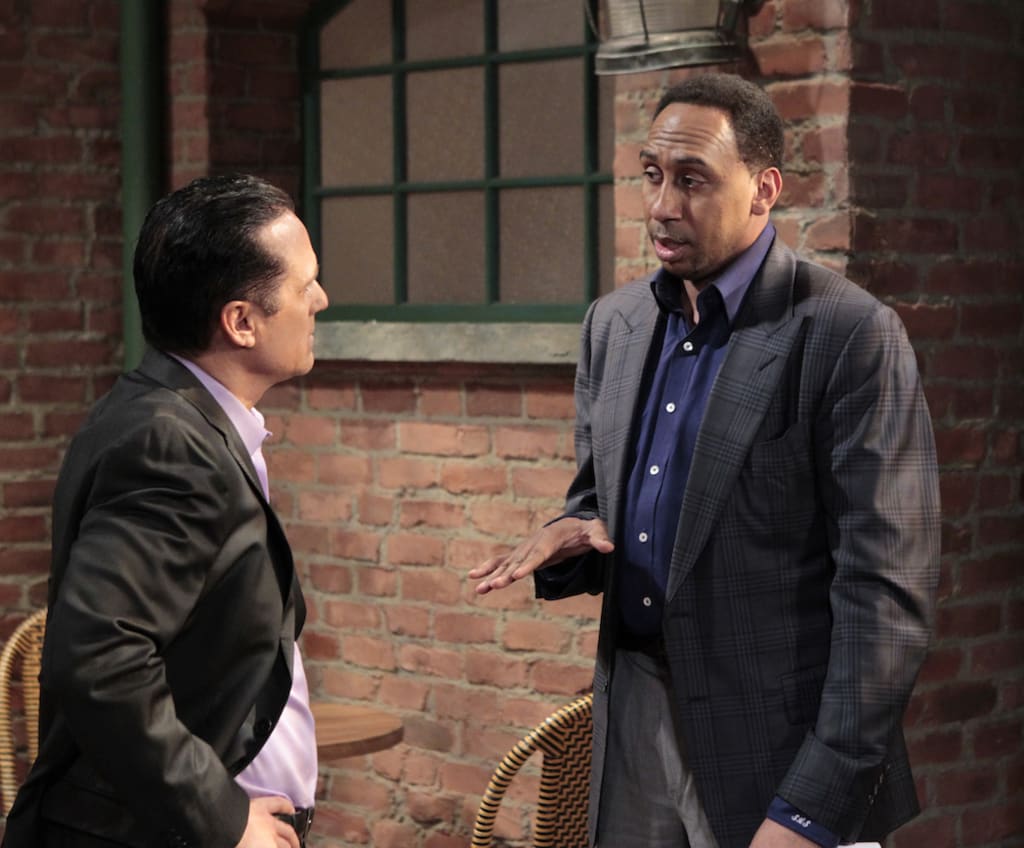 Sonny and Brick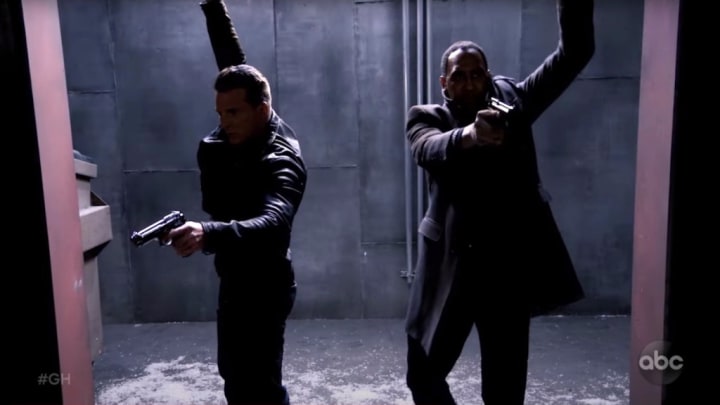 Sportscaster Stephen A Smith portrays "Brick" an associate of Sonny Corinthos on GENERAL HOSPITAL. he shows up from time to time to lend a hand and also to flirt with Carly. This time around there is no time for flirtation because life and death situations are gripping PortCharles. Viewers had been wondering what Brick's full name is and now it seems we will never find out. When Carly introduced her pal to Laura, he replied that his monicker is "Just Brick, like Elvis or Prince." Sonny's surveillance expert does not usually get involved in the details of the mob business but has assisted Jason a time or two.
On Monday "Just Brick" was in the thick of the drama and was caught on camera shooting one of Cyrus Renault's men. The action took place as Brick was waiting in his vehicle in the basement of the GENERAL HOSPITAL parking garage for Jason to make his great escape. When he arrives, Jason asks if Brick has seen Dr, Britt Westbourne and the getaway driver says no. His spidey senses kick in and Jason runs back into the hospital where he finds Britt about to be injected with an overdose of drugs by two of Renault's men.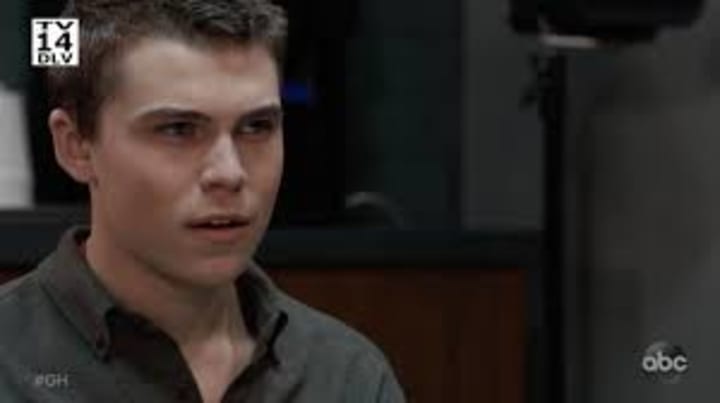 Jabritt works together and takes down the would be assailants but one of them grabs his gun gets up and follows them. As they make their way down the stairs and into the basement Brick yells for Jason to get down just as Renault's man shoots at him. Brick then shoots the henchman and tells Jason all is clear. Unknown to those involved, Cameron Weber is lurking nearby. He is angry because he believes Jason murdered his stepfather Franco.
The teen picks up the gun that the mobster dropped and as Jason and Britt are headed for the vehicle, Cam shoots his stepdad in the back. Jabritt makes it into the vehicle and Brick takes off at record speed. Spinelli had disabled the security cameras but there was an override just as the shooting began. The entire event was caught on Camera and young Mr. Weber has no defense for shooting Jason in the back.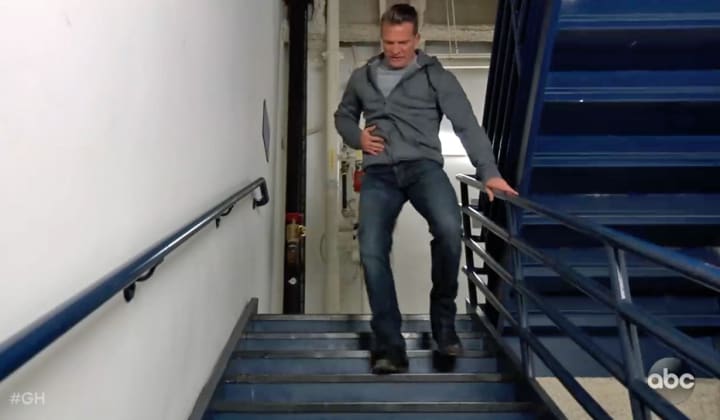 Brick will get Jason and Britt to safety and then have to give Carly troubling news about the shooting. Now, "Just Brick" must lay low as well because not only will Jordan want to question him, but Cyrus will want him killed. Spoilers have revealed that Britt attends to the wounded Jason and that he heals. This is the beginning of an adventure because the duo will be on the run for quite some time.
If Brick is apprehended and questioned at the PCPD, perhaps there is a chance that his real name might be revealed. More than likely, after helping Jason and Britt he might disappear until the heat is off. He can no longer walk around freely, even though he shot the man to protect Jason. Cyrus has eyes and ears everywhere and had even placed his goons at GENERAL HOSPITAL to guard Jason.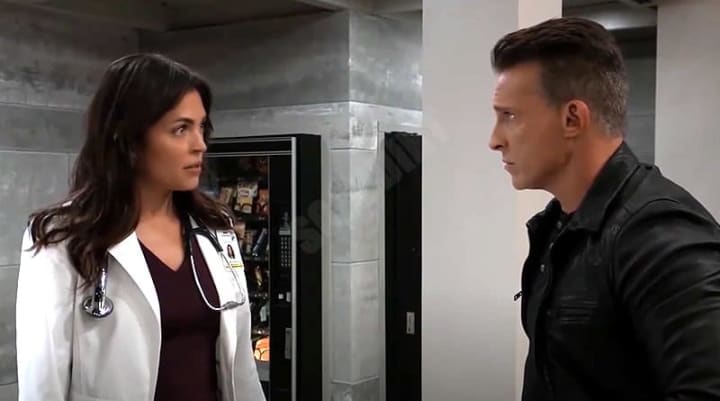 Viewers also know that Renault's hitmen followed Julian Jerome's every move right until the end so things could become difficult for "Just Brick." There is no information as to when this situation will end but viewers are hoping it will be soon. Sonny needs to regain his memory, return to Port Charles and help his family members who are in big trouble without him.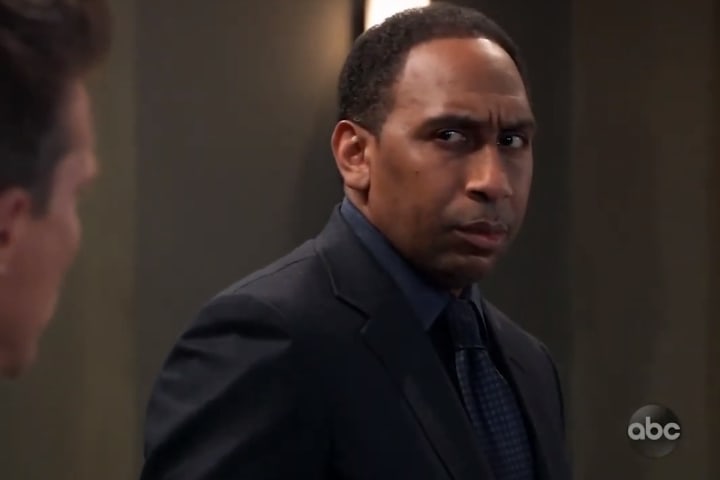 Those who have watched Stephen A Smith over the years as a sportscaster know that he has a really outgoing personality and is pretty humorous. As Brick he is relaxed, yet can be as cold and calculating as Jason. Spoilers do not give any hint of whether or not Smith's character will be sticking around until Cyrus is apprehended or if he will go into hiding so stay tuned to find out what happens next on GENERAL HOSPITAL.

Cheryl E Preston
Cheryl is a poet, freelance writer, published author and former Newspaper columnist. She has degrees in Psycology and Biblical studies. She enjoys sharing natural cures, and Nostalgia related info. Tips are greatly appreciated.
See all posts by Cheryl E Preston →