Josh Griffith teases Nikki may uncover Summer's secret on 'The Young and the Restless'
Viewers ae not happy with the way this storyline is going but the co executive producer/head writer suggests that things may soon work out.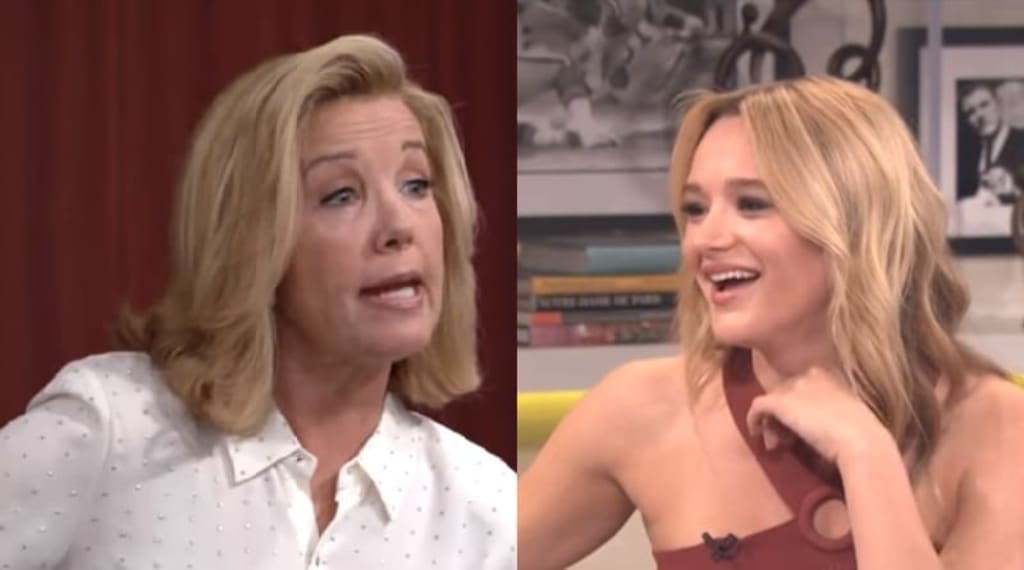 A number of those who watch THE YOUNG AND THE RESTLESS are calling for the head of the current co executive producer/head writer to be served on a platter. Many viewers are furious with Josh Griffith because he has not lived up to his promise to make things better in Genoa City. This is especially true as it relates to the departures of Michael Mealor and Hunter King who portray Kyle Abbott and Summer Newman.
According to SOAP OPERA SPY, Griffith recently gave an interview to SOAP OPERA DIGEST where he said "If anyone can uncover the real reason behind Summer's decision, it may very well be Nikki." On Monday's episode of THE YOUNG AND THE RESTLESS Victor and Nikki are in Italy to visit with their granddaughter. Nikki began reading between the lines and could tell that Summer was hiding something. Mrs. Newman did not, however, obtain any answers but based on what Griffith states she will certainly continue to try.
SOAP OPERA SPY says Victor's wife will become suspicious and begin trying to figure out what caused Summer to bolt from Genoa City on short notice. It seems that now THE YOUNG AND THE RESTLESS is backtracking and attempting to do what viewers thought should have happened weeks ago. Summer went around town saying heartfelt goodbyes to her family members and they all just allowed her to leave without question. Now in hindsight everyone is suspicious and wanting to find out what is really going on.
Billy promised Summer he would look after Kyle and he began to suspect that Tara had her sights set on Kyle and the Abbott fortune. Phyllis shared with Billy and Amanda that she believes Tara and Sally are working together as each of them benefited from Summer relocating to Italy. Everyone knew Summer disliked Sally Spectra and yet she recommended her for her position with Lauren. Mrs. Baldwin has yet to smell a rat in the situation and has not suspected anything was up between Sally and Summer.
Spoilers say Nikki will begin her own investigation but don't reveal what she will turn up. Phyllis is supposed to go to Jack and Kyle soon with her suspicions but it's not known whether or not they will heed her warnings or kick her out. Hopefully with Billy, Phyllis, and Nikki investigating at least one of them will come up with something concrete because time is winding down for Michael Mealor and Hunter King. The rumor mill said Kyle's final scenes were taped prior to July 4 which indicates they will be broadcast sometime between now and the middle of August.
Leakers have not yet shared any credible information on how Kyle leaves Genoa City. There has been a rumor floating around that Kyle and Summer might marry on screen and live together in Europe. There are a number of loose ends that need to be tied up such as Sally and Tara['s roles in getting Summer to move to Milan. There is also the issue of Harrison's paternity and whether or not Kyle would take the child with him to Italy.
There is no way for a custody hearing to take place so soon and this is why many who watch THE YOUNG AND THE RESTLESS believe that Kyle is not Harrison's father. Josh Griffith might have been giving viewers a hint about Nikki finding out Summer's secret or he may have only been teasing that she has the ability to get to the truth. Perhaps she should get Victor in on the issue because he can make things happen. Viewers can only be on the lookout for additional news on this storyline and continue watching each weekday afternoon. One thing that is certain is the fact that each day brings us closer to the truth so stay tuned.
entertainment
Cheryl is a poet, freelance writer, published author and former Newspaper columnist. She has degrees in Psycology and Biblical studies. She enjoys sharing natural cures, and Nostalgia related info. Tips are greatly appreciated.
Receive stories by Cheryl E Preston in

your feed