Jeff Griggs portrays Agent Hursley on General Hospital
All you need to know about the new Silver Fox in Port Charles.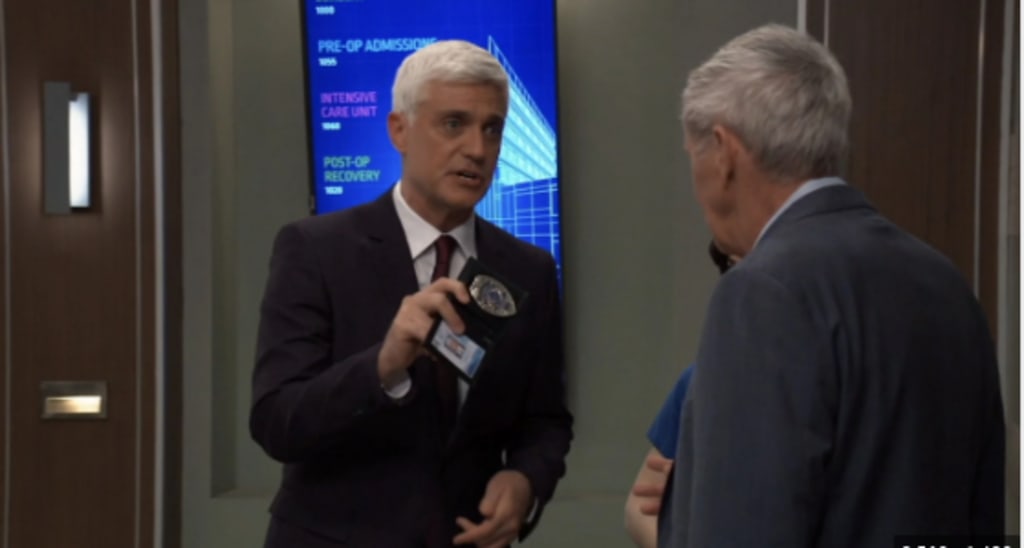 Agent Hursley with DA Robert Scorpio
The new Silver Fox in GH is Jeff Griggs
Jeff Griggs is the Silver Fox portraying Agent Hursley on General Hospital and it seems like he is sticking around at least for now. It's possible he is being used to start a new chapter regarding the WSB (World Security Bureau) since it was announced that Frisco Jones (Jack Wagoner) has been replaced as the head of the agency. It seems like the ABC soap is "settling accounts" so to speak when it comes to recent actions. They blew up the Haunted Star and Victor Cassadine (Charles Shaughnessy) is dead. Laura Collins (Genie Francis) said this represented the end of her association with Luke and the Casssadines and now Frisco has been dethroned.
Wagoner has not been on General Hospital since the 50th anniversary Nurses Ball in 2013 but he has been mentioned every now and then. Now no one has a reason to call on Frisco so in one swipe it looks like the end of Luke and Wagoner's character all at once which is the end of an era. The name of the new WSB head has not been given but Agent Hursley seems to be the representative. His first name is not known at this point but he is the one who went to Anna Devane's (Finola Hughes) hospital room after Scott Baldwin (Kin Shriner) called the agency to warn them that Victor had a pathogen.
Curtis will join the WSB
Hursley later told Curtis Ashford ( Donnell Turner) that the bureau wanted him to consider becoming an agent because of the way he handled himself in Greenland. Spoilers indicate that Curtis will indeed accept the offer and it might push him away from Portia Robinson (Brook Kerr) who will not agree with his decision. It might also draw him closer to Jordan Ashford (Tanisha Harper) because he will finally understand her secrecy regarding undercover work. Curtis kissed his ex-wife a few days ago and that's probably not the last time they will have a close encounter.
On Thursday, Agent Hursley interrogated Anna after she had been arrested because Victor left orders in his will for a file on the former WSB agent to be released publicly. Anna's past as a double agent was all over the internet as well as print news but she seems to have come to some type of a stalemate with the Burreau for now. It's not clear how long Griggs will be in this role but if Curtis begins working for the WSB he will probably report to this agent. General Hospital obviously has a long game that fans are not yet aware of and will have to stay tuned.
All about Jeff Briggs
Jeff Griggs was born on March 27, 1963, in Alamogordo, New Mexico, USA. In addition to acting, he is a director, known for "Chalk Hill" is a story that began with two Alamogordo brothers and became a screenplay about a father and son who become part of the history and lore of the Old West in southern New Mexico.
State Sen. Ron Griggs of Alamogordo was always fascinated by a book he read at his grandparents' house about the disappearance of Albert J. Fountain and his 8-year-old son, Henry, in the late 19th century near where he and his brother, Jeff, grew up Ron suggested to Jeff, a professional actor, that he turn the story into a screenplay.
Jeff, who lives in Los Angeles, also had roles in Babylon 5 (1993), and Power Rangers Time Force (2001). He may also be familiar for a Southwest Airlines TV commercial. Griggs is also an artist who has done a portrait of former President George Bush.
About the Creator
Cheryl is a widow who enjoys writing about current events, soap spoilers and baby boomer nostalgia. Tips are greatly appreciated.
Reader insights
Be the first to share your insights about this piece.
Add your insights