Jane Elliot Returns to 'General Hospital'
Tracy Quartermaine is coming back to Port Charles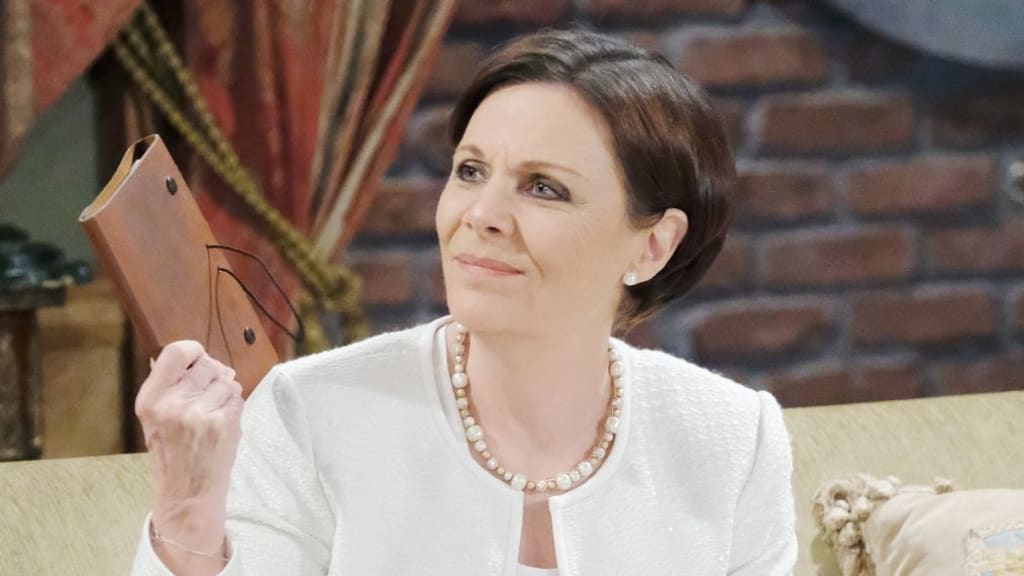 Tracy comes home to Port Charles
Soaps She Knows at Soaps.com gets their information directly from the studio. The spoiler says that fan favorite Jane Elliot will soon return to General Hospital. No information is available regarding her first air date or how long she will stick around but fans will be delighted. The Quatermaine household has lost some of its edge since Edward and Lila's daughter left Port Charles two years ago. She went to Paris where she ran into Luke Spencer and it's assumed they rode off into the sunset together. Anthony Geary who portrayed Luke had said he would never return to the ABC daytime drama once he retired but he came back for that two minute scene where his "Spanky Buns" walked into a cafe and saw him.
Jane Elliot's return will breath some much needed life into the Quartermaine home. Prior to leaving town she made amends to everyone and the scenes with Monica were touching. The ABC daytime drama may have given viewers a teaser last week when Brook Lyn mentioned her grandmother and Ned and Olivia brought up the fact that the Q home belonged to Monica because Alan gave it to her. This had been a running joke on General Hospital in days gone by because Leslie Charleston's character spoke about it every chance she got. At one point, Monica actually threw Edward, Lila, and Alan out of their home.
Ned changed his name from Ashton and is the only person in the family home who has the Quartermaine name, besides Monica. Tracy will return to Port Charles to find Olivia and her son Leo living in the Q house, along with Brook Lyn who just returned and Sam's children Danny and Scout. Michael is running ELQ without interference from relatives and there is no infighting going on. Perhaps Tracy will return for the holidays, and decide to stay a little longer. It could be that Luke has made off with her money, and left her high and dry once again.
There is always the chance that Jane Elliot is coming back for a few episodes of General Hospital and will return to the man she loves. She may even be in town when the truth comes out that Wiley is really her great nephew Noah. Whatever storyline she is a part of, this talented actress and soap veteran will light up the screen. There has not been any real Quartermaine drama for a very long time so perhaps Monica's sister in law will spice things up a bit. Fans would love it if Anthony Geary also returned and Luke accompanied "Spanky Buns" back to Port Charles. Considering that when he came back for Tracy's farewell, it was only a two minute span of time, in the entire episode, Geary will probably stick to his guns.
Tracy was a free spirit who spoke her mind and made a lot of enemies. Her entire life was wrapped up in trying to earn her father's love and prove she could run ELQ. Without knowing more details about Jane Elliot's return to General Hospital it will be difficult to figure out the end game, but that won't stop fans from trying. There are any number of reasons that Ned's mom has decided to pop back into Port Charles. Jane Elliot may be bored with retired life, or has been watching the ABC daytime drama and is displeased with what is happening to her television family. She may have contacted the show execs and asked to come back to her old stomping ground.
Executive producer Frank Valenti or another exec may have been wooing Jane ever since she left General Hospital, hoping she would come back, or someone could have recently come up with a storyline that requires her. Eliot's face is in the place and she obliged. Be on the lookout for breaking news and updated spoiler alerts related to Tracy Quartermaine's return. Even if she only graces us with her presence for a short while, long time fans will be elated just to see her again. It will be a pleasure to watch as Jane Elliot's character whips the Q's into shape as only she can.