James Reynolds Makes Black History Celebrates 39 Years on Days of Our Lives
Abe Carver has been in Salem for four decades.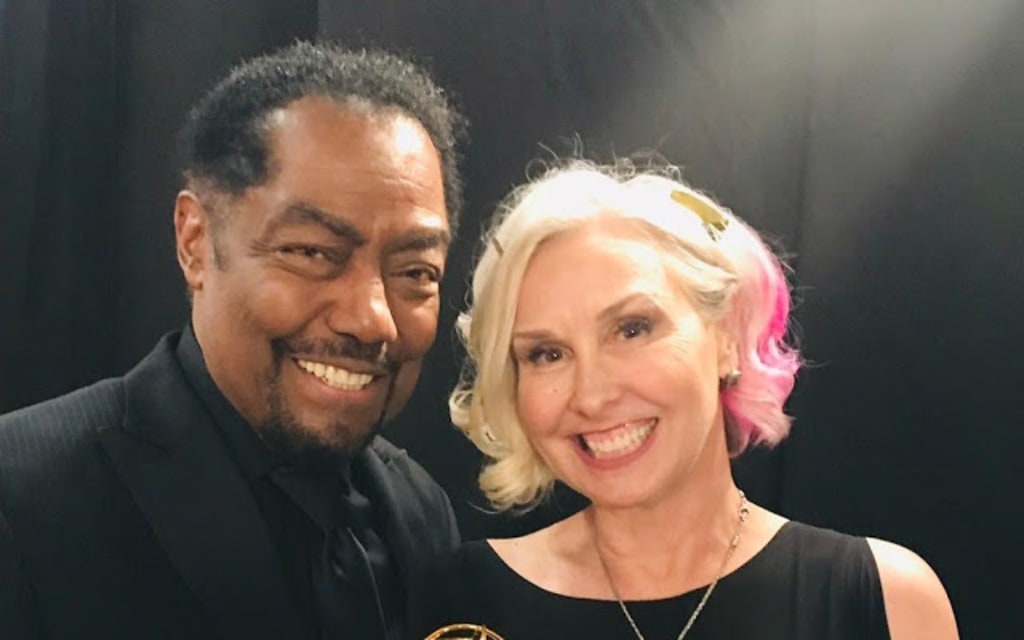 James Reynolds and wife Lissa
Black History Month
February has been designated as Black History month. Unfortunately many Americans both black and white become stuck on the civil rights era and only discuss issues from the 1960s and 1950s. When my youngest son was in elementary school, he had to write a report on an African American who made history. He knew most everyone else would write about Rosa Parks and Dr. Martin Luther King Jr. and they did. My son wrote about Lonnie Johnson who created the Super Soaker but the contest winner was a student who wrote about Dr. King. Lonnie Johnson continues to make history as he just one a 74 million dollar lawsuit against Hasbro, who markets his product. Black History as all history continues to be made and I enjoy putting unsung heroes in the spotlight.
Give honor where it is due
This is why today I am acknowledging the vast accomplishments of actor James Reynolds who was in the feature films Mr. Majestyk in 1974, Fun with Dick and Jane, ( 1977), The Magic of Lassise (1978) and C.H.O.M.P.S. (1979). This talented 73 year old is best known for portraying Abraham Carver on the NBC daytime drama Days of Our Lives since 1981. DOOL is one of the longest running scripted shows in the world, having been on the air since 1965. This program also has the distinction of James Reynolds being the only African American to have accomplished the feat of remaining on a soap opera for almost four decades. The only person who may have come close is the late Kristoff St. John who was on The Young and the Restless for three decades before passing away on February 1 2019.
Milestones
Regarding daytime actors in general there are only three other who have reached such milestones in their soap opera career. Doug Davidson has been portraying Paul Williams on The Young and the Restless for four decades and Eric Braeden is close behind him with 38 years as Victor Newman on the CBS daytime drama. John McCook has had the role of Eric Forrester on The Bold and the is note worthy and well deserved. His character Abe Carver is a beloved citizen of Salem, who has endured his share of pain including the death of his beloved wife Lexie. Decades ago when Abe died the viewers were distraught. He was the first of many casualties but it turned out that he and other Salem residents had been spirited away to an Island called Melaswen which is New Salem spelled backwards. The actor has been on contract from day one which is a testament to the respect the powers that be have for him. This cannot be said for every talented individual in the world of daytime drama.
Not all actors are treated equally
Handsome African American actor Aaron D Spears has portrayed Justin Barber on The Bold and the Beautiful for many years. For whatever reason he remains in limbo without a decent storyline. He has been placed on contract but not utilized then taken off contract over and over again. This character basically stands beside Dollar Bill Spencer as his side kick and in my opinion is a waste of talent. This is why the respect James Reynolds has received from Days of Our Lives is so refreshing.
New challenges
During his time on the CBS daytime drama James Reynolds has taken only two breaks from the show. In 1991 he left Salem to portray Henry Marshall on the short lived NBC daytime drama Generations. Reynolds portrayed the main character and Marshall family patriarch. This was the first time that a soap had a predominantly African American cast. When that program ended, the actor was invited back to Days, where his character Abe was promoted from police officer to the Chief and now he is the mayor.
In 2003 Reynolds took time off from the shows again to work on other projects. Since his return, to Salem, Abe has been pretty much in the thick of things and involved in important storylines. A lot of actors as well as daytime drama programs have come and gone but DOOL and Abe Carver have staying power. Days is one of only four soaps that remain on the air today.
Staying power
In addition to his long career in the world of entertainment, James Reynolds has been married to his wife Lissa Layng Reynolds since 1986 and the couple have one son. Staying together for 34 years is not easily accomplished In Hollywood and being a mixed race couple brings its own set of issues. Days of Our Lives was recently renewed by NBC so fans will happy they be seeing more of Abe Carver in the coming year. Congratulations to James Reynolds for his achievements as an actor and being a role model for African Americans.