Is the future for fuboTV bright?
The bulls say yes and the bears say no. In the end, it's possible that the bulls will win.
The way we get our entertainment has changed drastically over the past couple of years. For a long time, people got their television content from cable or satellite. Now, it's all about streaming.
Apple TV, Amazon Fire, Youtube TV, Roku, and Sling TV are some of the more flexible digital formats of television people consume their content in. Apple TV has made it easier for me to display content from my phone onto my television screen. The same goes for other connected TV devices.
For a period of time, Big Tech had a battle over which connected TV devices will dominate people's homes. Since each platform restricted certain content from other platforms, many grew frustrated and went to Roku, which provided the middle group for the streaming wars. Those with Roku are able to access Youtube, Apple TV, Amazon Prime, etc. all on the same platform rather than having those services segregated on different platforms.
But for this article, I'm not talking about Roku. Instead, I'll be talking about fuboTV. As an FYI, fuboTV is still a small player in the streaming and entertainment space that is best known for being a favorite among WallStreetBets and Money Twitter. fuboTV is a cloud-based live TV platform that only had 590,430 subscribers by the end of March.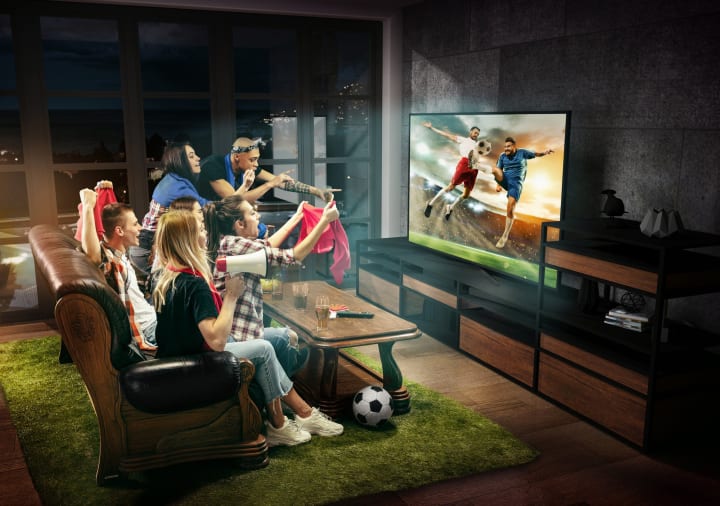 When cord-cutting was a big phenomenon, consumers were left with streaming services that provided on-demand content. In the process, they weren't able to get any live TV or live sports coverage or any local news channels. While some chose to return to cable, others waited for fuboTV to appear, which provided them with live sports coverage.
By being a sports-first platform, fuboTV has positioned itself to capitalize on people's addiction to sports. This has earned the company the nickname "The Netflix of Sports." If you're a fan of sports or you grew up in a household that's big on sports, then you know that the number of hours people watch sports is long. For fuboTV specifically, their average subscriber spends 4 hours a day watching sports through the platform. Plus, fuboTV's average revenue per account is $69.09 per month, which is a lot higher than what Netflix or Disney+, or other streaming providers get. This large number was made because most of their subscribers are premium subscribers and at the same time, fuboTV even displays targeted ads onto its customers. Estimates for the amount of advertising revenue per user per month is $7.11.
Sports Betting
Sports betting is a hot topic in the sports industry. Casinos are looking to cash in by offering it to their customers while startups like DraftKings and FanDuel are already providing those services mostly through their apps. Of course, the growth of sports betting is dependent on legislation as some places in the US and around the world still make it illegal. fuboTV plans on launching an in-house sportsbook for customers to bet on sports seamlessly.
It started with the acquisition of Balto Sports for an undisclosed amount. This deal gave fuboTV the software to handle sports wagering events. Then, it acquired a sports betting and gaming specialist Vigtory for an undisclosed amount. Vigotry is a sportsbook. And in case you don't know, a sportsbook is a place where a gambler can wager on various sports competitions.
Providing these betting services helps fuboTV with monetizing its users even further. While programming services provide low margins to the business, advertising revenues are what provide a bulk of the profits for the company. Considering that ad spending is growing once again, fuboTV can scale those ad spending profits nicely as it boosts its subscriber numbers.
And with sports betting, the amount of money fuboTV can make per user can increase drastically especially as they make money from every bet they place.
Conclusion
fuboTV, the Netflix of Sports, has a future ahead of itself. Being focused on the sports niche of the entertainment industry and providing consumers with a way to stream sports live while seamlessly letting them participate in sports betting allows this business to become successful.
When comparing fuboTV to Netflix, Disney, and other entertainment stocks, I find fuboTV to be packed with a whole lot more upside and potential than all the other entertainment giants. Since many bulls share the same view, it's understandable why this company has many fans both in the living room and in the stock market.
Many are cautious about fuboTV considering that management isn't disclosing the acquisitions prices. While I find that to be suspicious, as long as the products and services they're providing remain high quality, I will continue to be optimistic about fuboTV's prospects.
industry
The future is concerning. But at the same time, there are many things to be optimistic about.
*All views expressed in my articles are my own. Please do your own research and talk to a financial advisor before making any decisions.