Is John McCook Retiring or will Eric have a Christmas miracle cure on The Bold and the Beautiful
Spoilers are pushing both narratives but the actor's daughter may have given an important clue.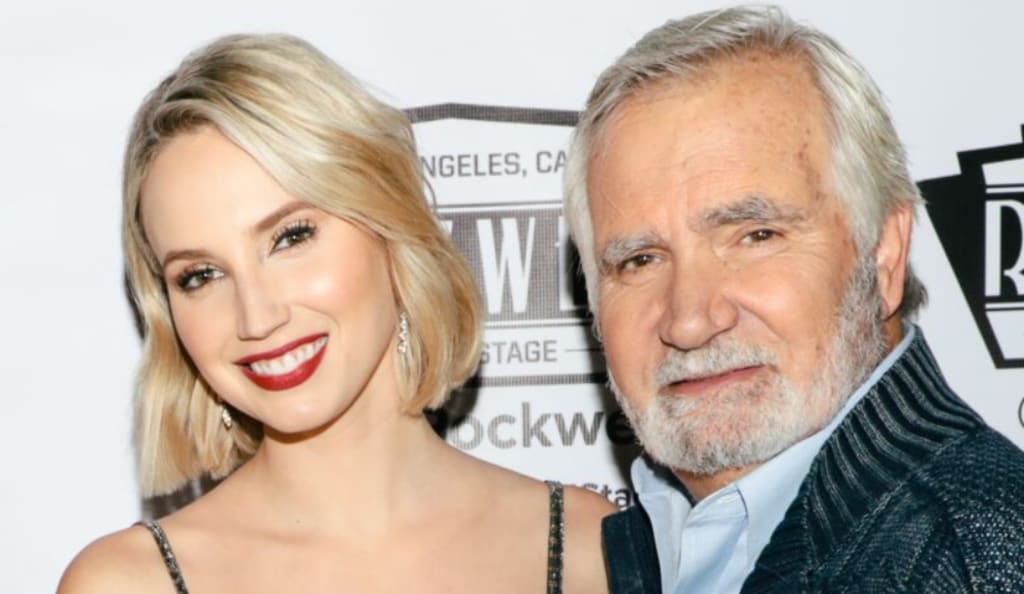 Molly Shears and John McCook
B&B fans are still in the dark
Spoilers for The Bold and the Beautiful are promoting two completely different narratives when it comes to the fate of Eric Forrester (John McCook). Either Eric will die or receive a Christmas miracle cure but which one is it?
Last week B&B announced that Brigette Forrester (Ashley Jones) and Thorne Forrester ( Winsor Harmon) were returning and it was reported they were coming back to LA because their dad was dying. Yesterday the script was flipped with news outlets reporting that Brigette and Dr. John Finnegan (Tanner Novlin) were going to find a miracle cure. While thsi is possible it's highly unlikely that the duo could do more than the specialists who have already examined Eric.
Molly Shears may have shed some light on her dad's situation
Now TV Insider has revealed that Molly McCook Shears the daughter of McCook has written a heartfelt message about her father's time on the CBS soap. Molly did not say her dad was retiring but thsi is what is being inferred. So now fans don't know whether or not to prepare for Eric's funeral or expect a Christmas miracle. Perhaps we can glean some answers by looking at the facts.
What is the purpose of Molly addressing her dad being on the show for more than 30 years at this point when his character has a terminal illness? McCook and Katherine Kelly Lang (Brook Forrester) have been with The Bold and the Beautiful since it debuted in 1987 and McCook is 79. There are actors on the other remaining daytime dramas who are in their 80s and 90s and still going strong so age is not necessarily a factor.
Having said that perhaps Eric's portrayer is tired of having the same job for 36 years and wants to retire. Fans probably would not accept a recast at this point so Eric is being killed off.
The Forrester family is in shambles
The Bold and the Beautiful has been careful not to name Eric's illness which is why some fans believe he may have been misdiagnosed but the shaking hands and coughing up blood do indicate something serious is going on. Eric has not been shown taking any medication or going for treatment so logically his illness is spreading.
In the midst, B&B fans have noticed that Carter Walton (Lawrence Saint-Victor) has not been seen since he told Ridge Forrester (Thorsten Kaye) that he won the fashion show challenge. Some viewers don't think Carter knows that Ridge lied and that he will tell Eric he did not really win. There is a lot of secrecy, misinformation, and lies taking place right now with the Forresters all beign advised that Eric is dying and he believes he is hiding the truth.
The Forresters are in shambles and when all the cards are laid on the table there will no doubt be a lot of pain and anger. At this point, B&B fans all we can do is watch and wait, and perhaps some credible information will come forth before everything plays out on screen. So after all of this, we are in the same spot as before.
What will be Eric's final fate?
Was Molly Shear bracing fans for the fact that her dad is retiring or just giving him a shoutout? Will Thorne and Brigette return to bury their father or bring him a Christmas miracle cure? Will Carter break his boss's heart by revealing he did not really win the challenge or will Ridge warn him to play along with his scheme? Keep tuning in to The Bold and the Beautiful to find out.
About the Creator
Cheryl is a widow who enjoys writing about current events, soap spoilers and baby boomer nostalgia. Tips are greatly appreciated.
Reader insights
Be the first to share your insights about this piece.
Add your insights