Interview With a Lifetime Star: Meredith Thomas
For today's interview, I'll be speaking with a Lifetime regular and the star of the upcoming thriller Killer Advice: Meredith Thomas!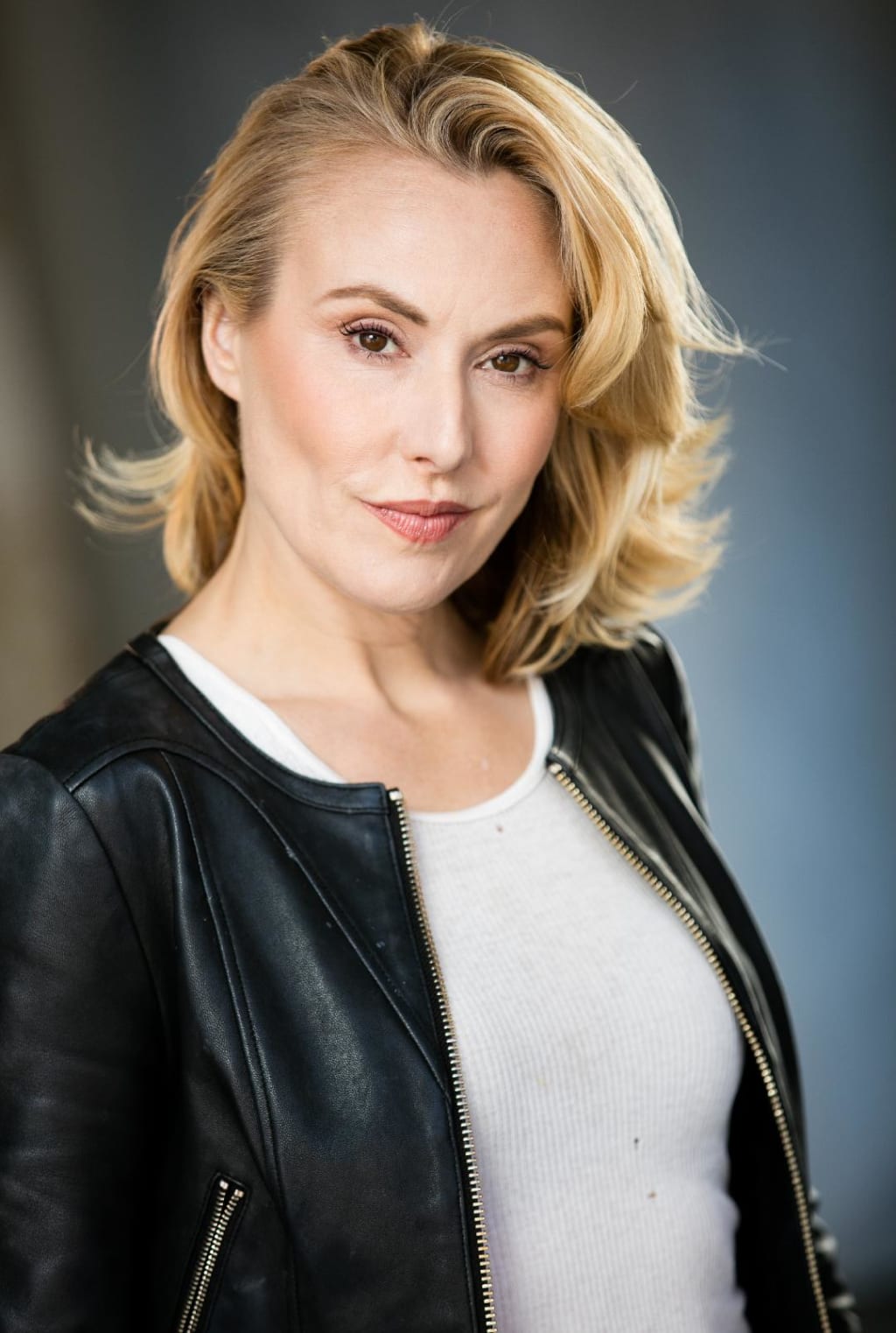 Trevor Wells: Hey Meredith! Thank you so much for taking the time to talk to me. It's been fun seeing you become a regular part of the Lifetime circuit. But before we get into that, let's go back to the beginning: what first sparked your interest in acting?
Meredith Thomas: I have wanted to be a performer for as long as I can remember. I recall in 5th grade having an assignment to make a poster/collage of what I wanted to be when I grew up. I put a picture of a spotlight I had cut out of a magazine and me singing on stage. That next summer, I was cast in my first professional show, singing on stage in Annie. So, I guess I was making vision boards before we even called them vision boards.
Trevor Wells: Awesome! Funny enough, you're not the first Lifetime star I've interviewed this year who got their start on the theatre stage. As for your first professional film role, I see that it was a big one: a bit role in the 1998 classic Pleasantville, starring Tobey Maguire and Reese Witherspoon. What was the experience like?
Meredith Thomas: Pleasantville was a dream. I would drive at dawn from West Hollywood to Malibu where the production had built this quaint little town in the hills. With the perfect hair, make-up and costumes, it really felt like I was in Pleasantville for 2 weeks. I think the film was ironically ahead of its time. I'm glad to see it getting attention again with the popularity of WandaVision. I also saw it featured on one of my favorite shows, This Is Us, a couple of weeks ago.
Trevor Wells: I only watched it once a while back, but I can agree about it being a great ahead-of-its-time movie. Glad to hear it's still getting exposure today! So, before you made your way onto the made-for-TV scene, I can see on IMDB that you starred in a real plethora of different kinds of shows and movies. How would you characterize that journey?
Meredith Thomas: LONG and winding and rewarding. I was born in New Hampshire where we have an obvious love for Robert Frost. I have the Road Less Travelled practically memorized after singing it in the high school choir. I feel I definitely paid my dues by doing smaller roles in pretty much anything I was offered just to get on set and have more experience in front of the camera. I even did a full season as a stand-in on a kid's show. That was hard on my ego!!! I was standing in for kids who were becoming overnight stars. Meanwhile, I was just trying to survive after a commercial actor's strike, pay my bills and keep my health insurance. In the end, I'm glad it's not been an easy journey, because like those kids on the show, I may not have been prepared for the challenges to come too quickly.
My television movie journey started with one movie: A Christmas in Vermont with Chevy Chase. From there, I like to say I just keep picking up repeat customers. I continued to work with that movie's director, producers, and production company which lead to other directors and producers of television movies hiring me.
Trevor Wells: Awesome! I'd said that all your hard work and dedication has definitely paid off. So over the years, what would you say has been your most memorable/inspiring acting moment yet?
Meredith Thomas: I am always inspired when I am able to tackle a role that I thought I couldn't do. I played a role on stage a couple of years ago which was set in the 1930s and inspired by real events. I was the anti-heroine and pretty much on stage for the full 2-hour play. It was exhilarating to pull that off nightly in front of an audience.
Trevor Wells: Excellent! I'm sure you were able to rise to the challenge. Now for the nitty gritty: your entrance into the made-for-TV regulars club. Was there anything that particularly gravitated you towards the realm of made-for-TV features?
Meredith Thomas: I feel like these films have found me. The cool thing about these films is that they always have plenty of roles for women.
Trevor Wells: Definitely so, which is always a positive. Now, correct me if I'm wrong, but I'm seeing on your IMDB that your first-ever Lifetime movie was 2016's Evil Nanny. What can you tell me about that?
Meredith Thomas: Yes, Evil Nanny was my first and that also directed by Jarod Cohn, who directed Killer Advice. So I went from the sweet overly helpful neighbor in Evil Nanny to the not-so-sweet or even helpful therapist on Killer Advice. I actually used to be a nanny in real life and adore my therapist!!!
Trevor Wells: Crazy coincidence haha! And I wonder if your therapist is planning to watch Killer Advice's premiere. Speaking of Killer Advice, I was pleasantly surprised to find out that the movie would mark your first role as a full-fledged Lifetime villainess. Steering clear of spoilers, what can you tell me about it?
Meredith Thomas: I can tell you this movie was the first time I had a bottle broken over my head and the character definitely deserved it.
Trevor Wells: Wow! If she's that bad, I sense I'm in for a fun watch; can't wait! When it comes to Lifetime, you've become something of a fixture in David DeCoteau's repertoire--particularly in what I've dubbed the "Wrongverse". In fact, the first movie I saw you in was 2017's The Wrong Crush. What was it like becoming a part of the Wrongverse?
Meredith Thomas: We joke about being kind of a Wrong Movie ensemble, like the old studio days, but all the movies are wrong. You'll see an actor in a lead, and then next in a cameo getting killed off early in the movie. The Wrongverse is great fun. I love working with David and Vivica A. Fox, who now produces all of them as well. They move fast, efficiently and effectively.
Trevor Wells: With how many Wrong movies they've been able to turn out for us lately, I can believe it. Of your Wrongverse roles thus far, which would you point to as your favorite? Any favorite Wrongverse co-star?
Meredith Thomas: I won't choose Vivica because that's just too easy. Jon Briddel played my husband in The Wrong Crush and that was fun as we spent years auditioning and finally made it on screen together. I like the way his character handled my character's anger and grief over the loss of our daughter. Too bad he was killed off so soon.
Trevor Wells: Yeah, I recall that, and you were both really good in that emotionally packed dynamic. Looking ahead to future roles, I see you have plenty of interesting projects coming up. There's: Lifetime's The Wrong Valentine and Dangerous Medicine, a romantic feature with Jake Helgren's Save the Wedding, and an incomplete project with a Lifetime title if I've ever seen one-- Recipe for Abduction. What can you say about what you have cooking for us?
Meredith Thomas: Save the Wedding I also shoot during the pandemic. It was a welcome relief to relax into a little romantic comedy after all my Lifetime drama. I play a somewhat overzealous mother of the bride and had a great time with the character. For Dangerous Medicine, I'm back to a loving, strong, protective working mom. This time my son, rather than a daughter, is in distress. In The Wrong Valentine, I play the school guidance counselor alongside a couple of talented young actors and Vivica A. Fox, of course. And for Recipe for Abduction, I play a not-so-great mother.
Trevor Wells: Oooh, it all sounds great! They're all definitely on my radar and review plate. Before this interview, I was very happy to hear that, as a producer, you've been working towards moving the cultural needle and bringing inclusion and representation to your art. I'd love to hear more about your charity event FYC Independents.
Meredith Thomas: I started FYC Independents in 2018 to give a platform to underrepresented talent vying for Emmy nominations. As president of a local Elks Lodge, I had an amazing venue I could use. And since Elks are all about charity, that was already in place too. I started out by just asking people I knew if they wanted to screen their Emmy® submissions with me. Soon, word spread and before I knew it, we had a standing-room-only red carpet screening event. Year one, we shocked everyone with 5 nominations--including the first African American married couple ever to be nominated at the same time. Last year, we expanded to Daytime Emmys®. We screened a series that received an Emmy® nomination for the first trans actor. The big studios spend millions on Emmy® campaigns. At this point, FYC Independents has given a platform that has helped to receive 16 Emmy® nominations and one win--all while costing the talent next to nothing and giving thousands to charity.
Trevor Wells: Amazing work! I've really been loving how much more representation we're seeing in the media now. Speaking of, with your charity's goal in mind, I'm certain you've noticed the shift that came in the made-for-TV Christmas movie scene this past December. It marked plenty of inclusion firsts for the genre, with the most surprising being from Hallmark following the controversy they attracted in the 2019 holiday season. What do you make of these big leaps and what else would you like to see happen with the made-for-TV market going forward into 2021?
Meredith Thomas: Yes, as I'm sure you caught, one of those films included in the shift [Dashing in December] is directed by Jake Helgren, who directed the upcoming Save the Wedding. I think much of the country is just tired of the anger and hate. Holiday movies are about love. I think we are going to see a lot more holiday movies that are inclusive of all races and religions and love that comes in all different packages. Selfishly, I'm ready for The Wrong Holiday Movie and for women over a certain age getting some more holiday lovin'. Sadly next year, some of the films will have to address the loss of loved ones we've all experienced over the past year.
Trevor Wells: Yeah, I was sorry to hear about some of the losses that hit the DeCoteau/Wrongverse family. But as for what you're ready for film-wise, I'm definitely down for a The Wrong Holiday Movie and some age-positive romances. So, one last question before we wrap things up: what advice do you have for aspiring actors out there?
Meredith Thomas: There is no denying that this business is hard, harder than I ever even imagined it could be. But the challenges and rewards have been part of a happy life for me. Life is far too short to be unhappy for very long. If this is what makes you happy, go for it. All in. If it stops feeling good most of the time, don't be afraid to let your dreams shift until you find that happiness.
Trevor Wells: Beautiful advice, especially during these difficult times. Thank you again so much for taking the time, Meredith, and keep an eye out for my reviews of Killer Advice and your other upcoming films. Take care and keep up all the exceptional work!