Impossibly Yours - Book Review
I received this book for free in return for my honest review.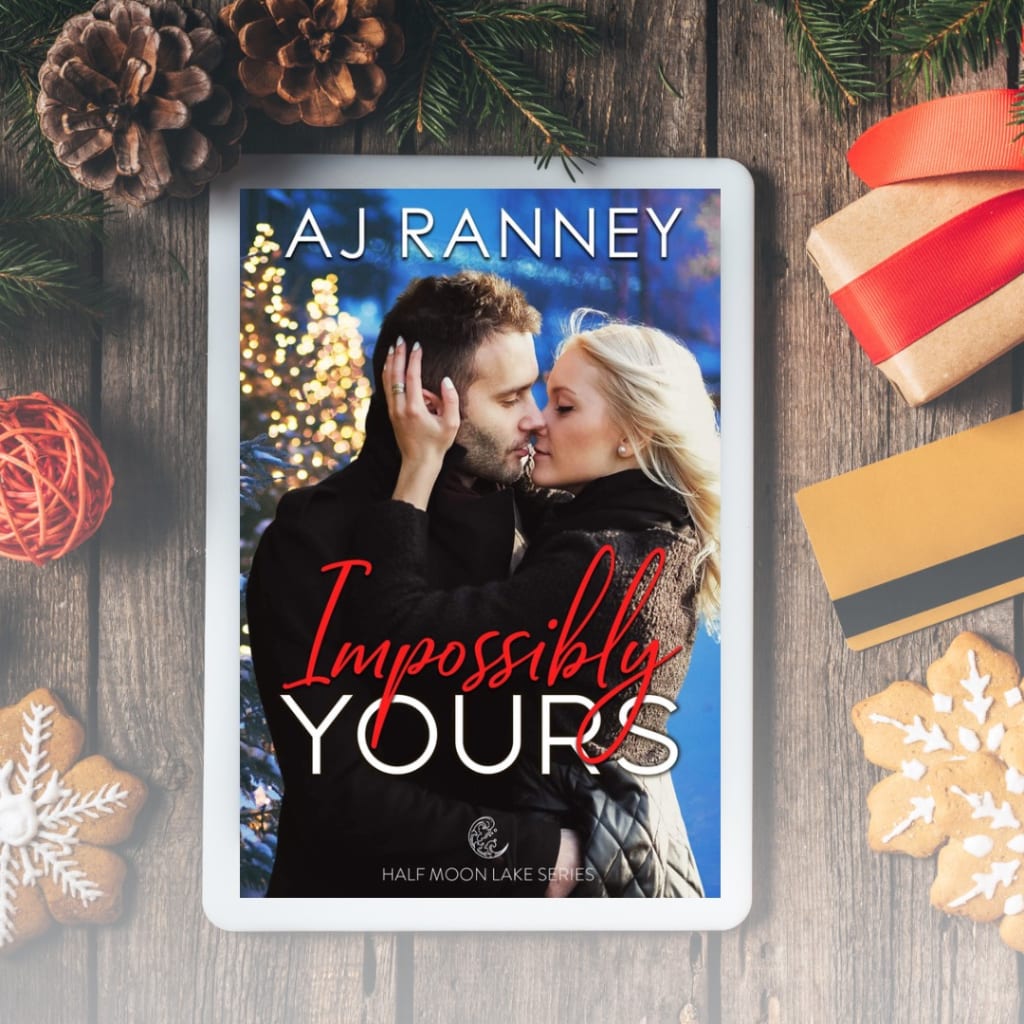 Recently, I had the privilege of being an ARC reader for A.J. Ranney's newest book: Impossibly Yours. This is the second book in her Half Moon Lake series, and although the characters are connected, each book can be read as a stand-alone.
The Tropes: Enemies to lovers, brother's best friend/best friend's sister, forced proximity, small-town romance, forbidden romance.
The Genre: Contemporary romance.
The Spice Level: 🌶️🌶️🌶️ I give it a good 2.75/5 peppers. 3 seems too much, but 2.5 seems too little. I know that sounds stupid but I'll explain.
The Author Provided Synopsis: "There's only one rule; Never fall for your best friend's sister. Definitely don't agree to a temporary fling. I'm stuck working with Ashley Williams when I'm forced to help my mom's catering company for the holidays. Ashley's a firecracker, and I always love getting under her skin…but now I want her skin against mine. I want to bite that forbidden lip she's always giving me. She wants me too, but she's been burned before and says we're only hooking up until the new year. This fling may have a deadline, but now that we're rolling around in the snow—I can't just walk away."
My Synopsis: This story revolves around Ashley and Jackson, and bounces between each point of view. It begins with the wedding of Ashley's best friend (Bella) and her brother (Rhett), who happens to be Jackson's best friend. Jackson seemingly teased Ashley for as long as he has known her, and while an outsider's point of view would say he's flirting, Ashley's point of view is that he's an asshole. Ashley, therefore, acts as a snobby bitch to match his douchebaggery. Ashley also happens to be the apprentice of Jackson's mother, when his mother is unable to perform her daily work routine, Jackson steps in and is forced to work closely with Ashley. As all romance novels go, one thing leads to another, and Ashley finds herself atop Jackson's lap…sans clothing.
The Characters: 
Jackson - perfect, beautiful, love him. Straight from chapter one I loved his character, I am sure that's not how everyone will feel but he is just my type. He can communicate and wants to communicate, I also just love the tropes where the guy is presumed to be a horrible person but he's actually a wonderful ball of sexy marshmallow. I do wish we got to see more of his family, only because his interactions with his sister reminded me of me and my brother. I also wish there was more of his POV, I felt for most of the book we had a good back and forth, but towards the end, it felt like we were leaning into Ashley's POV more. 
Ashley -...I did not like her at first. It takes a couple of chapters to warm up to her, by the end I promise I was her fan, but there were many times when I was just like god-damn girl, please get it together. I sympathize with Ashley, for one thing, I had a secret romance with my brother's best friend and man was the whole sneaking around part both fun and excruciating. However, I am more on Jackson's side when it comes to being open about the relationship, and the way Ashley handles things when there's a possibility of people finding out really reminds me of my ex…which also brings me to her ex. I also sympathize with her because her ex sounds just like mine, I too had to put dreams on hold for him, but the way she treats Jackson at times also reminds me of him. It feels like she is using her trauma to be a bitch, and I just do not like when people use that excuse. Not going to therapy is your choice, don't block out the people around you because of it.
The Review: Honestly, 4/5 stars, maybe even 4.5 ⭐⭐⭐⭐. I don't think any book is perfect so a 5/5 is hard for anyone, and while I thoroughly enjoyed this book there were some minor details that bothered me personally. However, as they are purely preferences I am not sure I can justify taking away that half of a star. First and foremost, I love dual POVs, I wish more authors did this. The storyline flowed nicely and I did enjoy their bickering - when it was flirty - and I love the background plots that brought more humanity to the characters. Ashley's background could have been a little more detailed, but I was happy with things revolving around Jackson's subplot. The smut when you got it was hot, it was good! The reason I couldn't go higher than 2.75 peppers was that we received just two scenes of some good descriptive smut, and then the rest of it was a fade to black. That's not a bad thing, some romance novels have too much smut, some have too little, and some are just right, you basically need to goldilocks your way through these books. I would say this book is borderline too little, only because of the way it was set up and my own assumptions. I think just adding one more detailed scene would have made it perfect. I mean this couple has a lot of sex (so we're told), we don't need to see it all, but some of their recaps sounded fun and I just wanted in on the fun! The cliches are all there, which is not a knock on the author, I have yet to find a book without some of these cliches, but it does just mean when something is about to go down you can see it from a mile away. All in all, I think this might have brought me back to the "best friend's sibling" trope, which I have been adamantly avoiding since my own IRL trope went south. I would highly recommend this for anyone interested in this trope or enemies to lovers.
The Author: You can find A.J. Ranney at https://www.ajranney.com/ and on Instagram @a.j.ranney, and you can order Impossibly Yours now on amazon Order Here. As mentioned this book is the second in her Half Moon Lake series, the first book being about Rhett and Bella (remember Rhett is Ashley's brother and Jackson's best friend). While I don't personally see myself interested in reading about their story, as their characters just didn't appeal to me, the few glimpses I got of Jackson's sister have me excited for the next book in the series which looks like it's all about her!
About the Creator
Writing articles about mental health, education, astrology, and overall life. Writing fiction stories about whatever comes to mind! When I'm not writing you can find me crying about all the animals I can't adopt.
Reader insights
Be the first to share your insights about this piece.
Add your insights