If Flick, then Pick
My double-feature flick pick formula.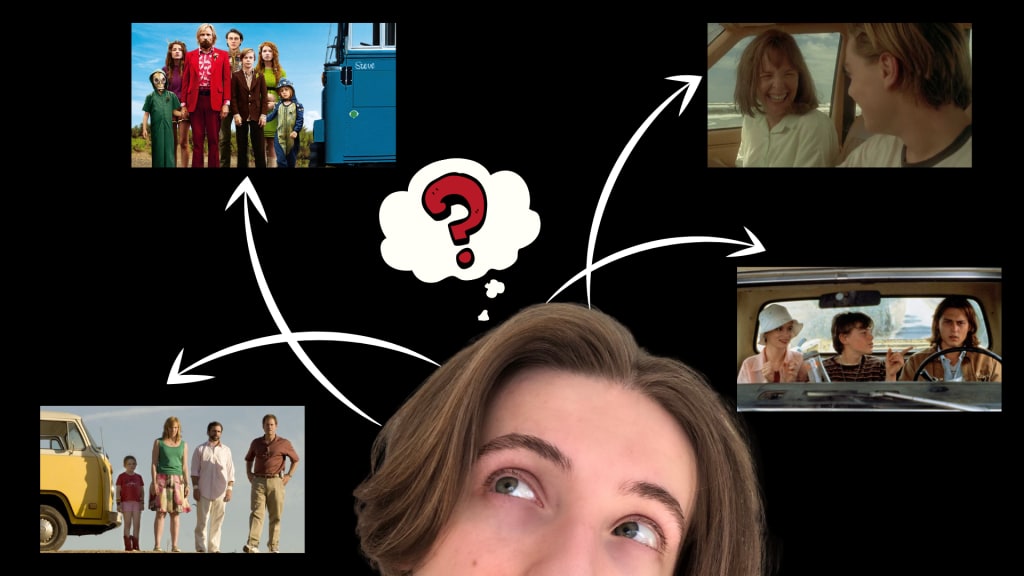 Picture and design by Marcel Grabowiecki
Let me start by saying that movies made me the person I am today, and many times have even saved my life. Was that too dramatic? Alright. Essentially, they have been making my life better since 1999. I consider passion to be one of the most beautiful emotions one can share. Lucky for me, movies and TV shows are mine. That passion made me want to become an actor and a filmmaker, and today I can use both these words to describe my path. Was that inspirational? I hope so. Now, let's get to the exciting part!
Nowadays, we watch more films and TV shows than ever. The ongoing global pandemic has not been easy on the cinema industry, forcing many venues to close and some anticipated premieres to be moved back. Whether we wanted to or not, we all had some extra time this past year to watch films from the comfort of our bed, couch, [insert other places you usually watch your favorite show].
I am sure that all of us at some point asked ourselves the following question: "What should I watch tonight?" The real issue is whether you asked yourself that once, twice, or about eight hundred times this past year, just like me.
How are you? No, like seriously, how are you? Ha! Plot twist: you weren't expecting me to ask, were you? But when I want to watch something, I am always in a particular mood. It varies from an emotional wreck to an over-the-moon happy person. Watching a film or a TV show, I want to feel a certain way. I want it to inspire me, comfort me or maybe challenge me, and the list goes on.
So, how are you feeling? Here's half a dozen examples of how the system works...
If Little Miss Sunshine, then Captain Fantastic.

These films make you laugh and cry at the same time. The stories move and, at times, distress you. But eventually, they leave you feeling warm and hopeful. Perfect for a bad day.
And no, not just because of the van. Who never fights with their families? Exactly. We all do. A few days ago, I rewatched Little Miss Sunshine after a really rough day. I felt stuck, small, and weak. I know, right? Triple threat. My eyes were itchy from all the tears, and my head was pounding. I didn't need a film to help me let it all out. Oops, it was already out. I needed a film that would remind me that everything was going to be alright. Cliché, isn't it? Let me be more specific then. I needed a watch that would remind me how crazy a journey life is literally as much as metaphorically. Also, I just wanted to see other people being a total mess to feel less alone.
Social awkwardness? Weird van-like bus-vehicle? Check both boxes for both films! In Captain Fantastic we see an emotional range from family fun, dancing by the bonfire, to heartbreaking scenes tapping into suicide and grief. In Little Miss Sunshine the range varies from the family having a casual chat to driving with grandad's corpse in the trunk while desperately trying to make it on time to a beauty pageant contest.
Both films are brutally honest, raw, and unfiltered. Which is why I wanted to watch them when I felt down, conflicted, and stuck. I wanted to see characters overcoming the worst to blossom into what's best.
In both films, the families go for honesty over everything. That's why, in Little Miss Sunshine we see a scene where 7-year-old Olive learns about her uncle's suicide, and in Captain Fantastic the Dad (Viggo Mortensen) doesn't hide any element of his wife's mental illness or reason for dying. Even the youngest child learns the unvarnished truth.
I love how both films tackle what's considered appropriate. They force the viewer to answer these questions on their own, and they make you realize the power of love and the importance of family.
If Interstellar, then Contact.

Watch it when you feel lonely, conflicted, and overwhelmed. Christopher Nolan's Interstellar is a beautifully moving film. If you loved it, I recommend checking out Contact, directed by Robert Zemeckis. You might find yourself loving it even more, just like me!
Interstellar is powerful, heartbreaking, and a reminder of how precious time is. Contact is thoughtful and moving. Both films focus on what there could possibly be out there beyond our good old earth. But, in my opinion, that's just the surface of both stories.
In both films, we see powerful family relationship scenes. In Interstellar, Cooper (Matthew McConaughey) sees his dying daughter for the last time. In Contact, Ellie reunites with her dad. Both these scenes portray incredible, truthful emotions, and you can't help tearing up. So have a box of tissues ready! In Interstellar, it's the father who talks to his now elderly daughter. In Contact, it's grown-up Ellie speaking to her dad, who passed when she was young.
I feel like Interstellar, even though it's often said to be critically underrated, had its sweet time in the spotlight. Contact, though, never really got the exposure it deserves. Contact is my comfort film. Why? I'm not quite sure. Maybe it reminds me of watching it late at night on the TV when I was young, and everything felt like one big question. Jodie Foster is an incredible actress, and her portrayal of Ellie is magnificent. I always wanted to be her when I grew up. No, like literally, her or honestly any character she ever played.
Also, I just realized that Matthew McConaughey plays in both films. If you liked his work in Interstellar, you will definitely enjoy watching him doing his magic in Contact!
If Prisoners, then Changeling.

You want a high-impact film? These are the films for you. Both movies kept me on my toes and blew my mind. They will make you feel the unfairness of life, shake your conscience, and leave you with important questions.
I remember watching Changeling when I was just 14 years old. Was I too young? Probably. High-impact stories like that stay with you for a little longer. Why? Because as a child you don't really think of being kidnapped. That's your parents' worry. But once you see somebody else dealing with this horror, it opens your eyes and changes your perspective of the world. As scary as those movies feel, you realize they also have a ring of truth. In fact, Changeling is based on a true story.
In Prisoners, Keller (Hugh Jackman) and in Changeling, Christine (Angelina Jolie) face every parent's worst nightmare when their child goes missing. How much can a parent go through to find their child? Both films show how crazy much one will do to save their loved one.
Let me be really straightforward here. I consider both of these films cinematic masterpieces. I remember watching Prisoners for the first time in the cinema with my dad. We were at the edge of our seats the whole time. We both love suspenseful movies, but my dad always says there's nothing worse than a thriller with an unsatisfying, ambiguous ending. I agree. That's probably why we love Prisoners so much we keep rewatching it every now and again.
Changeling leaves you with so-o-o many questions, but you don't mind, because the story, directed by Clint Eastwood, is just so well thought out and full of suspense and intrigue.
A mother will do anything for her child, no matter how crazy she might seem to other people. There's nothing that can stop Jolie as Christine. Keller (Hugh Jackman), in Prisoners, also has to deal with people telling him that he's losing his mind. Jackman's character in the film doesn't have faith in anybody else solving his problems and, as a survivalist, takes the matter into his own hands, just like Christine in Changeling.
Even though one story takes place in the 1920s' and the other today, they are so connected. Both films show how fear over losing a loved one can drive one into madness and how much a parent is willing to do to find their child. These films are timeless and should be on everyone's watch list.
If Miss You Already, then The Skeleton Twins.

Watch it when you want to feel the love. When you want to watch something that will move you deeply, make you appreciate what you have, and leave you feeling heartened.
My acting teacher always brings up these two movies when we work on relationships. Trying to show a relationship between two best friends? No better inspiration than Miss You Already. Portraying siblings? Then The Skeleton Twins is your go-to movie to help you get to the core of it.
When I first watched Miss You Already, I couldn't stop sobbing. Yeah, I have to admit, I was a bit of a mess. I loved the film because I could feel the love the characters had for each other. Their relationship was raw and unfiltered. The Skeleton Twins is no different. The sibling relationship is organic and beyond truthful. Nothing feels forced or inaccurate.
With best friends as well as siblings, the relationship is usually very dynamic. We fight, cry together, cook together, swear at each other, and laugh. Often in that order. In The Skeleton Twins, Maggie (Kristen Wiig) and Milo (Bill Hader) go from singing Jefferson Starship songs at the top of their lungs to a heated argument touching upon their most sensitive issues. In Miss You Already, we see them go from a funny drunk uber ride to receiving the most painful news together.
Both movies show two people who love each other unconditionally and navigate their lives together through the most challenging times.
If What's Eating Gilbert Grape, then Marvin's Room.

Both movies will make you feel warmth and joy. They will challenge your emotional responses and satisfy your eye as well as your heart!
What's Eating Gilbert Grape is an iconic movie, and so is Marvin's Room. Both films show families trying to cope with a haunting past. In What's Eating Gilbert Grape, the kids have to take care of the house on top of coming to terms with their father's suicide and mom's depression. In Marvin's Room, hairdresser Lee (Meryl Streep) and her pyromaniac teenage son Hank (Leonardo DiCaprio) uncover the truth about his missing father.
Both films show how you can find happiness even in the darkest moments and how fragile and unexpected life can be. They show how differently people deal with sudden responsibilities, a loved one in danger, and feeling stuck.
Despite all the family issues in each, both leave you feeling the warmth. In Marvin's Room, when Hank and his aunt Bessie drive the car into the ocean, and water splashes into the vehicle, you can't help but share their joy. When Arnie is overjoyed to be reunited with his brother for his birthday in What's Eating Gilbert Grape, you shed a happy tear.
Oh, how I love 90s films! They don't make them like this anymore.
If Miss Congeniality, then The Heat.

We all need a bit of comedy in our lives. Feeling goofy and light-headed? It's time for an untamed laugh. These films will set you in a good mood, charm you, and keep you invested throughout!
If you enjoyed watching Miss Congeniality (or you're slightly obsessed with it like me), you will like The Heat. Why? Sandra Bullock gets to play the FBI Agent again, and she's armed and gorgeous once more. The hilarious Melissa McCarthy plays the leading role opposite Bullock in The Heat, which was directed by Paul Feig (director of one of the best comedies ever- Bridesmaids. But that's another story.) When you're in the mood for a laugh, a straightforward story, funny characters, and a little bit of suspense, these films are all that!
Miss Congeniality is light and intense at the same time. But most of all it is funny and so is The Heat. Sandra Bullock is a natural when it comes to comedy. So, there's a guarantee built in, since she stars as the lead in both. The well-delivered punch lines are hilarious and ridiculously satisfying to watch. With these films, I can't help rewinding my favorite jokes.
Both films emphasize powerful women in charge. A big "hell, yes" to that! My whole life, I've been surrounded by superwomen who show strength I rarely see from men. It feels so good to be able to see complex female characters do their thing on screen! When I was little, Miss Congeniality empowered me and made me laugh more than any male-powered criminal comedy! Then The Heat came along to prove that women own the comedy genre. Watch out for them!
My double-feature flick pick formula: the essence
Does a perfect formula for film recommendations exist? Yes, the above one. I'm just kidding. Of course not! We are all different, and so are the movies we like. Sometimes when I watch a show that someone has recommended to me, I can't help but think: "Why on earth did he tell me to watch that?" Other times, I watch a recommendation that blows my mind and changes my whole perspective on a genre.
I chose the above movie pairs after thorough consideration and deep analysis. Pairing is an art, like champagne and oysters, like Bogie and Bacall, like Angelina Jolie and Brad P... Oops, scratch that. You see? Pairing is a very delicate skill, but the more you practice the better you get. Some of my favorites films, unfortunately, didn't pass the audition process due to their uniqueness. But the ones mentioned got a dream pairing that will not disappoint. When in doubt about what to watch, always make sure to ask yourself a simple question, "How am I feeling today?" And go from there.
Pick-a-flick!
movie
Look at you doing what you once thought you couldn't do.
Actor / Writer
@marcelgrabowiecki on Instagram
Receive stories by Marcel Grabowiecki in

your feed