History and Romance Collide in the Spellbinding Drama, 'A Discovery of Witches'
This paranormal series is a standout!
In 2011, paranormal book lovers were introduced to a world where vampires could walk in the sun without bursting into flames, where witches showcased extraordinary powers, and where, along with demons, they all lived among humans. And, they all sought Ashmole 782—a book that could give them knowledge of their origins.
The books were part of the All Souls trilogy, written by a talented professor, Deborah Harkness, who turned her love of history, and knowledge of alchemy and magic into New York Times bestselling novels. Those same books became a television series in 2018, A Discovery of Witches, and while fans were concerned the show would deviate greatly from the books, or wouldn't live up to their expectations, through an interview with Syfy.com, the author encouraged her readers to give the show a chance.
"It is, in my opinion, an absolutely superb television adaptation of the books—with the emphasis on adaptation. If you go into it expecting everything to be exactly the same as in the books, you aren't going to have much fun. If, however, you tune in expecting a new perspective on a familiar story and cast of characters, you will truly enjoy it."
Her encouragement worked. The series has exceeded expectations, earning a second and third season before the first one had even ended, and leaving fans hungry for more.
So, what is it about this show that has captivated audiences? The magic is extraordinarily showcased. The setting of the series is awe-inspiring, especially the recreated Bodleian Library at Oxford. And there is no denying the paranormal nature of the series is enticing. But, many viewers believe the chemistry between the two leads, played by Matthew Goode and Teresa Palmer is the reason A Discovery of Witches was renewed so quickly.
The Romance
Love between a vampire and a witch is forbidden in Harkness' world, but that doesn't stop Matthew Clairmont and Diana Bishop from following their hearts. Their connection is tangible, and the actors make it seem effortless.
Only three episodes into the season the pair became an unofficial couple, and even though it was fast, viewers didn't have a problem with it... because it works.
Matthew is 1500-year-old vampire who hasn't found love in centuries, and Diana is a witch, who is really just finding herself. The two are drawn to one another, unaware that they were fated to be together. As the story unfolds, so does the strength of their bond, and by the end of the first season, fans couldn't imagine other actors playing these roles (The Silver Petticoat Review sums up one of their most magical moments on the show! It's definitely not to be missed!).
Matthew and Diana are embroiled in the search for her magic and his reason for existence. Their journey takes them from Oxford to France then to the United States, but answers elude them and danger follows, leaving the couple no choice but to use history as a shield.
The History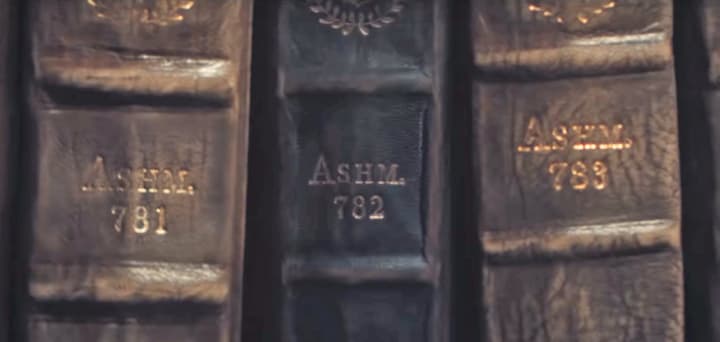 While A Discovery of Witches is set in the current time period, its roots are firmly entrenched in the past. Dr. Diana Bishop, a historian, is able to open an ancient manuscript, Ashmole 782, that has been missing for centuries. All creatures are eager to lay claim to this book as it may contain the origins of their lives and possibly how to end the lives of others.
Adding to this mystery is Diana's discovery of her father's ability to time-walk, that is, transport between different times, whether it's days or years. The writers have done a tremendous job of providing just enough information to keep viewers guessing and enriched it with glimpses of years past.
A Discovery of Witches will dive into history even more in its second season as Matthew and Diana will be in the Elizabethan era, taking the couple back to the golden age of history in England. In 1590, the world as Diana knows it won't exist, and though fans of the novels know that changes are coming, they're confident the writers won't disappoint them because in just eight episodes, the series brought Harkness' world to life with a brilliance that has left viewers spellbound. Fortunately, the story has only just begun as production for season two begins this summer.
#adiscoveryofwitches #deborahharkness #allsoulstrilogy #matthewgoode #teresapalmer #matthewclairmont #dianabishop #Ashmole782
tv
About the author
I'm an avid writer and reader. I've had over 53 novels published and over 2,000 articles. Here I review movies, TV series/episodes, books, and write about entertainment. www.rachelcarrington.com
Reader insights
Be the first to share your insights about this piece.
Add your insights