Here's Your First Look at Amber Heard As Mera in 'Justice League' — but How Does It Compare With Previous Costumes?
Mera in 'Justice League' has a rich history and an interesting costume: here is your first look at Amber Heard in the role.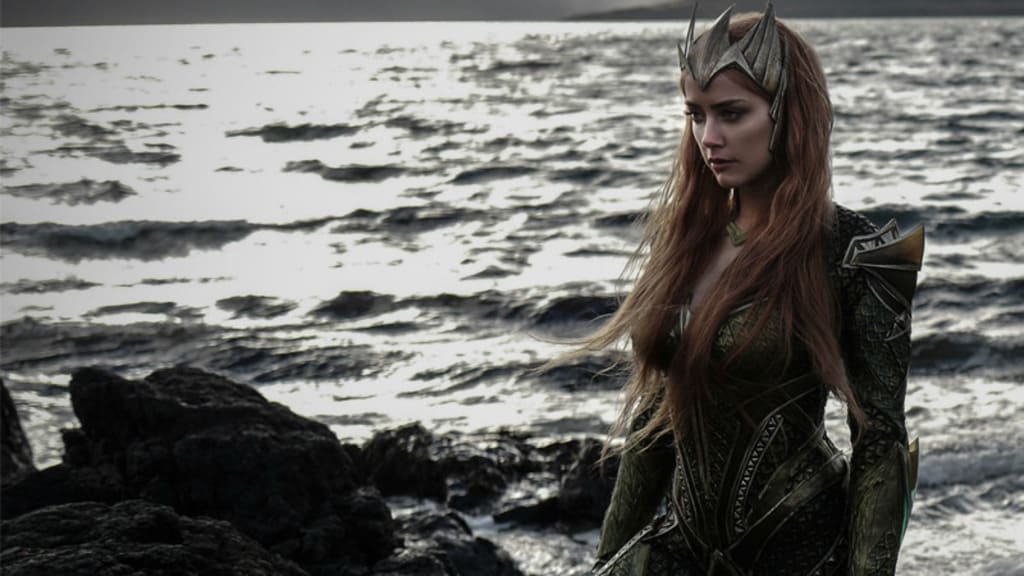 Back in January, we learned that Amber Heard would play the Queen of Atlantis (and Aquaman's wife), Mera, in next year's Justice League. There hasn't been much news about her role, save for her casting and a short costume description. With Batman v Superman's negative reception steering most DC-related conversation, most people forgot about Heard's involvement in the film.
Of course, a select few (myself included) held our breaths waiting for our first look at the character. In the comics, Mera has a rich history, incredible powers, and an interesting costume. It's not overly sexual, it's not unnecessarily bulky, and it's different enough from Aquaman that she can be an independent hero. I was pretty disappointed when we didn't see a photo of the Rum Diary actress in full costume at SDCC, but I knew we'd get something eventually. Turns out "eventually" is code for October 12th, 2016!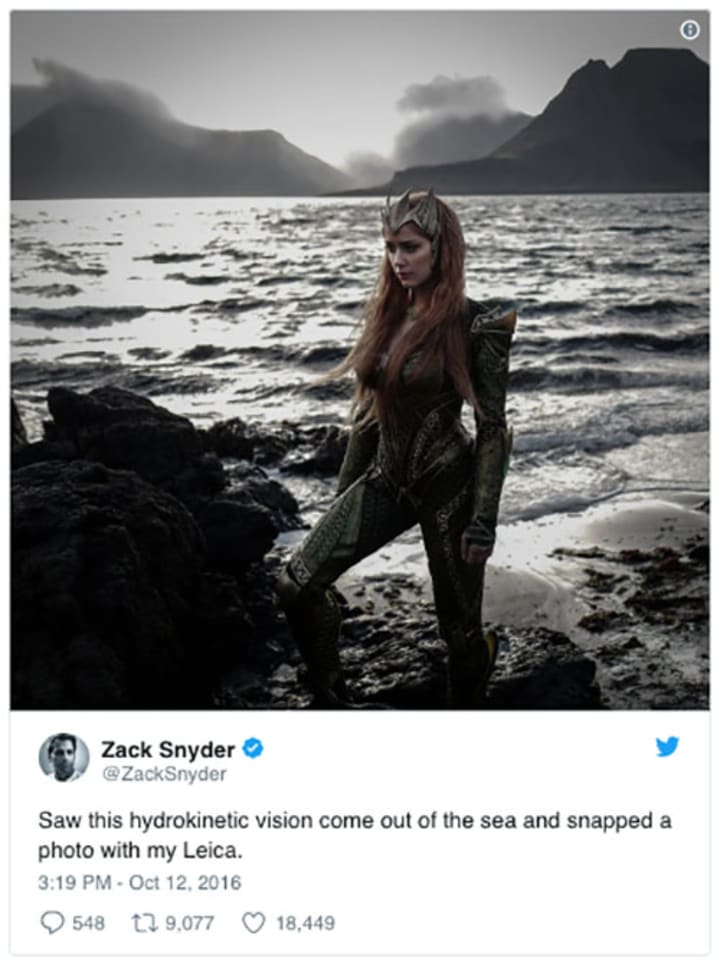 Oh boy. Oh boy. I could start gushing about the costume right here and right now, but for the sake of your sanity, I won't. Instead, I'll take a cool, methodical approach by breaking it down and comparing it with costumes of the past. But for those of you that are complaining about the gloomy filter, here's a great colorized version of the costume, courtesy of Redditor Lord_Blathoxi: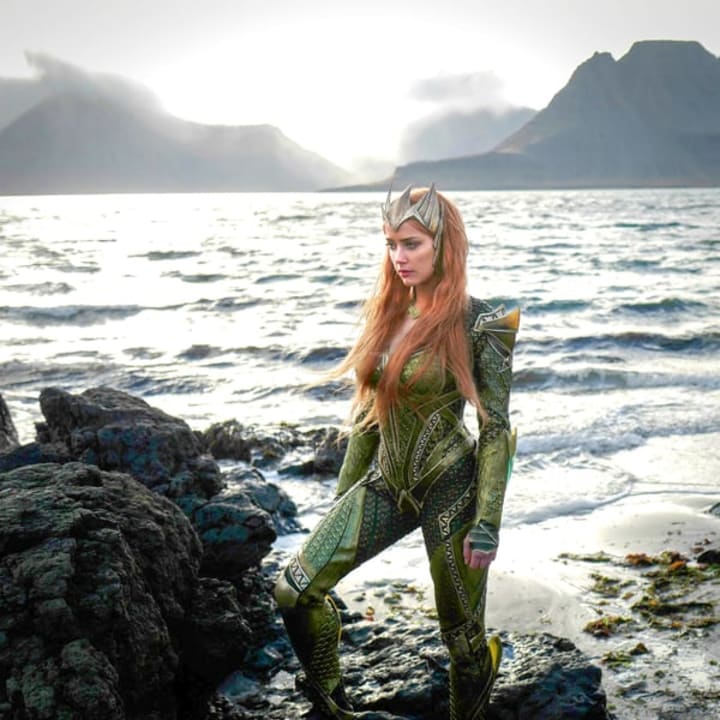 Now that you've gotten a great look at the suit, let's see how it compares with the Mera we all know and love:
The Hair and Headpiece


Mera's physical appearance is often defined by her hair and headpiece. Every iteration of the character pays extra close attention to nailing the character's attitude through her hair, and by extension, her helmet. The comics' version Mera has long, flowing red hair that takes up more of the panel than the character herself. It floats around both underwater and on land, giving her a very unique look and feel. In Justice League: Throne of Atlantis, we see a very different hairdo for Mera: A tight ponytail.
This fits in with the character's warrior personality in the movie, because who wants their hair covering their eyes in the middle of battle? Despite the changed up style, the color and volume of it is still there. The Justice League version falls closer to the open locks of the comics, but not nearly as flowy (probably because she's above ground). The color is also slightly more orange.
The headpiece in the comics is more ornamental, clearly some sort of tiara to represent Mera's royal status. The Throne of Atlantis version did away with it altogether, replacing the gold crown with a green headband (again, because of her warrior personality). Heard's costume probably has the best take on the headpiece: It's gold, stylish, and screams royalty, but still manages to look useful in battle.
The Design and Material

Design-wise, Mera's comic-book attire is pretty straightforward. It's a skintight green suit that covers everything but her cleavage. The hardest part about adapting it would probably be the shimmery scales it seems to be made of, so both the animated and live-action ventures took a different route.
The animated Mera changed up the costume completely, including its design, color scheme, and material. In this iteration, the full sleeves are torn off and replaced with bands and wrist gauntlets. That's not all, because the bright screen scales are replaced with plain black pants below the chest, and a duller green and yellow design for the chest itself. It's unfortunate that the character didn't get her proper uniform in the movie, but it was probably due to how difficult it would be to animate each frame.
While ToA's Mera was a step back in terms of design complexity, Justice League's a step way, way forward. The color scheme and general luster remained (albeit with some more yellow thrown in). This costume adds in lots of plates, ridges, and lines, which doesn't look as awkward as you would think. An interesting (but justifiable) addition would be the Aquaman logo at the waist, looking just a tad bit smaller than the one Jason Momoa's costume has. Maybe it stands for Atlantis instead? Generally, the costume's design matches that of Aquaman's full-body one (a smart decision by the wardrobe team):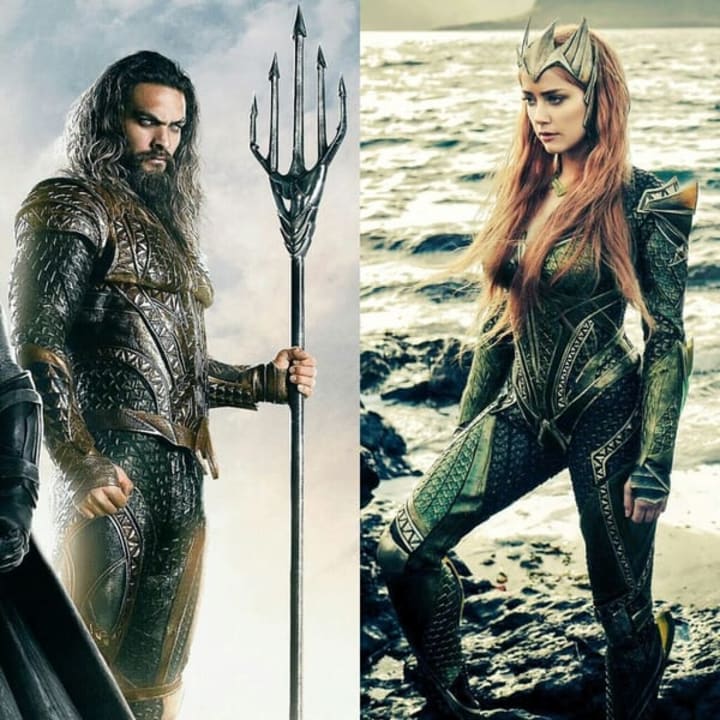 Stray Thoughts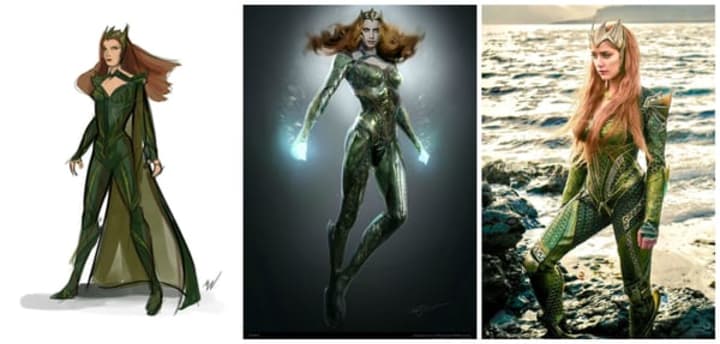 Mera's always been a unique challenge to adapt, mainly because how much of a visual character she is. Taking away even a single element of the costume could end disastrously, so she hasn't had that many chances in live-action (except for Smallville's weird take on her). Here are some stray observations on Amber Heard's Mera costume:
The cape in the first concept art is weird. I don't mind her having it as long as it's a temporary thing.
The second concept art looks pretty hilarious, like they just pasted Heard's face on the art and clicked "blur."
The hydrokinesis looks pretty badass. I'm hoping the water effects look just as great.
I'm getting some strong Rita Repulsa vibes from the costume, but Rita Repulsa gave me strong Poison Ivy vibes...
Snyder needs to stop adding a filter on every photo he releases. It takes away from the impact.