He was their inspiration. He made their lives extraordinary.
Dead Poets Society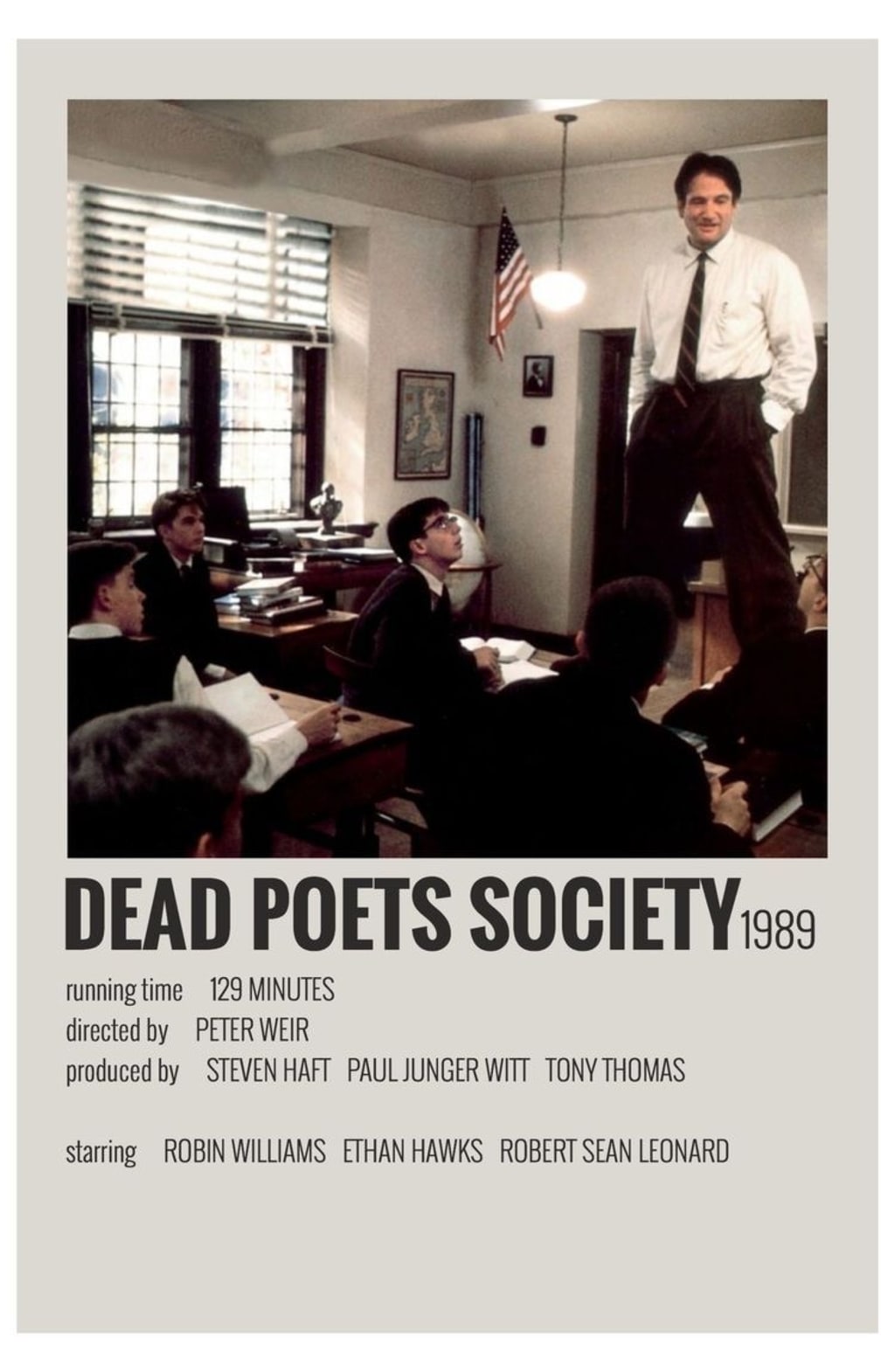 - Tradition, honour, discipline, excellence.
- Travesty, horror, decadence, excrement.
Autumn. It's a beautiful, melancholy time. Autumn is the time when you can stop and exhale after a busy hot summer. Many of us consider autumn to be the beginning of a new year.
I have my little autumn traditions. One of them is to rewatch Dead Poets Society. This is a film about youth, dreams, goals, friendship and betrayal, about ups and downs. This is a film about life itself.
The action takes place in a school for boys. Beginning of the school year. The students go to their rooms. The school principal gives a speech that is not very inspiring. Parents say goodbye to their sons. The main characters are a team of high school friends. They live together, study together, rejoice and play pranks. They are young and inexperienced, they are full of hopes and fears, and they are in no hurry to grow up. Their parents have prepared their fate, but will they try on these roles?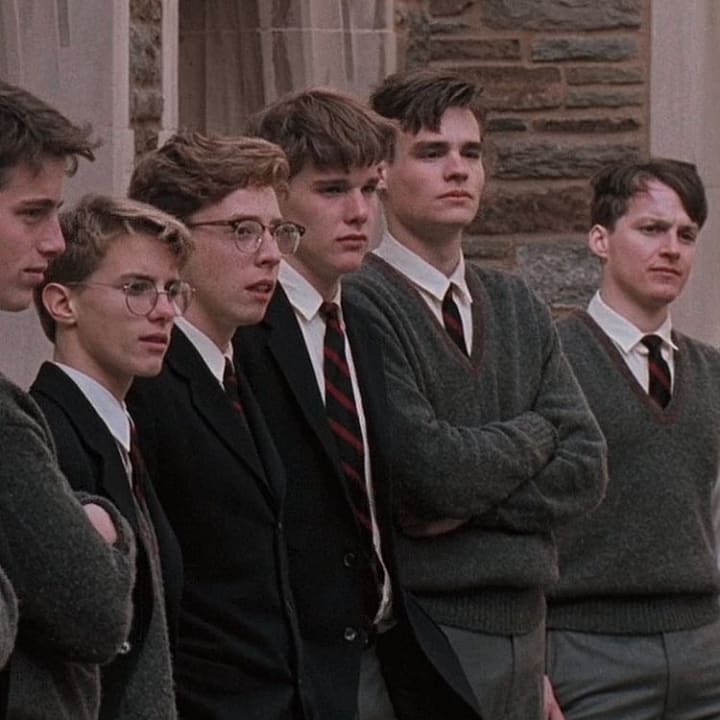 The school has a new literature teacher, John Keating (the incomparable Robin Williams). He is a real dreamer, a mental giant, he is not like other teachers. In the first lesson, students take him as a weirdo. But over time, he touches the hearts of children, he penetrates their heads and teaches them to be different from everyone else, to think independently and be free. "Carpe diem! Seize the day," he tells the students in the first lesson. Carpe diem! After all, we are all future food for worms and fertilizer for flowers.
Interested in their eccentric teacher, the boys find the senior annual with his photo and notes, because Mr. Keating also studied at this school. So they learn about the secret society - the Dead Poets Society. The teacher tells the students about the days of his past when he and his peers hid at night in an old cave and read poetry. How exciting it was! Of course, the boys decide to follow in the footsteps of their teacher and revive society.
And what happened next? Oh, and then there was a lot! You will see the stories of altogether and each separately: the story of first love, a quiet boy, and a real dreamer, but above all, a story of true, sincere friendship.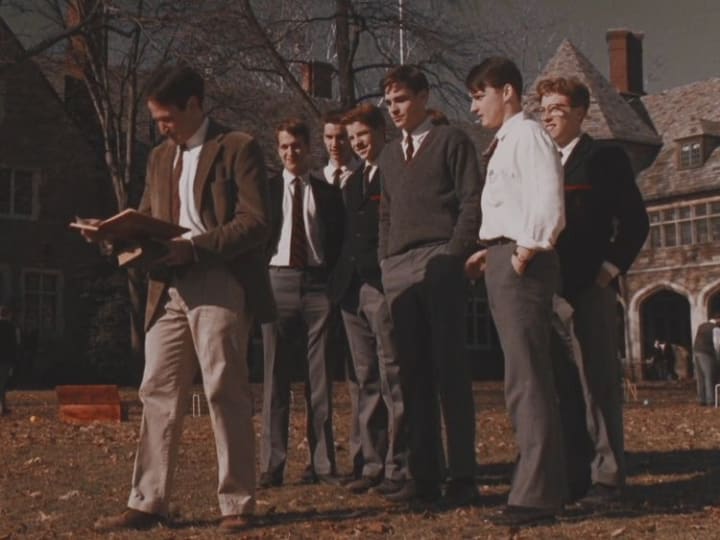 This movie will be interesting and useful for people of different generations. For the young, it will give a lot of great advice for the future, and for those who are older, it will remind you what it is like to be young. The film illuminates many ideas and issues that will always be relevant. Here are some of them.
- "Carpe diem." I already mentioned this one. After all, life is much shorter than we think. It scrolls like a moment. Therefore, every moment should be filled with life!
- "We don't read and write poetry because it's cute. We read and write poetry because we are members of the human race." What does it mean to be human? What really matters in our lives? It's not bad to have goals and ambitions, to achieve success in one field or another. But if we live only for this, we risk that our souls wither and our hearts harden.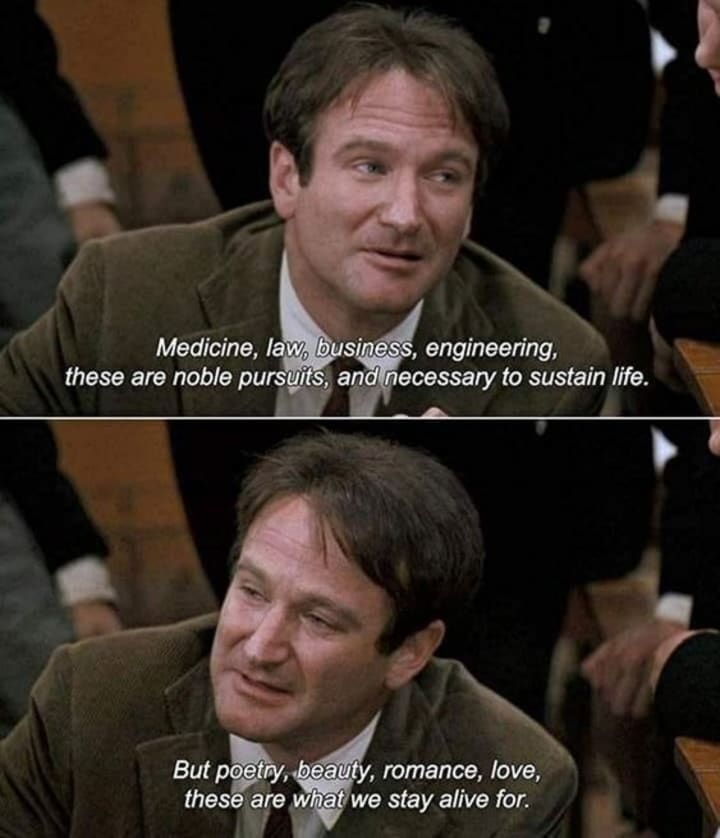 - "I stand upon my desk to remind myself that we must constantly look at things in a different way." It's dangerous to never change your mind. It is dangerous to live out of habit. It is dangerous to bury yourself in tradition and not see beyond your nose.
- "You must trust that your beliefs are unique, your own. Even though others may think they are odd or unpopular." And many more.
Mr. Keating becomes not just a teacher, but a mentor and a good friend. You can talk heart to heart with him, he will give sympathy and advice. He teaches students to express their own opinion. He teaches not to be afraid, but to dare. And he will find his approach to everyone, he will be able to convey a thought to everyone, and he will make everyone listen. After all, he is a real teacher.
Perhaps the key and most dramatic message was the idea of ​​how dangerous it is to kill someone's dream because at the same time you can kill someone's soul. So I highly recommend watching Dead Poets Society to all parents whose children are just starting their life journey.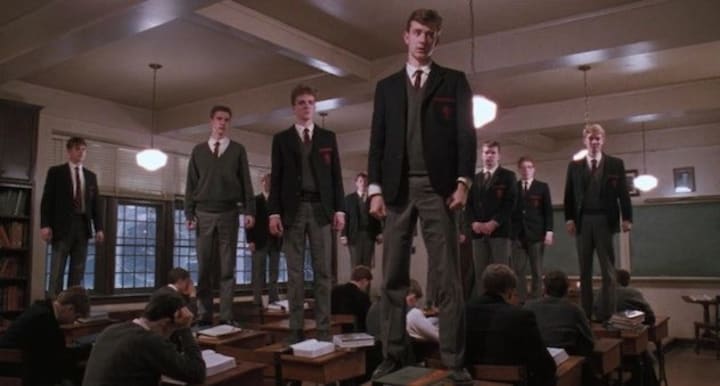 Why is the movie worth watching specifically in the fall? Because of the beautiful landscapes: misty sunrises, purple sunsets, the darkness of the night forest, the beauty of an old building and lots and lots of autumn.
Don't waste your time - watch Dead Poets Society now!