Hallmark Review: 'Winter in Vail'
Lacey Chabert travels to Colorado to start anew in this touching Hallmark winter feature.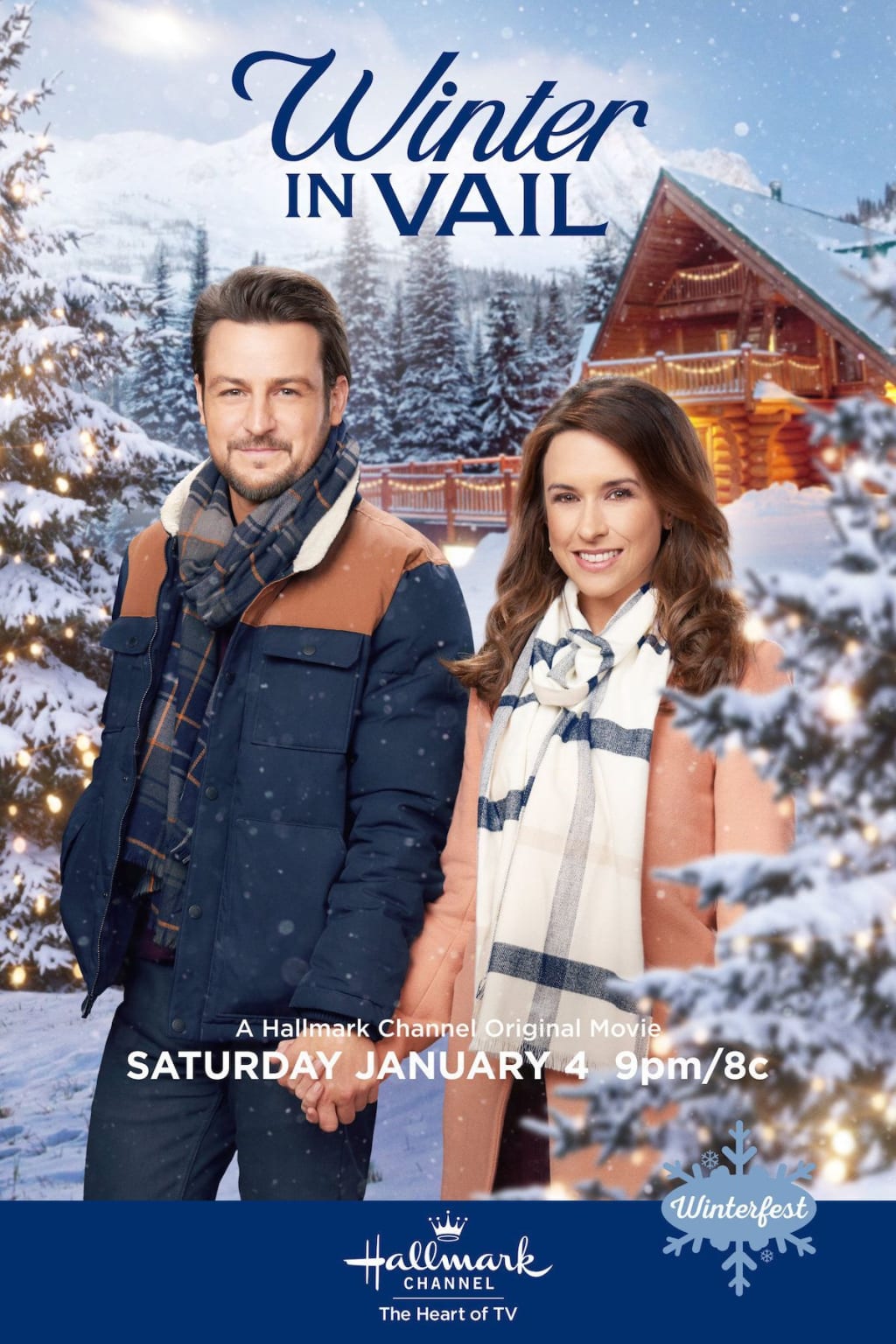 Perpetually busy event planner Chelsea Whitmore (Lacey Chabert) has been working hard for years to impress her boss Trish (Constance Marie), only to continue finding herself passed over for promotion opportunities. So when Chelsea learns that her deceased uncle Grady left her his chalet in his will, Chelsea takes this as her opportunity to clear her head and reevaluate her life, quitting her job and traveling to Vail, Colorado to take care of the estate.
Soon after arriving in Vail Village, Chelsea finds herself working closely with local Owen Becker (Tyler Hynes), a handyman who was friends with Grady and was in the midst of renovating the chalet when he passed. While their first encounters are awkward and their different personalities clash, Chelsea finds herself growing closer to Owen and his restaurateur father Karl (Greg Lawson), as well as to the peace she's found in the charming Vail Village. But when news from back in the city reaches Chelsea, she'll have to question what it is she really wants from life--and where she wants to find it.
As many of Hallmark's best films do, Winter in Vail takes a premise that has been seen time and time again on the channel (woman arrives in a small town and finds romance) and finds some way to spice it up and make it a fun and heartwarming watch. I was pleasantly surprised, though, when I found that Winter in Vail starts off this tactic rather quickly, dedicating its opening scenes to subverting a common criticism Hallmark films receive. As discussed in my review of A Family Thanksgiving, Hallmark has been on the receiving end of accusations of sexism, with many claiming that their films carry the message that a woman can't be complete without a man in her life.
While these accusations aren't unfounded, Winter in Vail avoids opening itself up to this critique by showing in its opening scenes Chelsea's outlook on her career as well as setting up her character arc throughout the film. Despite her obvious passion for event planning, Chelsea makes clear through the opening scenes that she feels undervalued in her current firm, with her workaholic tendencies leaving her unable to enjoy her own life. As such, when Chelsea arrives in Vail and finds herself changing as a result of the town and Owen, the change isn't influenced by her desire to get a boyfriend; it's sparked by her desire to take charge of both her career and her life rather than work herself to the bone just to get ahead. It's a compelling character arc to see in progress, and one which goes a long way in undoing some of the problematic connotations Hallmark has acquired over the years.
Chelsea's character arc is carried well by Lacey Chabert, who proves why she's become such a frequent flyer for the Hallmark Channel by giving relatable emotion to Chelsea's inner struggles and an infectious energy to the side of Chelsea that emerges as she spends more time in Vail Village. She also proves well-matched with fellow Hallmark regular Tyler Hynes, with the pair striking up strong chemistry as Chelsea and Owen become friends and wind up having positive influences on each other. On his own, Hynes brings the same charm he's brought to his previous films that I've covered--charm that's much needed to help Owen make up for the fact that his first scene has him being very unnecessarily rude and condescending to Chelsea over a simple parking mistake.
WARNING: Spoilers Below
In another subversion, Winter in Vail blissfully dodges the opportunity to use the tired Third Act Misunderstanding trope, as Chelsea's decision to return to the city to heed her boss's pleas for help is not met with irrational anger from Owen. Instead, Owen proves he truly cares about Chelsea and her future by understanding her need to give her old life one last try and see if it might be what she wants, even though it hurts him to see Chelsea leave. This also sets Chelsea up for the final phase of her character development, as her return to the city solidifies for her the fact that she's not happy with how her life currently is and that she'd found true happiness in Vail Village, where she was able to truly flourish as an event planner and make some true friends in Owen, Karl, and the other townspeople.
Spoilers Over
Greg Lawson does well as Owen's big-hearted father Karl, with Lawson and Hynes sharing a few touching scenes together that shine a light on Karl and Owen's relationship and how Owen's character arc throughout the film greatly mirrors Chelsea's. Karen Barker and Sage Kitchen each bring personality to their characters, with Barker additionally selling Bev's unfortunately diminished subplot with Karl for all the adorableness its worth. Chris Cook does a bit of the same in his admittedly routine and small role as Owen's friend Rob, while Marla Renae brings quite a bit of spark to her portrayal of Vienna that she avoids becoming a stale "Heroine's Token Minority BFF" trope character (another Hallmark trope that's gotten its share of flak). Lastly is Constance Marie, who gives Trish an air of kindness and appreciation when it comes to her relationship with Chelsea that serves as a juxtaposition against the fact that she casually takes advantage of her without giving anything back, making her a far more subtle antagonist that Hallmark is given credit for.
As much as I've praised Winter in Vail for its surprisingly compelling qualities, there are a few weak spots to be found. The leisurely pace the film establishes once Chelsea reaches Vail, while appealing to me, is sure to not work for some viewers, and Chelsea's struggles with guilt over drifting apart from her uncle feels like something the film should've given more of a focus than it did. But on the whole, Winter in Vail proves to be a strong film that brings a lot to the table for those looking for a feel-good romance: charismatic leads, a strong supporting cast, a beautiful setting, and some nice helpings of "Food Porn" for viewers with a sweet tooth. Add in plot and character beats that flip the script on the more troubling tropes Hallmark has used in the past, and you have a Hallmark feature that's perfect for snuggling up with some hot chocolate to watch.
Score: 9 out of 10 gold flakes.