Hallmark Review: 'Summer Love'
Business, tech, and romance mix in this sweet romance elevated by an excellent cast.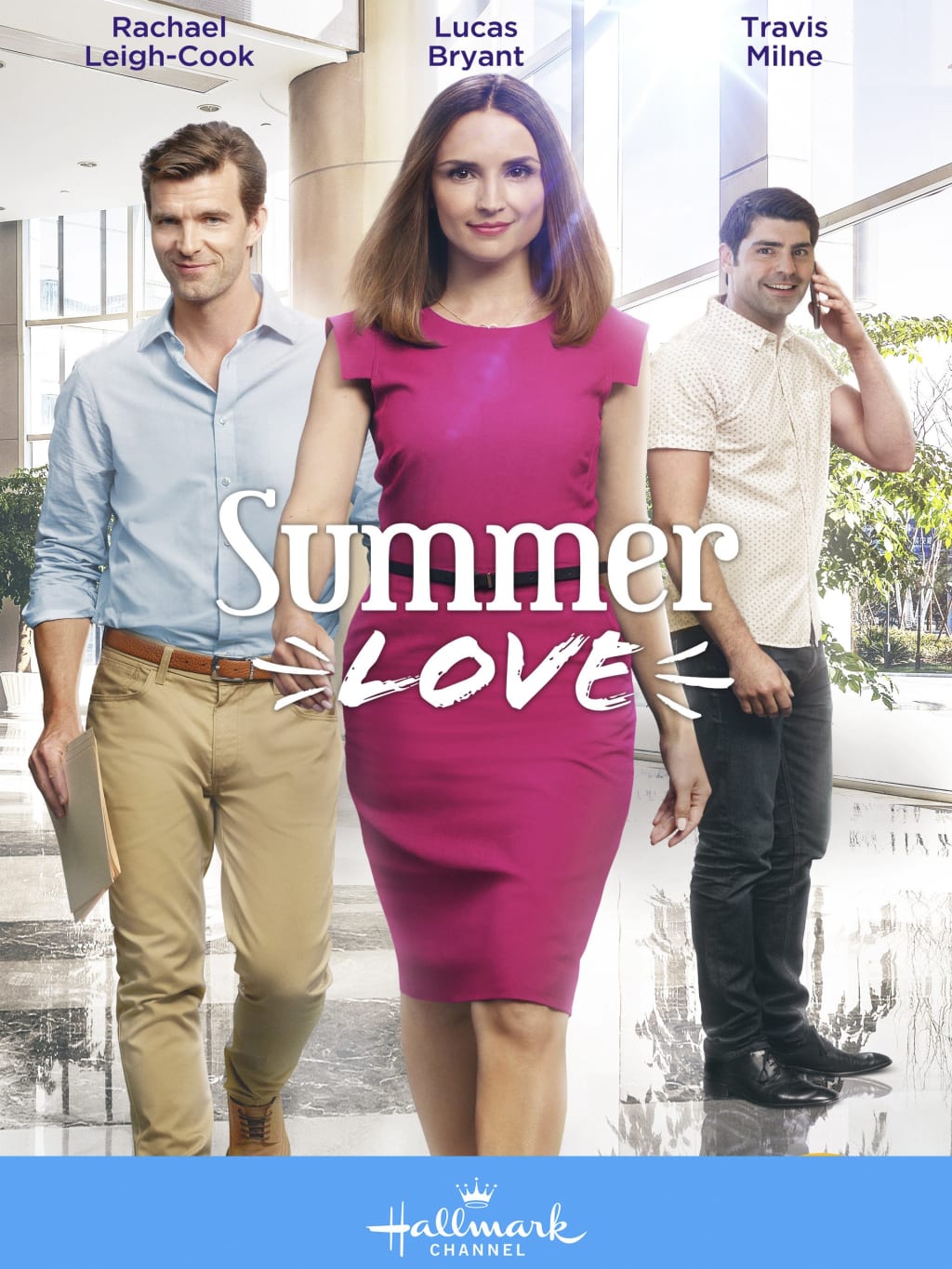 WARNING: Spoilers throughout
After tragically losing her husband, Maya Sulliway (Rachael Leigh Cook) finds herself a single mother struggling to raise her daughter Addison (Hannah Cheramy) alone. With her daughter now off at summer camp, Maya has the opportunity to focus entirely on her summer accounting class, which she hopes will help her find a more secure job to provide for herself and Addison. But Maya quickly finds herself in new waters when she is assigned an internship at Kizzmit, an esteemed—and competitive—tech company.
After arriving at the company, Maya begins working closely with CFO Colin Fitzgerald (Lucas Bryant) and CEO Will Martin (Travis Milne). While the technological lingo and younger interns have Maya intimidated and convinced she's out of her league, she finds herself taken under the wings of both the rigid but encouraging Colin, and the carefree but charming Will. When Maya finally gets into the swing of the tech business and works with her fellow interns to create a new app, things are looking up for her. But when unexpected betrayal jeopardizes everything she's worked for, Maya will have to regain the strength to fight for what she's after.
This is a Hallmark movie that I imagine could suffer due to having an overly general and somewhat saccharine title. While Summer Love is technically an accurate title, due to the film's events taking place in the summer, its unique-for-Hallmark setting should've allowed for it to be given a more distinguishing title.
With that nitpick aside, Summer Love still remains a solid romance drama from Hallmark. Along with being uniquely set (primarily) in a tech development business, the film is another example of a Hallmark film, where the romance takes the backseat to the compelling story arc of the film's main stars. For Maya and Colin, those story arcs parallel by virtue of being of similar in intent: to gain confidence, which has left them through differing reasons, and defend their passion from a person attempting to take it for themselves.
These arcs are carried by strong performances from Rachael Leigh Cook and Lucas Bryant, with both bringing emotion and a surprising nuance to their characters. Like the best Hallmark films, Maya and Colin's bond starts out slow as a wary friendship/partnership, with Cook and Bryant playing well off each other as their awkward first encounters turn into something more, making the ultimate conclusion all the more satisfying. In another nice sprinkle of heartwarming, Cook shares a strong chemistry with her onscreen daughter Hannah Cheramy, with Cook effortlessly giving the air of a loving mother whenever she and Cheramy share the screen together.
Joining Cook and Bryant in strong, layered performance is Travis Milne as charismatic CEO, turned surprise antagonist, Will Martin. Given his status as a secondary character in the midst of a Hallmark love triangle, regular Hallmark viewers might not be surprised to see Will turn out to be an unscrupulous opportunist so as to make it clear that Colin is the true love interest of Summer Love.
What might surprise them is that Will is given some nuances that suggest he might not be as bad as he appears. His decision to claim Maya's app for his own work comes out of desperation rather than self-serving malice, and his attempts to assuage Maya using charity work and the argument that she would still gain some recognition for the app seem genuine. His theft and later remorseless attempts to throw Colin under the bus are unforgivable, but it can be argued that his initial attraction to Maya was a sincere one. Milne and Bryant also work well together, giving an accurate portrayal of two once close friends and business partners being driven apart by their differing moralities.
In side performances, Maya's fellow interns provide some solid performances and quirky fun (particularly Aidan Kahn as Josh and Matt Afonso as the adorably dorky Ricky), and Christine Willes is a surprise emotional gem as Maya's dedicated professor and adviser, Eleanor.
Some aspects of Summer Love could have used some extra tweaking; however, while Maya's third act falling out with Colin is understandable given Will's deception, her fellow interns turning against her out of a baseless belief that she betrayed them isn't. This is ultimately rendered irrelevant, given how quickly they find out the truth and make up with her. The conclusion of the film also suffers from feeling rushed, as given how their arcs were going, it would've been nice to end with Maya and Colin starting their business together and then maybe a sweet scene of the two and Addison together. But instead, Summer Love does a fumble in the end zone by throwing a standard "Happily Ever After"' scene at the end of an otherwise strong conclusion.
In another nitpick, there's also a moment regarding the death of Maya's husband that strikes me as odd given how heavily it was implicated that he died during a rock climbing accident. It seems weird that this is never used as part of Maya's character exploration. A scene of Maya on a rock climbing expedition with Will had me thinking she would suffer flashbacks to her loss and have an emotional character-building moment. This never happens, and, while Maya's character gets growth through other means, it still comes across as a missed opportunity.
Aside from a few forgivable hiccups, Summer Love stands out as a lovable little romantic dramedy from Hallmark that is sure to please anyone looking for easy viewing in their down time. With a strong cast, a well-executed romance, and a main plot that really delves into the main characters, Summer Love stands as more proof of Hallmark's ability to make more than just sugary rom-com fluff.
Score: 8 out of 10 penguin apps.
About the Creator
Aspiring writer and film lover: Lifetime, Hallmark, indie, and anything else that strikes my interest. He/him.
Twitter: @TrevorWells98
Instagram: @trevorwells_16
Email: [email protected]
Reader insights
Be the first to share your insights about this piece.
Add your insights