Gloria and Kevin have returned to The Young and the Restless
The Fisher Bardwell family will soo be back ina action in Port Charles.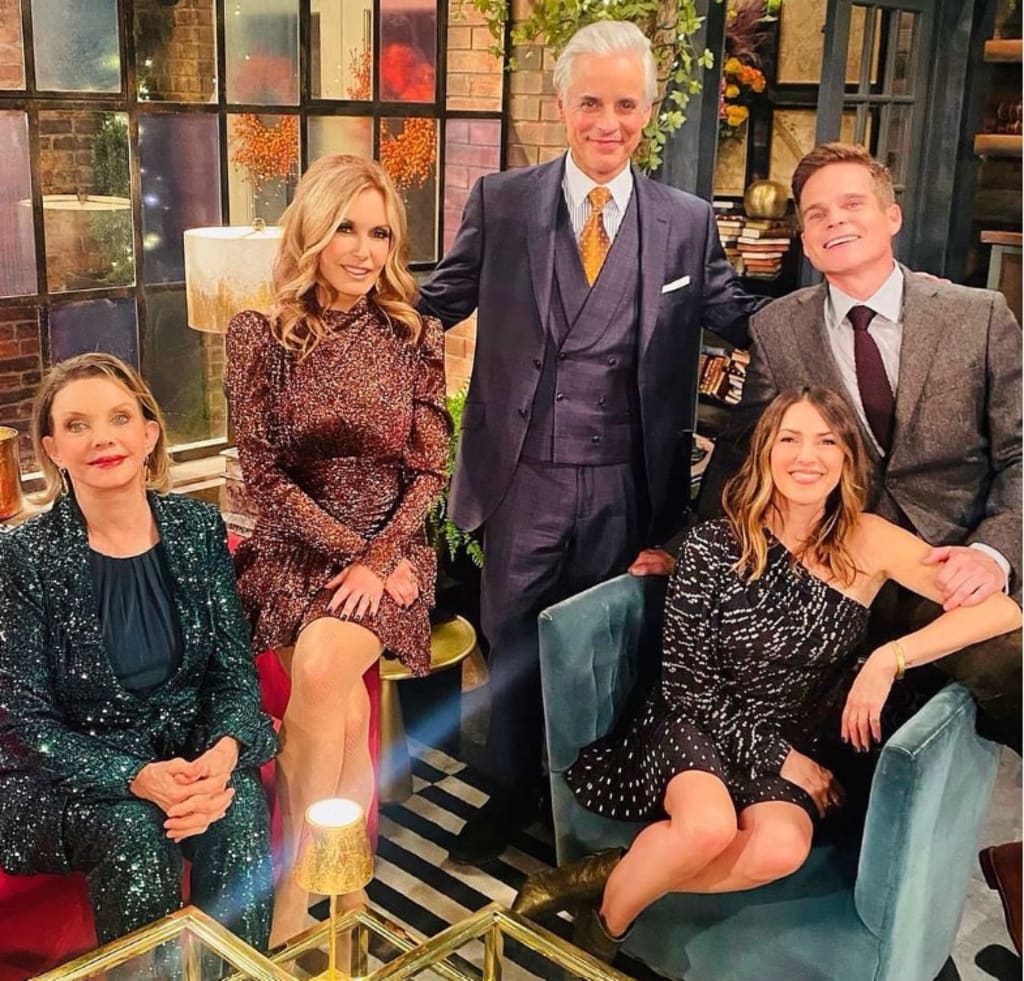 The Baldwin/Fisher family is reunited
Soap fans of The Young and the Restless there is good news to report about a beloved family in Genoa City. Judith Chapman and Greg Rikkart are returning to their roles as Gloria Fisher Bardwell and Kevin Fisher. Christian Leblanc who portrays Michael Baldwin shared an image of the family on Instagram and fans began asking questions.
In addition to Gloria and her sons, the image included Chloe Mitchell (Elizabeth Hendrickson) and Lauren Baldwin (Traci E Bregman). When he shared the photo on Twitter, LeBlanc added the caption, "The family that slays." In addition, Celeb Dirty Laundry reveals that Chapman and Rikaart were spotted on the set of The Young and the Restless. It looks like this is really happening and fans will be excited.
Is Leo Stark exiting Days of Our Lives?
It also looks as if Rikkart has wrapped up his time on the Peacock soap Days of Our Lives. He was seen in Thursday's episode wearing a wig as Leo Stark and pretending to be nurse Leona as he was pushing his boyfriend Dimitri Von Loeshner (Peter Porte) out of the hospital. What is not clear is whether or not the duo will be caught trying to escape or if they will get away but either way this might have been Rikaart's last scene or leading up to it.
Some Days fans expressed dislike for the dialog former producer Albert Alaar gave Leo. The character frequently referred to Dimitri as having a "magic penis" and said other sexually suggestive things that offended some fans, especially the older longtime viewers. The duo was shown in bed or attempting to get in bed in most scenes and did not have a more meaningful relationship.
There were other characters as well whose lines were over the top with sexual references during the past year and fans complained on social media. After Alaar was let go for abusive behavior Peter Reckell who portrays Bo Brady said during an interview that he hoped the show could get back to "family values."
Where have the Fisher /Baldwin family been on Y&R?
It's not known why Chapman has been off-screen but LeBlanc has been portraying Big Daddy in the Broadway production of Cat on a Hot Tin Roof. Chloe and Lauren have basically been like sidekicks for other characters and have not been front and center in quite a while and Kevin has barely been mentioned.
Greg Rikaart's transition from flamboyant Leo who is over the top into Kevin who is more grounded shows his skills as an actor. Judith Chapman is talented and brings Genoa City to life when Gloria is around so fans will be happy to see her. At this time no details are known regarding storylines or when the actors will return.
What does the future hold for the Fishers and Baldwins on Y&R?
Longtime fans will be happy to see the family reunited and the pieces of the storyline can fall into place as they will. Will Gloria have designs on her old job at Jabot or does she have bigger fish to fry? Will Kevin and Chloe finally be shown together as a couple and what about their children Bella and Myles, be shown and possibly SORRAS?
Rikaart once said during an interview that Kevin and Chloe had done everything except break up so is it possible this time around the popular couple may end their marriage? Having the entire Be on the Lookout for updates related to the returns of Gloria, Kevin, and the rest of the family to more screentime on The Young and the Restless.
About the Creator
Cheryl is a widow who enjoys writing about current events, soap spoilers and baby boomer nostalgia. Tips are greatly appreciated.
Reader insights
Be the first to share your insights about this piece.
Add your insights