'General Hospital' viewers robbed of Nava scenes because of social distancing
Fans of Nikolas and Ava had to use their imaginations as all the excitement took place off screen.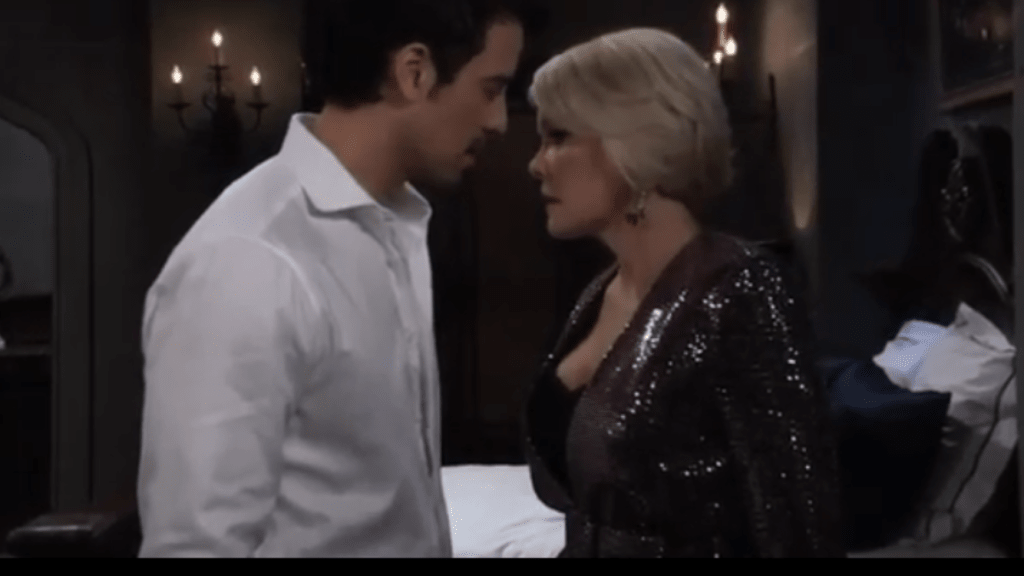 Nikolas and Ava give in to passion
From the moment Markus Columbo showed up in Port Charles on Halloween, it was clear he had chemistry with Maura West. he looked like a knight in shining armor when he saved her from drowning and carried her inside his home. General Hospital fans were waiting for the moment when Prince Nikolas and Ava gave in to their smoldering passion. The writers, however, took their sweet time playing up this angle. The couple argued, disagreed on everything. and insisted that they loathed one another. They toyed with Franko and Elizabeth and it seemed they were destined to be heartless and cruel to each other until Tuesday.
Ava and taken Avery to the cabin to get away from all of her problems. She did not know that her husband heard her talking about her plans in a phone conversation with Julian. Nikolas followed her there and after confusion and the usual bantering, they hit the sheets. Social distancing, however, robbed Nava fans of seeing the heat between this couple. Ava who was holding the poker dropped it and the couple ran towards each other as if they were about to kiss. The next scene showed the table with wine glasses and clothes in the floor. You did not see the duo but heard their voices. Nikolas spoke is wife's name and she replied "Yes Nikolas." He in turn answered back that "Yes" was the right answer.
Now that the marriage has been consummated, what will this indicate for the future of the Prince and his princess? Will they admit they are in love, or will they simply be frenemies with benefits? How will this affect Spencer, who wanted his dad to end his marriage to Ms. Jerome? What about the photos that were taken of Franco kissing Ava, and Nick in a lip lock with Liz? This is a complicated situation that just added several additional layers of confusion. No one expects Nikolas to ride off into the sunset with his spouse so there will naturally be a lot of drama coming soon.
Nava fans wanted to see the heat and the passion between the couple but by the time COVID restrictions are lifted, they could be going their separate ways. Perhaps because of how long it took for them to get to this point, the writers will allow Nikolas and Ava to enjoy themselves as a married couple for a little while before they break them up. This romance actually got started back when Tyler Christopher was portraying the Cassadine Prince and when Valentin shot his replacement who was trying to save Ava. This has been coming for a while and it would be nice if the writers milked it for all it is worth.
Nava has shown great restraint in that they have not killed each other and neither had they given in to passion before now. Everything is different and Liz and Franco are caught in the middle of the games the prince and princess have been playing. Friz will be quite confused when they realize that Ava and Nick have given in to their feelings. This leaves viewers to wonder what will be next for these couples. Franco and Elizabeth had been dealing with financial issues and now they are worse because Liz has been cut back to only 2 shifts a week at General Hospital.
At the present, there are no threats to Nava, unless Spencer makes trouble for them. They are out of the loop with all the problems taking place because of Cyrus Renault. Soap Dirt suggests that Liz and Franco were behind the kissing photos and to confront Ava and Nikolas. Now, however, since Nava has sealed their marriage, will it even matter? Liz and Franco will be busy dealing with Britt so will be interesting to find out what the writers have in store for the prince and princess. Stay tuned for spoilers, updates, and breaking news related to General Hospital and the Cassadines.