General Hospital: The possibilities are endless with Esme and Ryan
The father and daughter team are cut from the same cloth and there is no limit to their evil.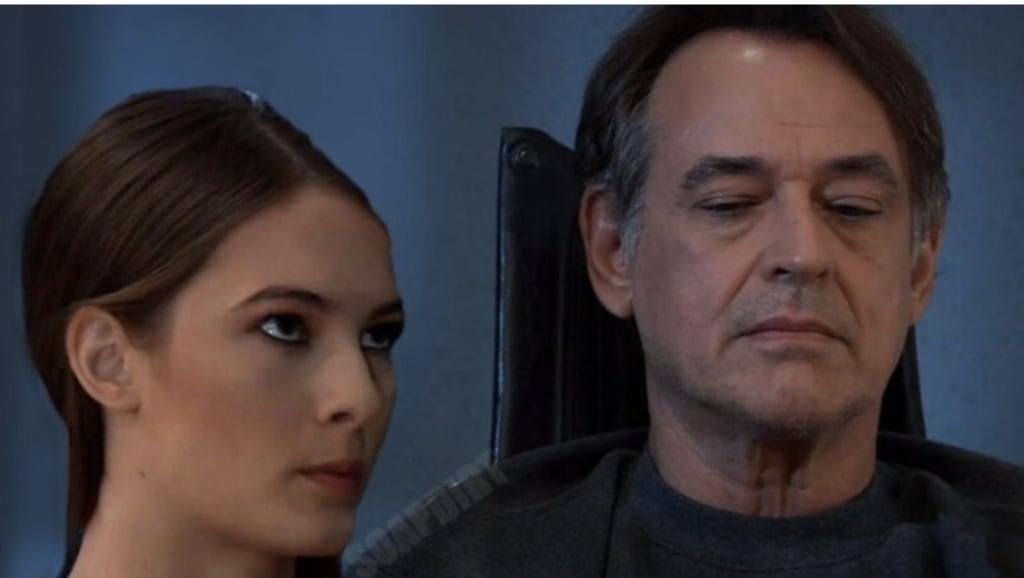 General Hospital fans brace themselves for trouble
On General Hospital the citizens of Port Charles have no idea of what is coming their way. Esme Prince (Kristin Avery Pohl) is teaming up with Ryan Chamberlain (Jon Lindstrom) who has been revealed to be her father. Fns are wondering what their true connection will be and if they are blood related or if it's through sdoption. Ryan is old enough to be her grandfather so viewers are looking for answers.
On Wednesday Ryan revealed that he is still obsessed with Ava Cassadine (Maura West) and believes he can break up her marriage. Esme pointed out that she had tried everything and that Nikolas Cassadine (Markus Columba) and Ava are closer than ever. GH viewers are bracing themselves for whatever new revelation comes to light
Esme could turn deadly
Spoilers suggest that Esme could be as deadly as Ryan and might go after Trina Robinson (Sydney Mikayla) whom she is blaming for releasing the sex tape of Cameron Webber (Will Lipton) and Joslyn Jacks ( Eden McCoy). Esme can see that there is a connection between Trina and Spencer Cassadine ( Nicholas Chaves) and is insanely jealous. Ryan told her to keep her eyes on the prize and not become distracted with teen drama. He even promised her she would have Spencer's fortune.
Esme spiked Trina's drink at the cabin and videotaped Joss and Cam so she is capable of anything and her dear old dad wants her to gift wrap Ava for Esme has been working with Ryan this entire time and she clearly is OK with him being a serial killer. Esme knows Ryan does not really have Locked-ln Syndrome and threatened to tell Kevin which suggests she might not be all in and could turn on her dad.
Someone will die
Many fans of General Hospital as well as some spoilers believe it is inevitable that someone is going to die and the majority are saying they want Ryan to end his accomplice. He has already shown his anger towards Esme by asking her 'What are you doing " in a hateful manner and grabbing her by the arm. Esme might do something her partner in crime disapproves of and he could turn on her with a vengeance. If she does not come through for him there is no.telling how Ryan will react.
Many General Hospital viewers have been enjoying the chemistry between Chaves and Mikayla and hoping Spencer and Trina would get together. After March 17, Tabyanna Ali will be in the role of Trina and it will take time for fans to warm up to her and see if she has chemistry with Chaves. In the meantime, fans will still be hoping that Esme will be exposed for all of her crimes and that if anyone has to die she will be the one.
There is always a chance that Nikolas, Ava, or even Esme might turn the tables on the demented Dr. Chamberlain and end his life. Now that Esme and Ryan have been revealed as father and daughter there is no telling what will come next. Is Esme really in love with Spencer or only after his family fortune? How far will she go to help her father and would she kill for him?
Could Ms. Prince become jealous of Ava and try to take her out in order to have the serial killer to herself. There are going to be some twists and turns and curve balls ahead because of who Esme and Ryan are. General Hospitl fans should fasten their seatbelts because this ride will be bumpy, lumpy, fast and furious. There is no way this will end well and when it's all over someone will probably lose their lives.
About the Creator
Cheryl is a poet, freelance writer, published author and former Newspaper columnist. She has degrees in Psycology and Biblical studies. She enjoys sharing natural cures, and Nostalgia related info. Tips are greatly appreciated.
Reader insights
Be the first to share your insights about this piece.
Add your insights