'General Hospital' storyline 'leak' suggests Carly will do the unthinkable to save her family
Viewers know that in the past Sonny's wife has done some crazy things when backed into a corner. It looks like one of her craziest schemes will be repeated.
GENERAL HOSPITAL spoilers from Soap Dirt are revealing that Carly Corinthos is about to make a very bad decision in order to protect her family. Viewers knew that the longer Sonny remained in Nixon Falls with amnesia the more the chances increased for his "widow" to do something outlandish. Previous spoilers had suggested that she might have an affair with either Jason or Jax but so far both are otherwise detained. Jax is trying to win Nina back and Jason will soon be on the run with Britt Westbourne.
Carly leaps before looking and takes action without thinking even though this has gotten her into hot water before. She lied about AJ Quartermaine being Michael's father and tried to convince everyone that Jason was her baby daddy. She was in love with Jax but married Sonny so she would not have to testify against him. Carly also wed mob boss Louis Alcazar in order to protect her loved ones. If spoilers are correct she is about to walk down the aisle yet again with a mob connection. It would be just like Carly to panic and come up with the worst idea ever. Brick is supposed to be on hand to help but he will not be able to stop Mrs. Colrinthos once she gets an idea in her head.
Soap Dirt says that a leaked script indicates that Carly is going to get married to the mob yet again for the sake of convenience. The good news is that once Sonny returns her marriage will null and void. The spoiler has not yet revealed who the lucky groom will be but there are several possible choices. Carly could always marry Cyrus Renault in order to halt the mayhem in Port Charles. Renault will be on the warpath once he finds out that his family dinner was a setup.
Ava invited Cyrus and Martin to have dinner at Wyndemere, along with her, Nikolas, and Laura. Carly set it all in motion so she could break Jason out of GENERAL HOSPITAL. Another contender for the hand of Mrs. Corinthos could be a new character who is coming to Port Charles by the name of Vince Novak. Shortly after Cyrus came to town, it was revealed that the entire Novak family was killed in a shooting. Obviously, there is at least one of them who survives. Spoilers do not indicate who will portray this character but only that he will be interested in working with Damian Spinelli.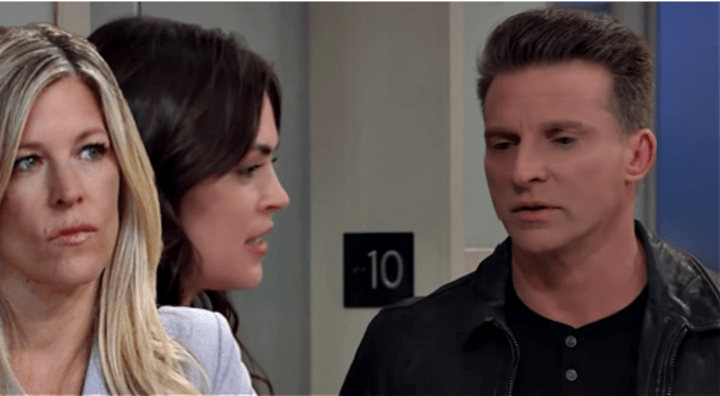 Some GH viewers believe that when Roger Howarth comes back to the ABC daytime drama he could be the mysterious Vincent Novak. Others suggest that this will be the role that Cameron Matheson takes on when he joins the cast. There is also a chance that someone else might portray the mob connection. What is known in the midst of the speculation is that Carly will resort to her past tricks and try to bring peace to Port Charles. Carly has always been her own worst enemy and her ideas were rarely work out. She was the mastermind behind Cyrus and Martin's mother Florence Gray being abducted and then cared for by her mom Bobbie.
Now that she believes Sonny is dead, Carly thinks she is the only person who can stop a full scale mob war from taking place in Port Charles. As long as Sonny and Jason were in the picture they could always contain her worst impulses but now Carly feels she is on her own. In spite of past failures she will forge ahead with whatever kooky scheme she dreams up and now there is no one to stop her. Marring a mob boss for a third time sounds exactly like what she would decide she has to do. Be on the lookout for updates to this bizarre twist in the storyline and find out what actually happens with Carly.

Cheryl E Preston
Cheryl is a poet, freelance writer, published author and former Newspaper columnist. She has degrees in Psycology and Biblical studies. She enjoys sharing natural cures, and Nostalgia related info. Tips are greatly appreciated.
See all posts by Cheryl E Preston →