General Hospital: Carly's world begins to crumble
Sonny's return has an adverse reaction on his wife.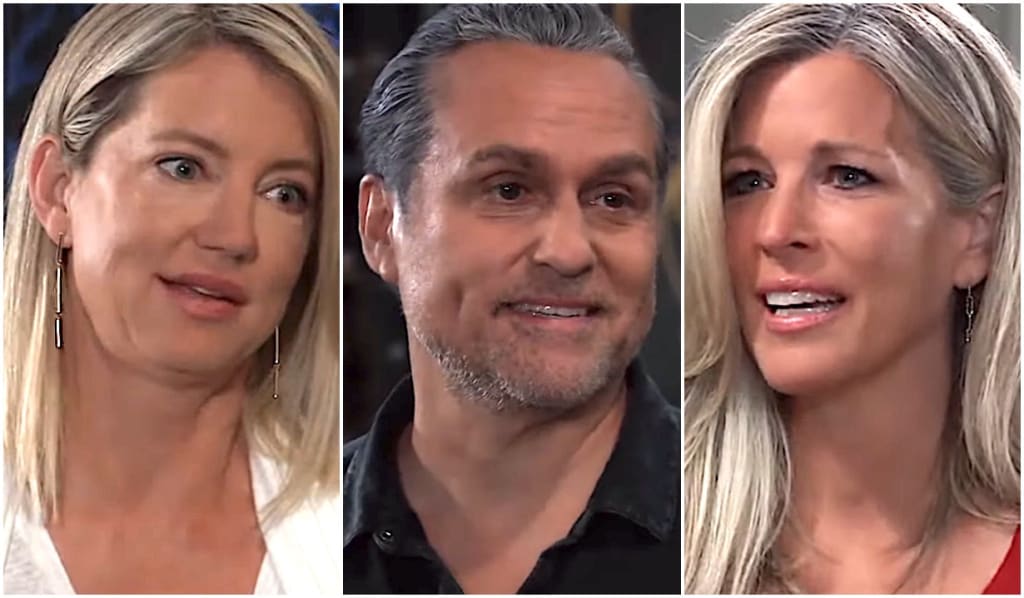 General Hospital spoilers are indicating that Carly Corinthos will begin experiencing an identity crisis because of her husband's return to Port Charles. There are several factors that will come into playy and they all revole around her husband. Carly will miss her time as queen pin and running her husband's mob territory. She feels left out of his life as Mike and wants to know more about his time in Nixon Falls. She also misses Jason's place in her life.
Carly is thankful that her husband is home but she misses the authority she had while running the Corinthos organization. Sonny will soon be meeting with Nina Wu and perhaps Carly might be reminiscent about her time as a lady mob boss. Spoilers say that while talking with Diane Miller Carly will admit that Sonny is right where he belongs as head of his territory. Diane will pick up on the fact that Carly misses having a seat with the five families at the table.
There is no doubt that she misses Jason Morgan who is in Greece with Britt Westbourne trying to take down Peter August. Just before Brason was about to leave Port Charles, Carly said wistfully to Britt "You're taking Jason away from us." Both she and Sonny appeared sad as they watched the duo go out the door Nothing is being said about it but GH viewers Carly is missing her best friend who she almost married.
General Hospital spoilers indicate that Carly will corner Phyllis Caulfield (Joyce Guy) in an attempt to get some answers about Mike. She believes Phyllis will tell her what Sonny will not. Mrs. Caulfield will probably be careful and guarded with what she says. She more than likely will not reveal any pertinent details and may refer Carly back to her husband
Carly will naturally become frustrated but Phyllis will believe that its not her place to divulge the details about Mike and Nina Reeves time together in Nixon Falls. She might Carly just enough about Sonny's time in Nixon Falls. She might also feel protective towards "Mike" and Nina.
Carly will soon be dealing with a crisis that she might be able to mask. She is terrified that she will not be able to relate to the Sonny who wore the flannel shirt and black cowboy hat. As she accepts the fact that her husband has resumed the power position she has to deal with the fact that he is keeping secrets. Carly no longer has hates that Jason by her side and when she finds out about Nina and Sonny her life will really take a downward turn. Carly's identity crisis will emerge and she might begin acting out. Should Jason stick with Britt he might distance himself from the Corinthos family.
Once Carly hears the truth about Sonny and Nina she will be outraged. Her doubts and fears about NixonFalls will become a reality. She may not have Jason to turn to and she will be shut out of the mob. All of this could prove to be a bit much. Carly has burned Bridges with Jax, Joss is in school and Avery will be spending more time with Ava The worst part will be that woman she hates most in the world could end up with her husband. Carly is wondering who beat up Joey Novack and it's looking like it is Sonny. Should this be proven true it will be one more betrayal. for G Can Carly hold up or will she crack upder the pressure? Be on the lookoutral Hospital spoilers, news, and updates related to Carly.
entertainment
About the author
Cheryl is a poet, freelance writer, published author and former Newspaper columnist. She has degrees in Psycology and Biblical studies. She enjoys sharing natural cures, and Nostalgia related info. Tips are greatly appreciated.
Reader insights
Be the first to share your insights about this piece.
Add your insights