'Games Of Thrones': 10 Essential Reunions At Winterfell We'd Like To See In Season 8
As The Great War beckons, there are potential joyous reunions as well as awkward confrontations between key characters at the start of the final season.
At the end of Games of Thrones Season 7, we see Jon Snow, Daenerys Targaryen, and their various armies of supporters making their way up north to Winterfell by land and by sea, just as the Night King and a resurrected Viserion blast The Wall down into crumbles.Considering how fast travelling time was in Season 7, it won't take long for the Night King and his hordes of the living dead to reach Winterfell at the start of the HBO fantasy series' next and final season. Despite only having six episodes (each reportedly 80-90 minutes long), we reckoned there would still be time for some intriguing meet-ups between key characters who are already at or arriving soon at House Stark's ancestral home before The Great War begins.
From sweet reunions to awkward re-acquaintances, here are 10 possible meetings at Winterfell we're looking forward to in Game of Thrones Season 8:
1. Jon Snow & Arya Stark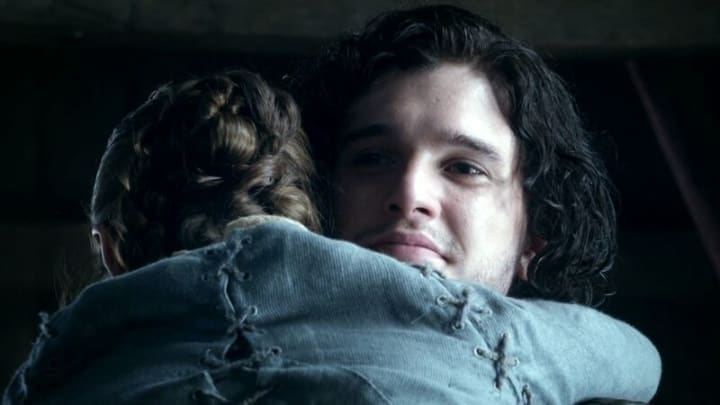 The Stark children's reunions between Sansa, Bran and Arya in Season 7 were heartwarming, but it's the one between Jon and Arya that will tug at the heartstrings the hardest. As Sansa told Arya when they finally met after six seasons apart, "When (Jon) sees you, his heart will probably stop." Jon and Arya share a special bond - she has never see her half brother (now cousin) as a bastard, while Needle, the sword that Jon gave her, is a key item that help kept the tomboy alive throughout her tough and painful journey. Another momentous bear hug between the two after all these years will be very much appreciated.
2. Jon Snow & Bran Stark

Even though Bran is now the emotionless Three-Eyed Raven, Jon's reunion with his brother will be no less dramatic. As he informed Samwell Tarly in the Season 7 finale, Bran intends to tell Jon about his true parentage - that he's the trueborn son of Rhaegar Targaryen and Lyanna Stark, and the true heir to the Iron Throne. When Bran will get to tell Jon about this - and whether in the earshot of Jon's new love Daenerys (and fellow Targaryen) - is the intriguing bit that Game of Thrones fans are dying to know.
3. Daenerys Targaryen & Samwell Tarly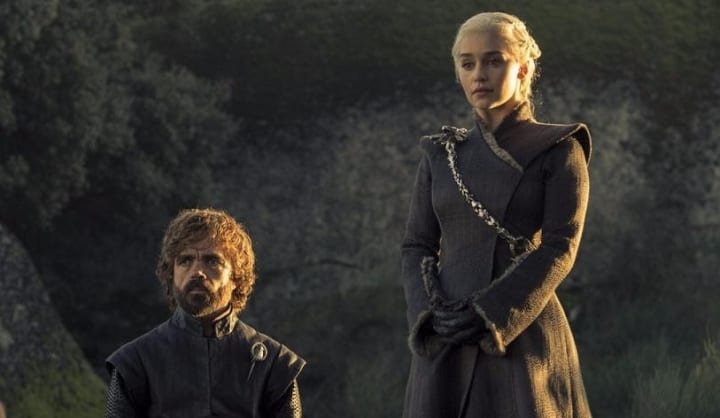 Samwell will be glad to see Jon back at Winterfell, but whether he will be just as happy meeting Jon's new partner Dany is debatable. 'Cos our dear queen did burn Sam's father Randyll and brother Dickon to a crisp during the "Loot Train Attack" in Season 7, Episode 4. Granted there was no love lost between Sam and his dad, he did however love his brother, so things might be prickly when he meets Dany face-to-face. Of course, Sam could claim that he'd also burnt Dany's granduncle Aemon, albeit that was out of respect and necessity when the Night's Watch Maester died in Season 5. Hopefully, things will work out for the sake of Jon and The Great War.
4. Daenerys Targaryen & the Stark Sisters
Will Dany and Sansa see eye-to-eye? Both have learnt to be wary of people in power but we reckoned that as long as they recognise what skill sets each other can bring to the table, they are not likely to find each other a threat. Of course there is also the small matter of Jon having bent his knee to Queen Daenerys, but with Sansa being knowledgeable of how the Northern lords think and how the game of thrones is played, Dany will find her more of an ally than a foe. As for Arya, being a longtime fan of Targaryen Queen Visenya, she will probably be excited to meet Daenerys and her dragons. Many fans are hoping to see the faceless assassin bonding with Jon's new BFF on a dragon ride. That will be awesome.
5. Sansa Stark & Tyrion Lannister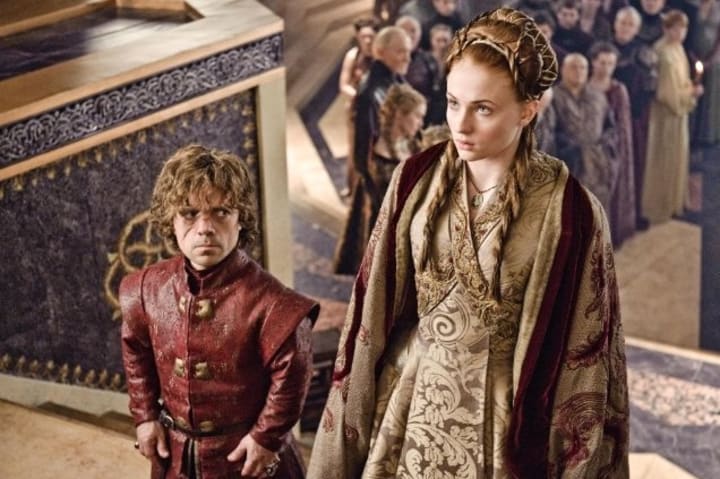 Their marriage was a sham but nonetheless, Sansa and Tyrion Lannister are due for a happy reacquaintance when the Hand arrives at Winterfell with his Queen. Tyrion has always protected her at King's Landing, while Sansa admits that The Imp is "not like the other Lannisters". Some shippers have been hoping for a proper romance between them to happen, while others feel that nothing good will come out of an actual marital union between a Direwolf and a Lion. Whatever may happen, the pair - who are unlikely to be at the battlefront during the Great War - will certainly have lots of escape and battle stories to swap over fine wine.
6. Jaime Lannister & Bran Stark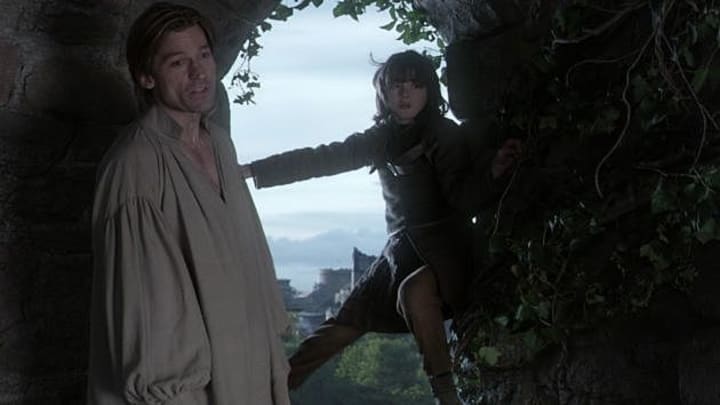 A Lannister that will not be too welcomed at Winterfell will be Jamie, who as we know, has left Cersei and is making his way up north to join the fight against the walking dead. The string of chaotic events that occurred between the Starks and Lannisters in Game of Thrones actually started by the fact that a young Jamie pushed a much younger Bran out of a window, for catching him and twin sister Cersei doing the deed. This is arguably the meeting that many fans are anticipating the most in Season 8. Will Jamie be ashamed, apologetic or defiant of what he did upon meeting Bran again? Will he be severely punished by the Stark clan once they find out that it was him who caused Bran to become a cripple?
Truth be told, Bran will probably forgive Jamie as he has long realized that it is his destiny to become the Three-Eyed Raven and it wouldn't have come to pass if he didn't become paralyzed. Plus he will know that Jamie is sincere in joining Jon and Dany in fighting the Others. Among the main characters, Jamie is the one who has the greatest shift in character development, transforming from an arrogant upstart to someone who cares for others. It will be fascinating to see just how Jamie will deal with the animosity he would face. Bets are on that he will come good - like, saving the life of a Stark or two - and receive eternal gratitude and forgiveness in the process.
7. Jamie Lannister & Brienne of Tarth

Luckily for Jamie, besides brother Tyrion, another friendly face he will get to see up north is that of Brienne of Tarth. The two kindred spirits last met at the Dragonpit in the Season 7 finale and will likely meet up again at Winterfell. They might just end up fighting side-by-side against The Others too, if Brienne is not required to act as Sansa's bodyguard. If Game of Thrones is keen on developing another romance, Jamie and Brienne make for a decent pair. Sorry, Tormund...
8. Gendry & Arya Stark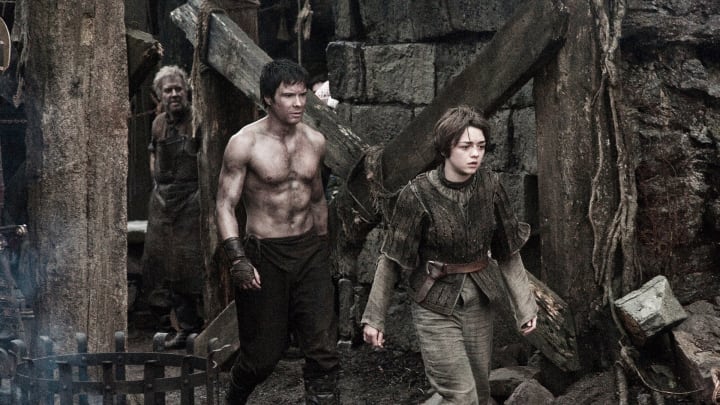 Talking about romantic pairings: Will love blossoms between Arya Stark and Gendry? The last we saw Robert Baratheon's bastard was after he ran for miles in deep snow "Beyond the Wall" in order to send a raven from Eastwatch informing Daenerys at Dragonstone to come rescue Jon's suicide squad in Season 7, Episode 6. Many fans speculated that Gendry, a blacksmith who apprenticed under master armorer Tobho Mott, will soon be at Winterfell forging Valyrian steel swords for the united forces. So a happy reunion between Arya and Gendry should be in store. Both are now older and wiser, and very handy with dangerous weapons, so whether a romance will ensue remains to be seen.
9. Arya Stark & The Hound
Arya has not seen The Hound since the end of Season 4 when she left him for dead after Brienne beat him to a pulp. At the Dragonpit, Brienne kindly informed Sandor Clegane that Arya is alive and well at Winterfell, to which he reacted with a smug smile. A sweet reunion between him and Arya is plausible as the Stark girl is unlikely to bear any grudges against him. Sandor may also get a chance to reunite with his Little Bird, Sansa Stark, whom he has not seen since Season 2. That meeting may be a little awkward but then again, having been rescued and protected a few times by The Hound, Sansa is odds-on to give him a warm welcome too.
10. Jon Snow and Howland Reed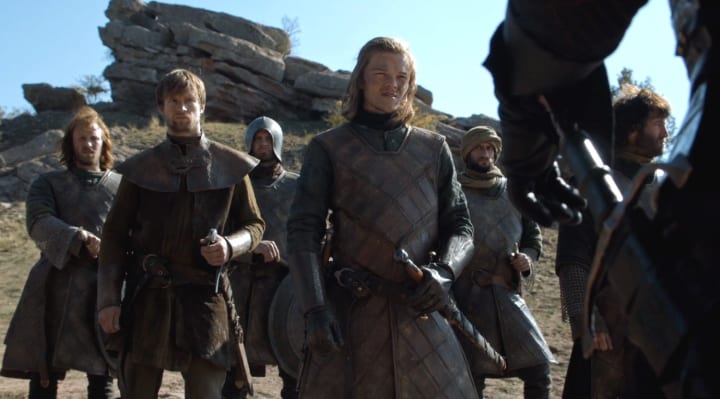 Last but by no means least, many fans are hoping that Bran's long-suffering friend Meera Reed - who was last seen returning to Greywater Watch after bringing Bran back to Winterfell in the eventful Season 7, Episode 4 - would return to help out in The Great War, bringing along her father Howland Reed. The seldom-seen head of House Reed is the last man alive in Westeros who was present with Ned Stark at the Tower of Joy. Thus, he's the only one - other than Bran - who could testify that Jon is indeed the son of Lyanna and Rhaegar. Even though Meera actress Ellie Kendrick claimed she has yet to receive any call from the Games of Thrones creators in regards to reappearing in Season 8, some fans are hoping that it's just the producers' way to smother fan theories.
Game of Thrones Season 8 is expected to return on HBO in 2019.
See also: