Finally, an Accurately Awkward Representation of Being 15 | Ginny & Georgia Review
Because teens don't actually behave like adults, despite what film and television want you to believe.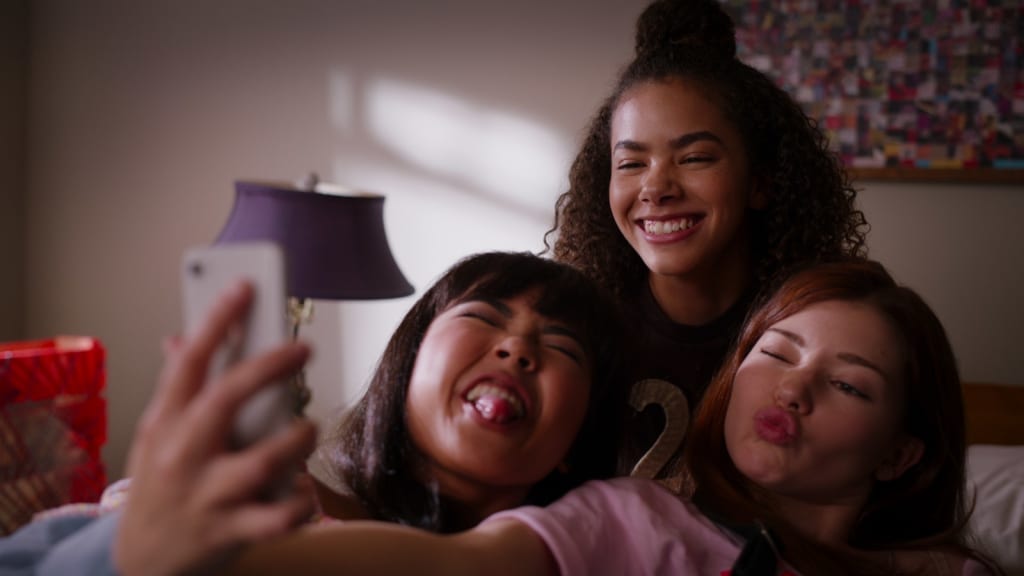 Ginny & Georgia is Netflix's latest drama-comedy series focused on a single young mom and her fifteen-year-old daughter living in a small town. Now, if you immediately thought of Gilmore Girls, I will have to ask you to stop because that shallow logline is pretty much where the similarities end.
For whatever reason, this new coming of age dramedy that deals with racial identity, sex, self-harm, self-image, and a handful of other serious and dark coming of age issues (plus a murder investigation or two) is being compared and word of mouth marketed to the light-hearted, ambient, early 2000s series. So again, please do not click play on this series, expecting a fun, fluffy, mother-daughter comedy. With that out of the way, let's jump back into the story and characters at hand.
Virginia (Antonia Gentry) – Ginny for short – is a 15-year-old half black, half white teenager who has just moved to the small "progressive utopia" town of Wellsbury with her (white) 30-year-old cool and fun mom Georgia (Brianne Howey) with a dark, hidden past, and her young half-brother and adorable Potterhead, Austin (Diesel La Torraca).
Like the many times the small family has moved cities, a dispute within Georgia's love life pushed the move to Wellsbury – something Ginny despises her mother for. In this case? Her newlywed husband and yoga-centre-mogul spontaneously died from a heart attack.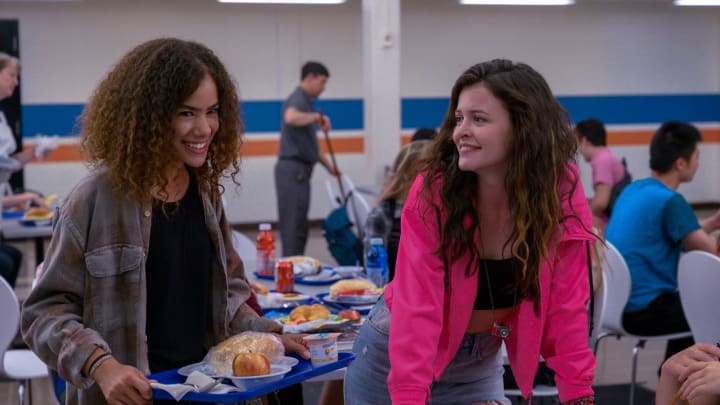 But something about this move is different, and Ginny starts to make friends with the girl next door – and some benefits with that same girl's twin brother. Just as she is starting to feel like she "belongs", Georgia's past comes haunting at night, ready to disrupt the picket-fence dream.
The show has an engaging plot with new twists and troubles always around the corner. The acting is captivating, and the southern belle accents make it all the more worth it. Despite what a couple of thousands of 1-star reviews from Taylor Swift fans (who are basing their review off a single screencap, entirely out of context of both scene and character development) want you to believe, Ginny & Georgia is a progressive, feminist, women-led show (behind and in front of the camera) that delves into the experiences of young women and girls in an authentic (if not slightly exaggerated for the visual medium) way.
It also has a range of diverse representation from marginalised groups, including, as mentioned, women and black-white biracial identity, the deaf community, various Asian backgrounds, and the LGBTQ+ (specifically lesbian) community.
"I felt like, for the first time, I had a voice that was actually being heard. It was really cathartic for me to come back to playing this age and sort of reliving a lot of similar scenarios that I had grown up experiencing…"
While the show has received criticism for certain scenes about Ginny's identity, the actress portraying her has spoken about how she collaborated with both the showrunners and writers' room in fleshing out Ginny's character and the racism she experiences, based on her own experience as a black-white biracial woman in America, which is just something to keep in mind while watching.
On the same note, it does feel as if the series wants to make a point and statement about covert anti-blackness within liberal communities, and yet this is never fully resolved. The racist characters aren't held accountable, and the micro-aggressions aren't confronted. The black characters (except for Ginny and her dad Zion) are static in the background, despite approaching and inviting Ginny in. If the show is renewed for a second season, hopefully, this will be addressed and a clear direction will be established.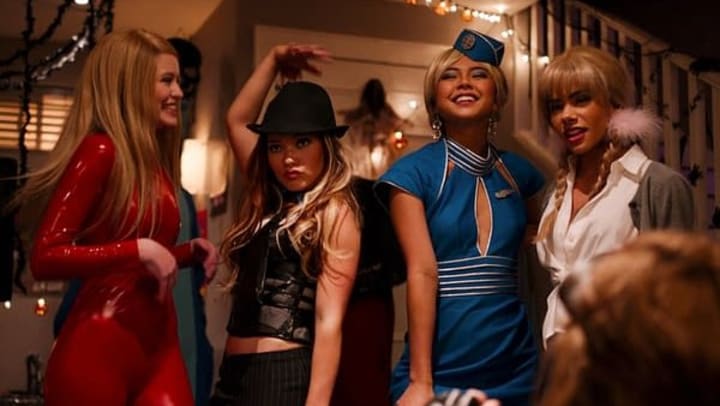 I did not enjoy watching Ginny & Georgia, but I do believe that it is a great show – let me explain. The representation of early teenagers in this show is unbelievably accurate, which is perhaps why it was so difficult to watch. Many people have commented on the immature and cringe-worthy dialogue and how obnoxious some of the characters can be, but truth is that 15-year-olds are cringy, immature, and often really obnoxious.
They are conflicting, contradictory and constantly changing. They say stupid shit they don't mean or don't know how to phrase. They act out of character because they are desperately trying to find out what character they are. They are friends with people they don't like and hook up with people they don't really want to be with. They have embarrassing friend-group names (MANG? Like, c'mon) and overuse emojis. They are grossed out at masturbation and porn, and yet also unbelievable horny and pretend they know everything about sex, despite being virgins.
We are so used to only seeing two versions of coming of age media – the kind that is Disney Channel friendly and the kind where they act and talk as if they are in their twenties and just so happen to be stuck in high school (Euphoria, Riverdale, literally every high school drama out there) – that we expect coming of age series to fall into one of those categories.
But Ginny & Georgia doesn't; while there are a few sex scenes, the camera does not sexualise or objectify the teen characters and nothing much is ever shown. While the teenagers do drink, they act out the way teenagers do, i.e. they don't drink red wine and run an underground speakeasy (cough, Riverdale – why are these kids acting like grown adults from the '50s?). While there are some wild things happening in the show, those wild things are done by the adults – not the teens.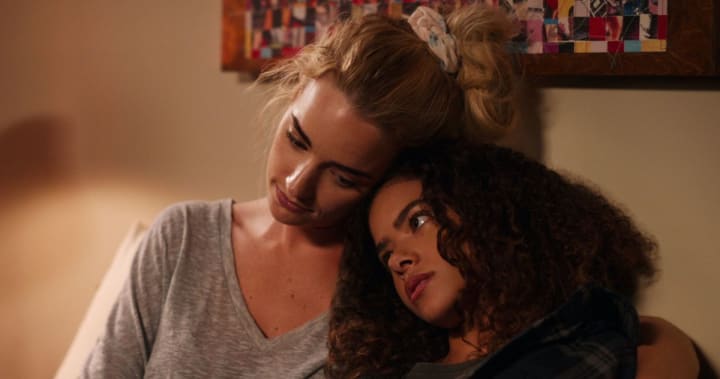 I didn't enjoy watching this show because I am not the target audience. I have come of age, and I don't relate to the main characters. Georgia's storyline was enjoyable, but it wasn't the main focus – and that's alright. While watching this, I knew that the person I was at 15 would resonate with a lot of the struggles and feelings of the characters on screen, but to the present-time, 19-year-old-me, it felt as if I had been trapped in a room with a bunch of 15-year-olds. Which is not something I am particularly keen on!
So, if you are over the age of 17, I don't think you will enjoy this a lot, and if you are under 14, this is probably a bit too juicy for you. But if you are between ages 14 and 17, and is looking for a series about trying to fit in and find your place in the world at such a trying and developmental stage of your life, this might just be it.
Ginny & Georgia is streaming now on Netflix.
Created by Sarah Lampert. Written by Brianna Belser, Mike Gauyo, Sarah Lampert, Danielle Hoover, David Monahan, Tawnya Bhattacharaya, Debra J. Fisher, Ali Laventhol. Directed by Anya Adams, Catalina Aguilar Mastretta, Renuka Jeyapalan, Sudz Sutherland, Aleysa Young.
***
Thank you so much for reading along! If you liked this piece and would like to support me and my work, please consider leaving a tip or sharing it online. Any and all support is highly appreciated ❤
Evita is a Glasgow based writer and podcaster creating food for thought conversations on all things culture, trends, film and TV.
For more content, follow her on Instagram @MalinEvita, and listen to her podcast with filmmaker Shania Bethune, Making It: Women in Film, available on all major podcast platforms and check out their zine, womeninfilm.co.uk!