Film Review: 'We Die Alone'
A socially awkward man's attempts at connecting spiral out of control in this taut short film.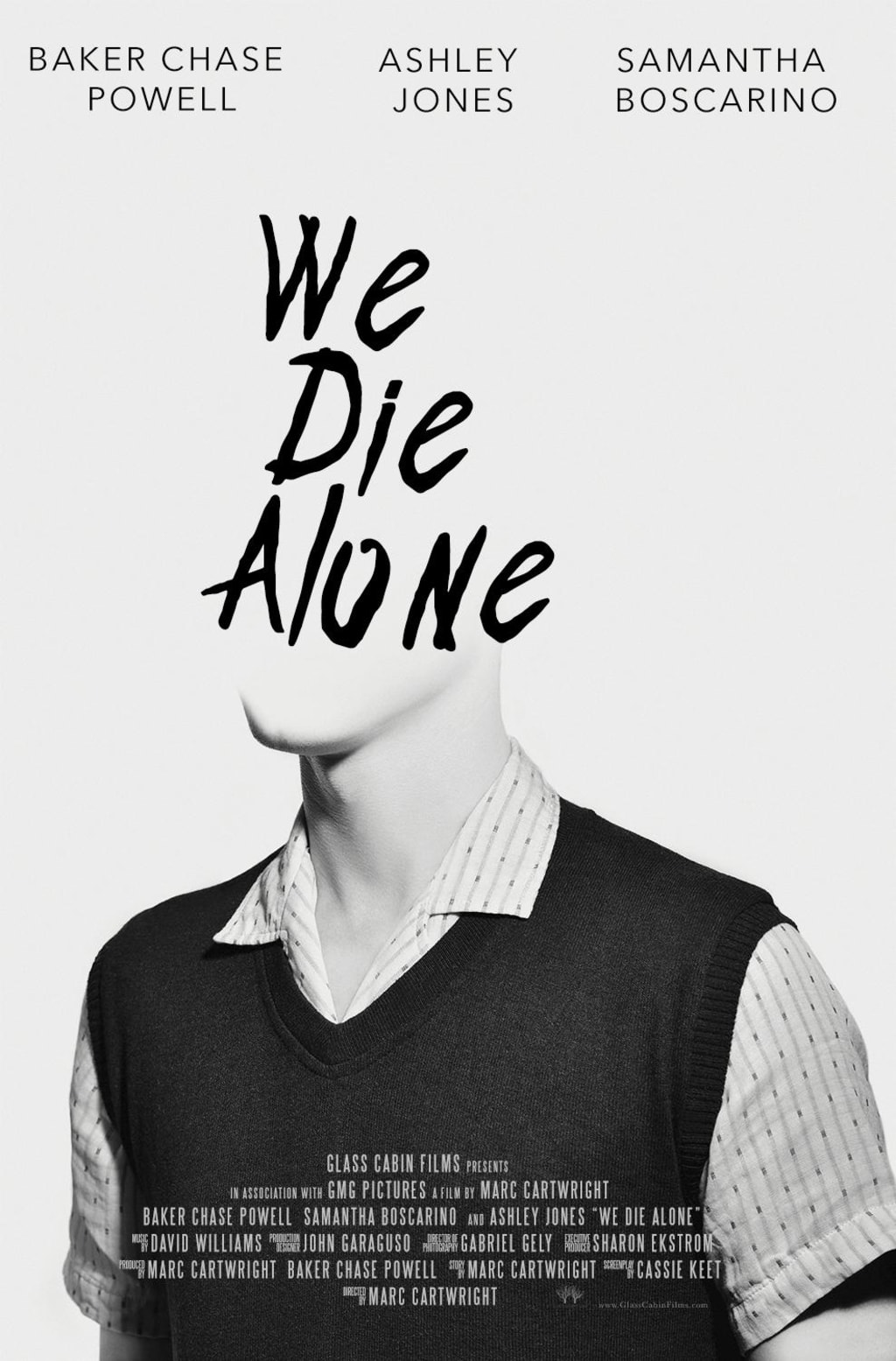 Aidan (Baker Chase Powell) wants one thing out of life more than anything else: to experience love and feel a special connection with another human being. But with his crippling social anxiety and insecurities, Aidan finds himself unable to act on his desires. Instead, he settles for attempted connections through the Internet that ultimately lead nowhere when he finds himself unable to go through with meeting face to face. The closest thing to a friend Aidan has is Elaine (Ashley Jones), his co-worker at a thrift store.
Things seem to turn around for Aidan when he meets Chelsea (Samantha Boscarino), a new resident in his apartment complex. Beautiful, charming, and sharing in Aidan's affinity for puzzles, Aidan is convinced Chelsea is the one he's been looking for. But as Aidan struggles to muster up the courage to tell her how he feels, his conflicting emotions begin to hit their crescendo as his crush on Chelsea morphs into a consuming obsession. How much damage will this pursuit of love leave in its wake?
My first review of a short film couldn't have been of a more appropriate subject, as the way We Die Alone initially begins to play out is not unlike the numerous Lifetime movies that I've covered here on Vocal. From the the opening scene showing Aidan bailing on a date in favor of having "dinner" with a shattered mannequin to the intense and sometimes erratic violins that accompany many of his scenes, We Die Alone seems to be building itself up to be a generic Lifetime film condensed into under half an hour.
However, this standard set-up is where We Die Alone's strength lies, as the third act turns everything shown around on its head, allowing for a new layer of viewing to emerge from what could've been a stale, paint-by-numbers drama. This twist is effective at taking the viewer by surprise, as it comes at just the moment when they think they know how the film's conclusion is going to go down. Going into We Die Alone with as little foreknowledge as possible (which is why I'm keeping this review spoiler free at all costs) is the best way to see it, as it allows for expectations to be subverted in the best way possible.
Even if the film had played out as straight-arrowed as can be, We Die Alone bolsters a strong and talented cast that would still make it a treat to watch. Given that the main cast consists of only three characters, little room is left for error, and this trio does not drop the ball when it comes to their performances. Baker Chase Powell is stellar in his portrayal of the chronically socially inept Aidan, making his struggles painfully relatable to anyone who has struggled with the same kind of anxieties. Every move Powell makes seems to be painstakingly done to illustrate Aidan's social pains, from his stilted speech to the constant look of doubt in his eyes. It all adds up to Aidan becoming a fleshed-out, dimensional character; one viewers are likely to be drawn to even in his more problematic moments.
Powell's supporting actors don't slouch, with both Samantha Boscarino and Ashley Jones playing well off of Powell in their scenes with him, with the latter giving genuine heart to the camaraderie between Aidan and Elaine. Jones' strongest performance comes in a scene where Aidan shyly asks her for romantic advice, where it's revealed that Elaine's feelings for Aidan may not be as platonic as they initially seemed.
Jones plays Elaine's hidden feelings for Aidan with a subtle poignancy, which later serves to add a tragic layer to the film's dramatic conclusion. It also adds a heart-wrenching layer to Aidan's character in the context of his lack of social skills: in the midst of his pursuit for someone to connect with, Aidan fails to notice Elaine (who is shown to be nothing but kind to him) attempting to do the same with him.
While only 23 minutes, We Die Alone has a strength far exceeding its relatively short length. With richly developed characters, a well-constructed plot, strong casting, excellent use of music and visuals to create a tense atmosphere, and a conclusion that leaves behind a thought provoking character parallel, it's a short thriller that packs a punch in more ways than one. Keep an eye out for this one; it's making its way to film festivals and Amazon Prime soon.
Score: 10 out of 10 vintage phones.
About the Creator
Aspiring writer and film lover: Lifetime, Hallmark, indie, and anything else that strikes my interest. He/him.
Twitter: @TrevorWells98
Instagram: @trevorwells_16
Email: [email protected]
Reader insights
Be the first to share your insights about this piece.
Add your insights