Film Review: 'The Curse of Hobbes House'
Well-paced action and rounded characters elevate this enthralling zombie thriller.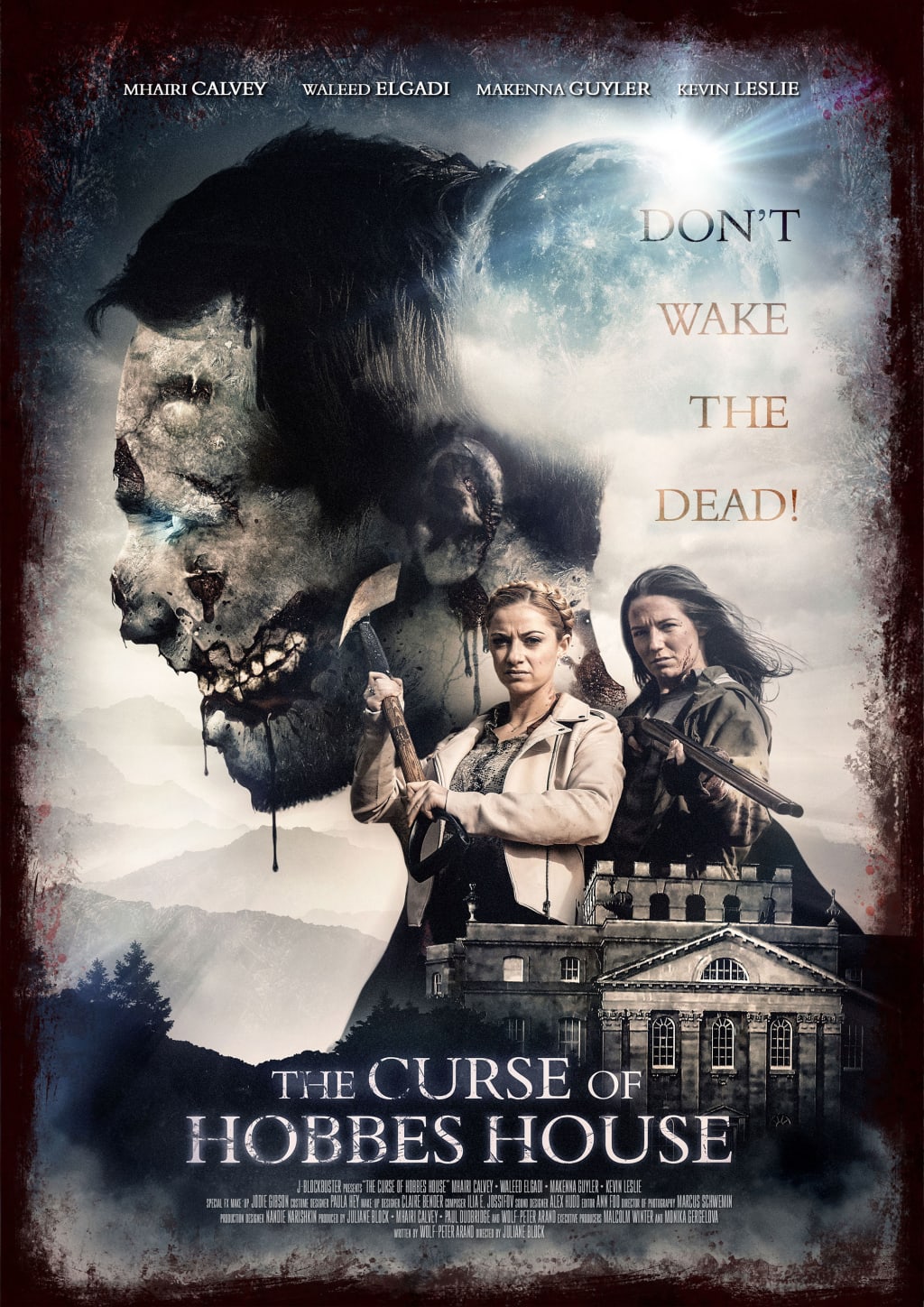 Things couldn't get much worse for Jane Dormant (Mhairi Calvey): evicted, fired, and reduced to living out of her car. But just when Jane is at the end of her rope, she receives a call from solicitor Eurydice Saul (Jo Price) telling her that her aunt Alexandra (Emma Spurgin Hussey) has died and she is summoned to her isolated manor--known as Hobbes House--for the reading of her will. Also in attendance is Alexandra's groundskeeper Naser (Waleed Elgadi), Jane's estranged half-sister Jennifer (Makenna Guyler), and Jennifer's partner Nigel (Kevin Leslie).
The bad blood between Jane and Jennifer makes the reading of the will difficult, but soon, familial tensions become the least of this group's problems. An ancient curse placed on Hobbes House has resulted in the mansion being plagued by "guardians"--the undead who remain bound to the land and seek to kill any humans who dare disturb their territory. Now trapped with no means of contacting help, can this unlikely group band together to survive a real night of the living dead?
In a similar fashion to last year's 3 Lives, this film has Juliane Block take an average survival horror premise and infuse it with something new to add some flavor. While 3 Lives has a compelling backstory for its three main players that brings depth to the characters and provides tension and a few twists and turns, The Curse of Hobbes House offers a compelling-in-its-own-right family drama about bickering sisters (among other conflicts) alongside its zombie attack horrors. While the story behind Jane and Jennifer's feud is far from new, the personal drama behind The Curse of Hobbes House allows for the characters to develop and for the relationships between them to take on weight.
This plot blending works thanks to a combination of strong writing and performances. Mhairi Calvey (who was also the star of 3 Lives) brings authentic emotion as we see Jane's miserable position at the beginning of the movie, allowing you to feel sympathy for Jane before the circumstances of the film bring out some less-than-likable traits in her. But as the zombie danger becomes clear, Calvey allows Jane to grow and mature over the course of the night, with a hidden soft side emerging from Jane as she mends her bond with Jennifer and realizes how wrong she was to be so bitter against her.
Makenna Guyler's Jennifer gets a rougher start than Jane, initially presented as a stereotypical vapid influencer type. But thanks to Guyler's warm performance after her initial fight with Jane, we come to see Jennifer is not the malicious person Jane sees her as and, as we later find out, is right to be angry about her half-sister's resentment. Calvey and Guyler play their characters in a way that you believe that a close sisterly bond exists beneath their estrangement; one that comes to light as they begin to work together to escape the guardians. Their bond takes center stage in a heartfelt scene in the third act, where Calvey and Guyler's chemistry together shines brightest.
Waleed Elgadi's Naser makes for an instantly likable and sympathetic supporting character, with Elgadi bringing heart to the moments when Naser lets his soft side show and fights to protect the people who initially assumed the worst about him. Alternatively, Kevin Leslie plays Nigel with the ideal mix of charm and sleaze. Given how we're introduced to Nigel through him condescendingly chastising Jane and accusing Naser of killing Alexandra, Nigel seems set to be a straightforward prick. But thanks to Leslie's portrayal, there's enough charm in Nigel that allows you to understand why Jennifer would be taken with him and believe that there are some specks of good in him as he attempts to work with her, Jane, and Naser to survive. SPOILER ALERT This makes his third-act turn from simple cad to secondary antagonist much more shocking than it would've been had he simply been an unbearable jerk throughout the first two acts. Spoilers Over
In minor characters, Jo Price does well with her limited time as Eurydice, with her best moment being when she proves herself to be a Deadpan Snarker in the face of the (initially) unlikable Dormant sisters. Emma Spurgin Hussey also has a few sweet scenes as the ill-fated Aunt Alexandra, though her likability takes a bit of a hit when you learn that SPOILER ALERT she apparently took no precautions to protect her nieces and Naser from when she would inevitably return as a guardian after her death. Spoilers Over
The Curse of Hobbes House maintains a solid pace throughout its entirety, taking just the right amount of time to establish the titular manor's backstory (told through some very visually appealing illustrations), the primary characters, and their relationships to one another before the mayhem begins. In the movie's one major misfire, however, the undead guardians that become the film's main source of horror fall flat. The unique design of the undead horde (particularly their glowing blue eyes) is quite nice, but between the guardians' wonky movements and bird caw-like attack cries, these are zombies that are more likely to elicit giggles rather than screams. The film also ends on a somewhat abrupt note, which may prove unsatisfying even for those aware that a sequel is in the works.
Zombie films, like slasher movies, are easy to write as simple bloodfests of flat characters getting violently picked off one by one. But in the case of The Curse of Hobbes House, care is taken to bring as much emotion and character development as there is killing and chaos. While the overly wacky zombies may be a turn-off, the movie otherwise makes for an intense thrill ride that also delivers compelling characters that act as more than mere kill fodder. As a bonus, the film contains a simple but powerful message we could all do to remember right now: only through unity can evil be vanquished.
Score: 8.5 out of 10 duct-taped rear-view mirrors.
About the Creator
Aspiring writer and film lover: Lifetime, Hallmark, indie, and anything else that strikes my interest. He/him.
Twitter: @TrevorWells98
Instagram: @trevorwells_16
Email: [email protected]
Reader insights
Nice work
Very well written. Keep up the good work!
Top insights
Easy to read and follow

Well-structured & engaging content

Expert insights and opinions

Arguments were carefully researched and presented

Eye opening

Niche topic & fresh perspectives
On-point and relevant

Writing reflected the title & theme
Add your insights