Elizabeth Hendrickson back on the set of 'The Young and the Restless'
The actress gave birth to a daughter in March, suffered complications, but now is filming scenes for Chloe's baby to be born.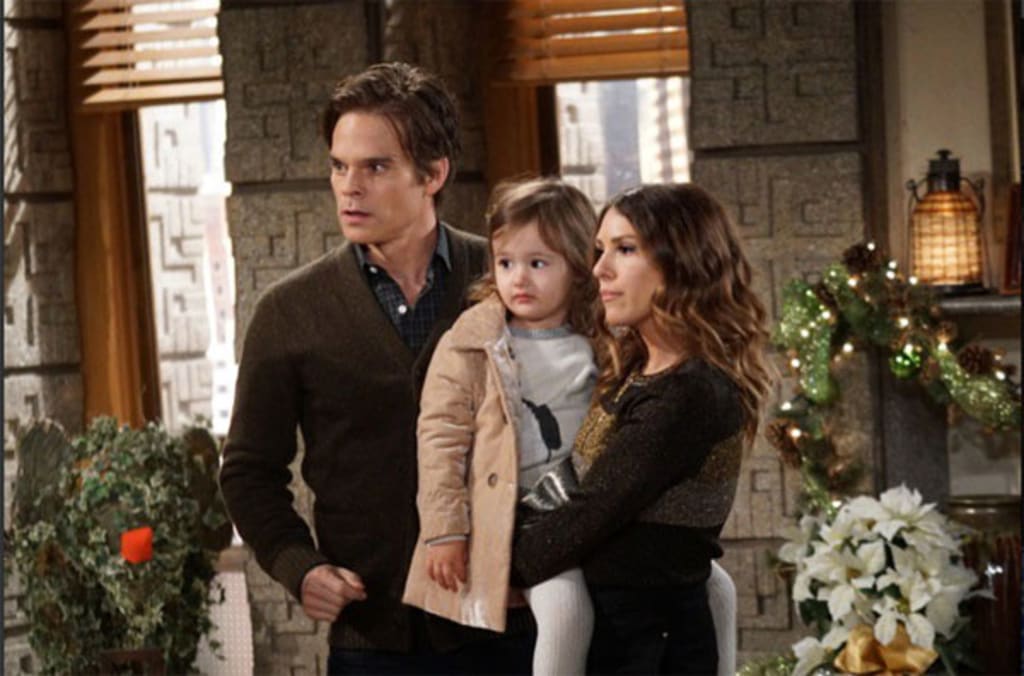 Kevin, Chloe, and Bella, will welcome a new addition soon.
In March, at the height of the global pandemic, a pregnant Elizabeth Hendrickson went into labor. She and husband Rob Meder had a baby girl named Josephine James who was born healthy and allowed to go home. Hendrickson, however, suffered childbirth complications and had to remain hospitalized. She is now doing just great and is back taping scenes on The Young and the Restless. Her alter ego Chloe Mitchell is also expecting, but its a boy. Fans are eager for Kevin and his wife to finally have some scenes and hope they will be on screen more.
Viewers have been complaining about veteran cast members not being front and center anymore and wonder what the birth of the baby will indicate for the popular couple.There were rumors last month that Greg Rikaart, who portrays Kevin might be leaving The Young and the Restless again. If true, Kevin and Chloe could take their baby home from the hospital and exit Genoa City again. On social media, viewers have been saying that they would love to see Esther and Gloria become doting grandmother's to the new arrival, but Judith Chapman is no longer on the CBS daytime drama.
Longtime fans are disappointed that veteran actors have been sidelined and desire to see them get more screentime. It was announced a few days ago that Doug Davidson will soon be back as Paul. Perhaps this is a sign that Kevin, Chloe, Michael, Lauren, Esther, and possibly Gloria might once again have meaningful storylines. Chloe and Chelsea are good friends but Ms. Lawson has not even mentioned her pregnant bestie lately. It's almost as if the Fishers and Baldwins no longer exist in Genoa City. The only information that spoilers have given recently is that Chloe will give birth to her son.
Outside of that none of that family has been mentioned in any upcoming storylines. For the rest of September, the drama will revolve around Traci seeking Dina's past, Victoria and Billy trying to sabotage Adam and Chelsea running interference. There will also be a lot of scenes related to Devon, Nate, Amanda, and Elena. Now that it's been confirmed that Hilary was the twin sister of the attorney, this will shift the dynamic between the foursome. Naturally, Victor and Nikki will be in the spotlight but Summer, Kyle, Theo, and Lola will also be involved in storylines this fall The Abbotts will eventually have to come to terms with Dina's death, but Kevin. Chole, Lauren, and Michael are not involved in any of these situations.
The last time Paul was on screen was when he and Christine were at Victor's Newman celebration. These fan favorites need to be involved on a regular basis in order to have viable storylines. The writers know that just throwing these characters in here and there is no way to keep the viewers invested in them.It will be interesting, once baby Fisher is born, to see what the writers do with this group of actors. It's a given that Michael and Lauren will be on hand when Chloe goes into labor but what happens once she and her baby boy return home?
Elizabeth Hendrickson was born on July 3, 1979. She began her career in the role of twins Frankie and Maggie and Stone on All My Children. She began portraying Chole on and off on The Young and the Restless in 2008. Hendrickson had the role of Margo on General Hospital but exited the NBC daytime drama to return to Y&R in 2019. Let's hope this time around head writer Josh Griffith and his team will do justice to this veteran actor and her popular character. Be on the lookout for updates, breaking news, and spoiler alerts related to Elizabeth Hendrickson's character and Port Charles.
tv
Cheryl is a poet, freelance writer, published author and former Newspaper columnist. She has degrees in Psycology and Biblical studies. She enjoys sharing natural cures, and Nostalgia related info. Tips are greatly appreciated.
Receive stories by Cheryl E Preston in

your feed